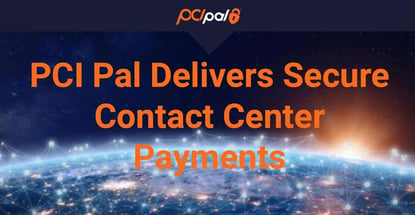 Our experts and industry insiders blog the latest news, studies and current events from inside the credit card industry. Our articles follow strict editorial guidelines.
In a Nutshell: Across the brand landscape, mid-market to enterprise-size contact centers need payment solutions that cover all the bases while enhancing the customer experience. PCI Pal lets organizations take payments securely via all modern business communications channels. Its flagship product Agent Assist uses masking and speech recognition technology to streamline phone payments. And it continues to innovate with Pay by Bank, which enables secure and seamless link-based account-to-account transactions. PCI Pal enhances payment CX and boosts reputation and trust for hundreds of leading brands.
Digital technology is transforming the customer experience across the purchasing journey for brands in every sector, including financial services. In the payments space, digital offers new opportunities to enhance CX because it has drastically expanded the means by which customers can engage and transact.
Unfortunately, the diversity of this expanded communication landscape, which encompasses voice, chat, social, email, and contact centers, puts sensitive payment data at greater risk, potentially compromising brand reputation and trust.
The Payment Card Industry Data Security Standard (PCI DSS) protects digital payments. Mandated by the major card brands, PCI DSS continually evolves to protect cardholder data and to keep networks and systems secure. As the data landscape expands, the major credit card brands amplify the security standards used to handle credit cards.

But PCI DSS standards, as helpful as they are, aren't mandated with payment CX in mind. In addition to increasing the consumer's sense of vulnerability regarding payments, new channels can make transactions more complex, interrupting what ought to be a smooth path to customer conversion.
Mid-market to enterprise-size contact center managers looking to enhance CX and trust turn to PCI Pal to fix this problem. Born out of a contact center business that needed its own PCI compliance solution, PCI Pal is the only cloud-native secure payments provider in the market.
It offers a robust, established, and proven partner ecosystem that spans the globe and acts as a significant differentiator. PCI Pal simplifies PCI compliance for companies, allowing contact center employees to provide consistent and secure customer service.
"With new solutions emerging in the payments space, consumers are looking for companies that offer secure payment options that can adapt to changing needs," said Jane Goodayle, Chief Marketing Officer at PCI Pal. "We have solutions to help businesses meet these customer demands while staying compliant and safe."
Protect Sensitive Data While Streamlining Transactions
All PCI Pal compliance solutions are Level 1 PCI DSS certified. Organizations of all sizes benefit from innovative PCI Pal solutions to simplify compliance, secure sensitive data, and streamline transactions.
PCI Pal solutions are customizable according to industry, company, and contact center. They're scalable to grow with each business. And because they're cloud-based, they're reliable, with cloud leader Amazon Web Services acting as PCI Pal's global hosting platform.
In financial services, regulatory scrutiny and customer expectations combine to create a particularly demanding digital payment environment.
"With PCI DSS 4.0 officially coming into effect in March 2024, companies should use 2023 to set themselves up to meet the new requirements and future-proof their security strategies while remaining committed to offering the best payment CX," Goodayle said.

Simpler processes enable more consistent customer service in high-turnover call center environments. Better job satisfaction leads to better retention and a better CX.
PCI Pal's Agent Assist solution helps accomplish those goals in phone and voice environments by interceding to "descope" compliance imperatives from customer conversations. It uses DTMF (Dual Tone Multi Frequency) masking and speech recognition technology to mask customer keypad and voice inputs to achieve uninterrupted call flow at the point of payment.
With DTMF, sensitive data, such as card numbers, never reaches the call handler. Agent Assist displays asterisks with a counter showing the number of digits entered so the agent can follow the transaction and provide support.
PCI Pal's speech recognition technology, also known as Automatic Speech Recognition (ASR), converts speech into text.
"Our speech recognition technology supports multiple languages for maximum accessibility," Goodayle said. "Security and compliance are crucial because they give customers peace of mind that their information is safe while also providing a layer of protection for businesses."
Increase Customer Satisfaction and Brand Trust
PCI Pal's Digital Payments solution establishes a secure omnichannel solution for customers and call center agents. Transactions occur seamlessly with complete visibility across multiple channels, and payment options are flexible to suit various use cases.
The solution lets contact center agents follow all customer payment journeys in real time.
And when live agents aren't available, PCI Pal's IVR Payments Solution provides an interactive voice response system that integrates with all channels and works with third-party voice recognition systems.
As with Agent Assist, the voice solution descopes — or blocks access to protected information — through DTMP and speech-recognition masking, effectively eliminating the need for PCI DSS compliance from interactions.

PCI Pal's voice protocol carries patents in the US, UK, and Australia, and its data protocol holds patents in the US, Australia, Europe, Canada, and Singapore. PCI Pal operates numerous feedback channels and measures positively against industry benchmarks.
"We've heard predominantly positive feedback about our products and their impact," Goodayle said.
Customers report PCI Pal solutions increase customer satisfaction and brand trust and enhance the overall customer experience. PCI Pal decreases average call handling time and increases the likelihood of a single agent resolving a conversation without outside help.
Customers also count on PCI Pal's commitment to continual streamlining through an annual audit. Choosing PCI Pal solutions increases contact center agent morale and better equips organizations to support remote/hybrid workforces.
"The new systems increase our insight on payment information and customer behavior, helping to improve our self-service options," one customer reported. "We know transactions are taking place safely, calls are shorter and more efficient, and we haven't lost our personal touch."
Another reported that working with PCI Pal enhances its control over the payment process.
"There's no comparison between Agent Assist and an automated 'payment line' solution," the customer said. "This upgrade demonstrates that we look ahead at innovation, with the customer experience always at the heart of everything we do."
An Innovator in the Evolving Payments Space
As the PCI DSS 4.0 era approaches, PCI Pal remains committed to innovation because the payments space refuses to stand still. With new technologies and customer interaction patterns emerging, PCI Pal pledges to stay ahead of the curve for its customers and the payments industry.
An example is its digitally native Pay By Bank solution for contact centers, which uses open banking technology to facilitate account-to-account transactions between customers and merchants.
Merchants seek open banking technology because it supports variable recurring payments, including one-off payments. The shift to open banking technology could see a decline in direct debits as they gradually lose market share as a payment method.
"Pay By Bank is the first in a series of new agent-assisted, digital payment products that will enable merchants to minimize transaction costs and provide instant refunds, all while reducing fraud risk and chargeback cost," Goodayle said.
Meanwhile, artificial intelligence will play an increasingly important role in enhancing the performance of the contact center. More and more cloud-based contact center platforms are deploying real-time speech-to-text sentiment analysis products based on machine learning.
These products enhance real-time insights and provide training benefits. PCI Pal will be at the forefront of those innovations.
It all adds up to perhaps the leading "omni-solutions" provider in omnichannel payments — the only channel-first pure-play company in the PCI mobile payment space with fully global cloud delivery models and availability across multiple continents.
"Our payment solutions help companies navigate PCI DSS 4.0 by descoping their infrastructure —  keeping customers' card data out of company systems and minimizing contact areas where data is processed or stored," Goodayle said. "Through innovative solutions focusing on customer experience and compliance, PCI Pal will continue to drive the industry forward."