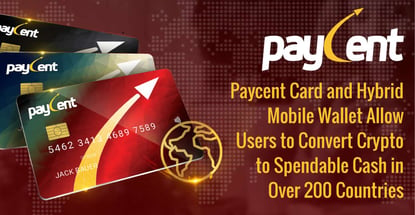 credit card news
Our experts and industry insiders blog the latest news, studies and current events from inside the credit card industry. Our articles follow strict editorial guidelines.
In a Nutshell: Exchanges for buying and selling blockchain-based cryptocurrencies are increasingly part of the financial mainstream. But the Paycent platform is bringing the crypto world closer to everyday practicality. Available in more than 200 countries, the Paycent mobile wallet and card allows consumers and merchants to convert and exchange cryptocurrencies to make purchases and withdrawals in local currency at more than 40 million retail terminals and 2.4 million ATMs.
Cryptocurrencies have become popular vehicles for investment. But the blockchain-based technology underlying cryptocurrency is still novel and complex, and the exchanges on which cryptocurrencies are traded — while similar to stock exchanges — are even more alien to the average consumer.
Singapore-based payment platform provider Texcent is normalizing crypto for the masses with its Paycent card and hybrid mobile wallet app available on Android and iOS.
Paycent users and merchants can use cryptocurrency to conduct everyday transactions using technology that cheaply converts crypto and fiat funds at more than 40 million retail terminals and 2.4 million ATMs.
Let's say you have emigrated from Vietnam to live and work in Canada. You want to send money back home, but conventional transfer services are an expensive hassle. So you help your mother in Hanoi sign up for Paycent and instantly and inexpensively transfer your Canadian dollars to her card — with Paycent converting them to a crypto format to make the journey. She can then spend the money wherever her card is accepted, or withdraw it at an ATM in local Vietnamese currency.
"Paycent lets users cash out cryptocurrencies in their local currencies in more than 200 countries," said Texcent CEO Brian Tan.
Exchanges occur securely on Paycent's blockchain network without the need for traditional intermediaries, like banks and wire services, or even the need to take national borders into consideration. And you don't have to be a blockchain expert to do it.
A Combined Ecosystem for Fiat and Digital Assets
Blockchain was originally developed as a home for Bitcoin cryptocurrency, and that's how Paycent uses it — to bridge the gap between digital assets and fiat. That's what makes the Paycent wallet a hybrid app — and a game changer in the financial technology industry.
In a whitepaper published on the Paycent website, the technology is described as running on an "entirely virtual channel" offering both users and merchants "a secure and convenient digital payment platform so you can send and receive funds, shop and pay bills without using cash or credit cards." The ecosystem offers access to a plethora of blockchain assets and fiat currencies with real-time accessibility and convenience, according to the whitepaper.
Users can add funds to their accounts via bank transfer or credit or debit card. They can also use the Paycent app and wallet to purchase cryptocurrency they can later convert.
The wallet connects with several of the most popular exchanges to enable real-time crypto transfers, converting the fiat side of the wallet into U.S. dollars.
"The Paycent card is linked to the fiat side of the wallet," Tan said. "Users can convert between different cryptocurrencies, send cryptocurrencies to other users using the Paycent or any other external wallet, buy gold and silver using cryptocurrencies or U.S. dollars, and convert cryptocurrencies to U.S. dollars to cash out using the Paycent card."
On the crypto side of the wallet, Paycent currently accepts 10 popular currencies, including Bitcoin, Ethereum, and Paycent's own PYN currency. And because U.S. dollars are globally convertible, the sky's the limit as to where and how funds can ultimately be used.
Security and Compliance Built on the Blockchain
Blockchains store data in chronologically ordered, cryptographically linked chains that are replicated across all computers using the network. Because blockchain data is, for all practical purposes, immutable and anonymized, the technology has the potential to disrupt traditional transactional modalities in a host of industries.
Merchants will find it easy to open themselves up to Paycent. The website offers a convenient upload tool for merchants to help them transfer proof of identity, bank account statements, and other documents. There's also a PDF form to download, print, fill out, scan, and upload back to the site.
A Merchant API provides guidance for integrating Paycent into existing payment services, with technical support readily available. Partnerships with Visa, Mastercard, China UnionPay, WeChat Pay, and Alipay assure merchants all over the world that working with Paycent can increase sales opportunities.
Paycent's extensive AML/KYC policy offers further assurance to merchants who may be wary of blockchain's anonymity.
The platform takes as a core responsibility the obligation "not only to establish the identity of its customers, but also to monitor account activity to determine those transactions that do not conform with the normal or expected transactions for that customer or type of account."
Not only is customer identity information subject to verification, customers must submit photos of themselves holding their ID, such a driver's license, to Paycent. Employees are trained to look for suspicious activity, and meticulous records are maintained subject to independent review.
As for the transactions themselves, the blockchain takes care of that. Blockchain's distributed architecture means that no one user on the network can corrupt the data chain. In the words of the whitepaper, "This eradicates the risks and frauds observed with centralized solutions in the market currently."
Expanding the Benefits of Global Commerce and Competition
By covering all the bases in this, Paycent has exploded onto the payments scene since its founding in 2016. Consumers are using tens of thousands of Paycent cards to convert currency and make purchases and withdrawals all over the world.
In the words of the whitepaper, Texcent's and Paycent's mission has been to "bring the digital asset market/ecosystem to mainstream audiences."

Consumers with little experience handling cryptocurrencies or familiarity with how to take advantage of them have been hesitant to accept this new form of money. They have relegated it to specialized investment and other environments where the intricacies of blockchain technology are more prevalent.
This lag in consumer acceptance may not be as notable in the U.S. and other Western countries as it is in places like Asia and Africa where banking services are less accessible and more expensive.
And because financial and commercial infrastructure is less mature there, the need for integration with the economic world at large is even more acute.