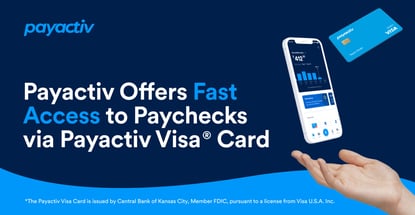 In a Nutshell: When workers can access their paychecks faster, they can often avoid payday loans, overdraft fees, and financial setbacks. That's why Payactiv partners with more than 1,500 U.S. employers to provide workers with immediate access to their earnings via the Payactiv Visa Card. The Payactiv app also offers budgeting tools, financial education resources, and a discount marketplace for everyday consumer items.
Over the past few decades, the plight of low-wage earners in the economy has become more precarious. Wage stagnation and underemployment may prevent workers from saving — or even prioritizing their spending — to improve their financial situations.
When the margins between staying afloat and going into debt are that thin, even the simple act of waiting on a paycheck can become a problem. More than 70% of American wage earners are paid on a two-week cycle. That means many must endure an extended period between when they earn their money and when they can access it.
That period of vulnerability can lead to a debt cycle or dependence on expensive financial tools. An estimated 12 million Americans use payday loans a year, which may include an annual interest rate of 400%.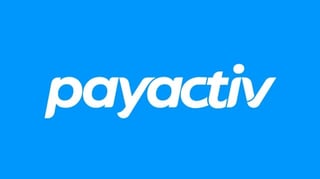 Payactiv is on a mission to reduce that paycheck time cycle as much as possible. The company, founded in 2012, is the original earned wage access (EWA) provider and delivers on-demand, real-time access to earned wages on a reloadable debit card. That can help low-wage earners avoid hardship.
"We're unlocking opportunity," said Peter Mullen, Payactiv SVP of Marketing. "But it's really that we're unlocking the potential in the money people have already earned that's just sitting there."
Rather than employees waiting for their full paycheck to drop into their accounts, Payactiv helps transfer a portion of their pay onto their card — improving their liquidity between pay periods.
"We live in a gig economy where you can get dinner or a ride with the tap on your phone," Mullen said. "With Payactiv, you can just tap your phone and access the money you've already earned."
A Certified B Corp Dedicated to Positive Social Impact
The money users receive through Payactiv is not a loan. Instead, earned wage access brings the modern efficiencies of a financial technology platform to the payment system.
Payactiv operates the only EWA program with an approval order from the Consumer Financial Protection Bureau.
Loading funds onto the Payactiv Visa Card is free for workers, and the app incorporates other modern features, including tap to pay and a digital wallet. Getting cash from ATMs and point-of-sale terminals is free, and there's no minimum balance.
The app also includes robust budgeting and savings tools.
"We can tell you, based on your spending and income, if your goals are too ambitious," Mullen said.
The company's core focus on empowering earners fuels innovations in flexibility and access. Payactiv is a public benefit corporation, a Certified B Corp, and its structure maintains a balance between profit and purpose.
"We went into this business hearts first, and we exist to help the American worker," Mullen said.
Public benefit corporations are obligated to consider the impact of their operations on employees, customers, communities, and the environment and are held accountable through third-party review.
Certified B Corps undergo rigorous assessments that measure product and service quality, employee treatment, environmental stewardship, and community impact.
"As a B Corp, we've made a public commitment to a double bottom line," Mullen said.
The first line is profit, and Payactiv is a for-profit company with stakeholders. The second is social impact.
"We want to do good in the world and in the communities we serve," Mullen said. "It's part of our DNA, and you can see that reflected in our business every single day."
Earned Wage Access Benefits Employees and Employers
The relationship between Payactiv and its more than 1,500 corporate partners is also beneficial. Companies that empower workers to take control of their finances can compete more effectively in the labor marketplace.
Companies that use the Payactiv payroll card can earn a stream of revenue from the interchange system. It also makes payroll systems more efficient by eliminating paper checks.
Off-cycle payments, including bonuses, expense reimbursements, and termination pay, are part of that. Remote and on-demand payments are free services for Payactiv partners, and they are more secure because they are digital.
Watch on
Payactiv has saved businesses more than $1 billion while helping them improve recruitment, reduce attrition and absenteeism, and create a better sense of financial security among their workforces.
"Recent research shows that 72% of American workers are willing to make a jump to another employer that offers better services for their financial well-being," Mullen said. "And unlike most of our competitors, we can set this up in just days because it's external to the financial infrastructure of a corporate HR Department. It runs through APIs, and it's a zero-cost benefit."
Data from Payactiv shows that EWA can reduce employee turnover by 36% in the first 30 days.
"We're seeing stories about fast food restaurants and similar low-wage-based employers offering getaway vacations and bonuses just to bring people in through the door," Mullen said. "EWA can be a strong component to drive recruitment and increase retention."
Payactiv: Essential Tools for Financial Sustainability
As part of its mission as a B Corp, Payactiv strives to provide holistic assistance for low-wage earners and help protect them from credit pitfalls and dependency.
"A total of 44% of the American workforce is low wage — that's 53 million people," Mullen said. "Our purpose is to get those millions onto a foundation of livelihood."
Even when people are remunerated in cash payouts, including tips, mileage reimbursements, and supplement payroll earnings, Payactiv can put those funds in workers' pockets more efficiently and securely.
"With our tool, it's easy for restaurant managers to send us information about tips' disbursements and payouts," Mullen said. "The money can appear on the worker's account that same night or the next day — no more delays."
Receiving a formal paycheck is no longer necessary to access Payactiv services. With the recent launch of a direct-to-consumer model, Payactiv has effectively decoupled its card and app ecosystem from its employer partners.
That's important because, even without EWA, Payactiv includes powerful secondary tools that help low-wage workers put themselves on a path toward long-term sustainability. The consumer model enables anyone to continue using the Payactiv services even after they leave their employer.
It's all part of what Payactiv calls its Livelihood Platform. Its tools include a discount marketplace that offers access to prescriptions at up to 75% off, and savings on a variety of consumer items.
"We believe it's the future," Mullen said. "Over time, we want to become one of the world's leading marketplaces and provide incredible deals for our users."
Advertiser Disclosure
CardRates.com is a free online resource that offers valuable content and comparison services to users. To keep this resource 100% free, we receive compensation for referrals for many of the offers listed on the site. Along with key review factors, this compensation may impact how and where products appear across CardRates.com (including, for example, the order in which they appear). CardRates.com does not include the entire universe of available offers. Editorial opinions expressed on the site are strictly our own and are not provided, endorsed, or approved by advertisers.