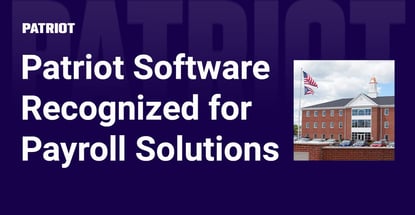 Our experts and industry insiders blog the latest news, studies and current events from inside the credit card industry. Our articles follow strict editorial guidelines.
In a Nutshell:  Patriot Software understands how difficult it can be to manage a small business's daily operations. It develops solutions that simplify business processes, saving customers time and money. Patriot offers payroll software capable of filing and depositing a business's taxes. It solicits customer feedback to ensure its products and enhancements best meet customer needs. CardRates is recognizing Patriot Software with our Editor's Choice™ Award for its payroll and accounting software solutions.
In the early 2000s, a small business owner was preparing to pay his employees for their week of work. It was his practice at the time to pay his employees in cash each week, avoiding the cumbersome activity of writing and recording checks.
That evening, one of the small business owner's employees had a conversation with his father. The employee returned to work the next day and addressed the small business owner.
"My dad works for the state of Ohio," the employee said. "And he says I'm supposed to have a pay stub!" 
The small business owner told the employee not to worry and set out to figure out how to create employee pay stubs. The process was more complicated than the small business owner had anticipated. He ultimately hired an outside company to complete the business's payroll process. Upon receiving a bill for their services, it disheartened him to learn that hiring payroll help was almost more expensive than his employees' salaries.
The small business owner in this story is Mike Kappel. The experience of attempting to learn how to create and manage his business's payroll process motivated him to found Patriot Software in 2002. Today, Kappel serves as Patriot Software's Chief Executive Officer.

"Patriot sprang from Mike's realization of small businesses' need for a viable solution to affordably and conveniently pay their employees," said Michele Bossart, Patriot's Product Marketing Manager. "He was looking to provide businesses with a software solution that was easy to use and could automate their payroll process."
Small business owners are often passionate about their business. They may be less passionate about the ancillary activities required to run their business.
"Mike's passion isn't payroll, it's the American small business owner," Bossart said. "He's been in their shoes and knows how difficult it is to run a business while keeping track of payroll tax laws and compliance concerns." 
Configurable Software Meets Unique Business Needs
Since its inception, Patriot's payroll offerings have expanded to meet the needs of businesses with up to 500 employees. Bossart said its payroll software is flexible to support companies across numerous industries.
"There likely isn't a small business owner out there — whether they own a pizzeria, a bakery, or an insurance agency — who says, 'I love doing payroll!'" Bossart said. "But it's a necessity. If you have employees, you have to have payroll. And our solutions are easy to learn and are designed to meet the needs of any small business." 
Patriot offers two different payroll products. Its basic payroll solution is for businesses that are interested in streamlining their payroll processes but aren't interested in assistance with submitting their payroll taxes and payroll tax deposits. The software can be fully accessed online, eliminating the need for businesses to download additional components. It has a mobile-friendly interface and enables users to directly deposit pay into employee accounts.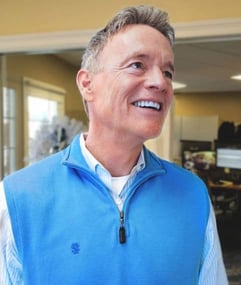 Patriot also provides businesses with a free employee portal where employees can access their pay stubs, time-off balances, and W-2 forms.
Patriot's full-service payroll solution offers all the features of basic payroll. In addition, the full-service payroll product files and deposits a business's federal, state, and local taxes. Patriot guarantees the accuracy of tax filings. In the event of a mistake caused by Patriot, it will cover all the costs associated with interest and penalties.
Bossart said Patriot's payroll products meet businesses where they're most comfortable. Both solutions allow users to accomplish payroll tasks as quickly as possible, enabling business owners and payroll managers to focus more on other tasks.
"Some software companies measure their success by how often users access their software and how long they spend working in the software," Bossart explained. "Patriot takes the opposite viewpoint. We want people to be able to get in, do what they need to do, and get out. If they can do that quickly, we know we're doing a good job for our customers." 
Accounting and HR Solutions for Growing Businesses
Patriot's payroll software was its first product, and, according to Bossart, it's what Patriot is most known for today. 
"Businesses often start with payroll solutions, then, when they discover how intuitive it is, will branch out to using our other products as their business grows," Bossart said.
Patriot's human resources software is an optional add-on to its payroll offerings. The software can track employee milestones such as service anniversaries and employees' birthdays. It can also complete employee demographic reports and track retirement plan contributions. 
Patriot's time and attendance software is also available as an add-on to a payroll package. It allows businesses to manage employee time cards quickly. Information from approved time cards is sent directly to Patriot's payroll software.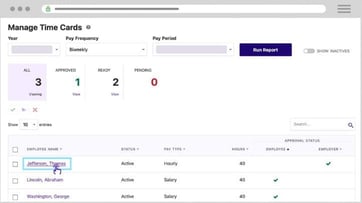 "When Patriot first created our time and attendance solution, we released it to our internal human resources department so they could test it," Bossart said. "They were so thrilled with it they were jumping up and down. A process that had been time-consuming could now be accomplished with a click of a button. It saved them a great deal of time that they had been spending calculating time card information." 
Patriot's accounting software is available as a standalone product, though it integrates seamlessly with other Patriot solutions. The solution allows businesses to create and maintain numerous essential reports and statements, including profit and loss statements, balance sheets, general ledgers, and accounts payable and receivable reports.
Basic and premium accounting packages are available, and, as with Patriot's payroll, human resources, and time and attendance solutions, businesses can see all of the products through many types of demos to explore and assess the software.
Patriot Software Customers are Its Biggest Advocates
Patriot Software's in-house accounting department uses Patriot's accounting and payroll software. Bossart said that is one way the company evaluates its products and uncovers any possible pain points. Another avenue Patriot uses for self-assessment is to listen to its customers. 
Bossart said Patriot consistently seeks customer feedback, particularly when rolling out new features or enhancements. In addition to highlighting what they enjoy about a solution, customers also provide suggestions and alert Patriot to product features that are causing them confusion.
"We're always looking for our customers to talk to us," Bossart said. "We want to know what they're thinking about our products and services. Our customers are very conscious of pricing, and we aim to give them the most value possible. We've learned over time that our customers are consistently thrilled with the value they get for their money with our solutions."
Patriot has customers in each of the 50 states. It bases its customer support operations in the U.S. Bossart said one of the things that differentiates Patriot from its competitors is that it counts its customers among its biggest advocates. Patriot's website features many customer reviews supporting Bossart's assertion.
"Our customer service team focuses on ensuring our customers are not only completely satisfied with our products but also with every interaction they have with us," Bossart said. "Here at Patriot, we really have a heart for the American business owner. It's not about us. It's about them."