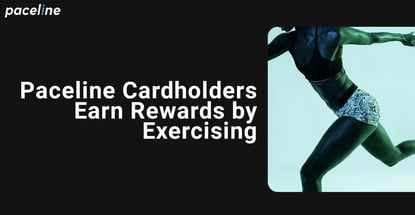 In a Nutshell: Paceline rewards its members' healthy habits with a rewards card that offers 5% unlimited cash back on health and wellness purchases at grocery stores, pharmacies, gyms, and more when they work out weekly (hitting 150 minutes of elevated heart rate). When members hit their workout streak, they also earn 3% unlimited cash back for all other eligible purchases. If you miss your weekly exercise streak, those cash back are 3% on health and wellness spend, 1.5% for everything else. Exercise is tracked using wearables such as Apple Watch or Fitbit. The card has a $60 annual fee.
The landscape of exercise has changed forever. The pandemic brought on the rise of at-home workout routines, and fitness centers reported a decrease in foot traffic from December 2020 to December 2021.
Paceline opened access to its fitness rewards app when many around the world were trying to find ways to continue workout routines with gyms closed. Instead of focusing on the traditional 10,000 steps per day metric, Paceline tracks exercise minutes.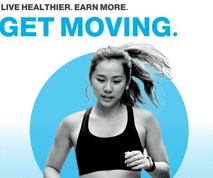 One exercise minute is logged for every minute of maintained elevated heart rate. This creates an even playing field for everyone whether you prefer to jog around the block or lift weights. Up to 50 exercise minutes are tracked for rewards purposes per day. To reach the weekly goal and begin a streak, you must hit 150 exercise minutes in that week.
The rewards you earn through your exercise are redeemed for discounts or gift cards with some of the top exercise brands, including Nike and Hyperice.
To expand on more reward opportunities, Paceline launched its rewards credit card in March. The card not only continues to offer cardholders rewards for exercising, but they can also earn cash back on health-related purchases.
"Paceline first started as a health and wellness rewards platform that provides financial incentive for working out," Paceline's General Manager of Credit Card Jenna Link said. "The evolution of that is our credit card. It supercharges that financial incentive and starts to actually bring the worlds of financial health and wellness to physical health and wellness together."
Increasing Cash Back by Maintaining Exercise Streaks
Paceline's credit card has a high base cash back rate of 1.5% on everyday purchases, and 2.5% on purchases in the health and wellness category. But just by reaching 150 weekly exercise minutes, those rates double to 3% on everyday purchases and 5% on health and wellness.
To earn more, members have to work more. It's how Paceline works to link health and wellness with financial wellness. But the good news is that even when members falter and don't hit 150 exercise minutes for the week, they are still earning unlimited cash back at a high rate.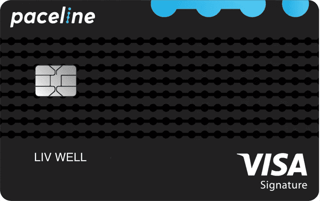 Paceline also works with partners in the health and wellness category, such as Echelon, Lululemon, and Nike to offer discounts to continue supporting exercise goals. The card does have an annual fee that comes in at $60. Paceline said members who have the card are exercising more.
"We've already seen an increase in exercise activity during the week and cardholders versus non-cardholders," Link said. "They are consistent and hitting their streets week over a week, which is super exciting. My dream for the card was to help drive that accountability and provide positive feedback for you to continue to live that healthy life."
Fitness Tracking With App and Device Integration
Paceline uses many of the devices athletes already have, including their phone and a smart watch, to track exercise. Paceline's app supports Fitbit, Garmin, and Apple Watches. The company is working with other partners to bring in more devices.
The devices track members' elevated heart rate to measure how much they exercise. Everyone's weekly activity goal is set at 150 exercise minutes a week, and that's for every minute the smart watch detects an elevated heart rate.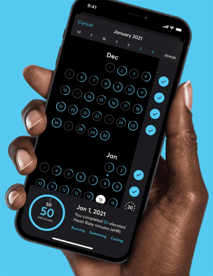 For those who do not have a smart watch, Paceline offers an opportunity to receive up to $429 in statement credits toward an Apple Watch. The company will provide statement credits for every week members  hit their 150 exercise minutes for a year.
Independent of the card, all members earn rewards on the app for hitting the elevated heart rate goal each week. Members redeem the points they earn for gift cards to various popular retailers and online shops including Walmart and Starbucks. Members can automatically cash in their points and turn them into gift cards for as low as $1 per week, $5 per month, or $10 per quarter.
Members can add friends to their app to keep each other accountable and compare their exercise. The experience creates a way to keep track of where your friends are and how you stack up with them.
"We know that financial rewards incentivize people to work out more," Link said. "Building the positive feedback loop into the ecosystem is what we're really after. We want to share that with your support network. Celebrating those amazing milestones and keeping each other accountable is definitely something we're focused on."
Redeeming Rewards With Expanding Partner Programs
Paceline is steadily growing following its launch in March of 2020. The pandemic brought to light how important our health is and Paceline is primed to help members reach their fitness goals. The credit card is an evolution of that goal.
Users have logged over 2 billion exercise minutes and over 40 million workouts on the Paceline app. Users have redeemed more than 1 million rewards worth over $4 million since the card's launch.
The company promotes spending in the health and wellness category, and rewards users who do. Not only do cardholders receive 5% unlimited cash back in the category, but all Paceline users receive discounts or opportunities to earn gift cards to their favorite retailers.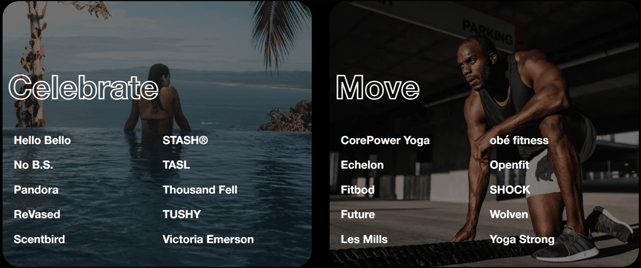 Paceline continues to work on the app and add features, and looks to its members to help create new ideas. The company looks to its users to find retailers and other businesses to partner with to promote healthy living. 
"Seeing who we've partnered with in the health and wellness space is a motivator to unlock that extra incentive," Link said. "There's been amazing discounts with partners like Echelon. I personally have found a ton of new health and wellness brands just through our app experience itself." 
It's difficult not to find a new brand to help achieve fitness goals. Members can redeem their rewards from more than 500 health-focused lifestyle brands.
"Getting that feedback from our consumers and understanding how we can provide more value to them and help them reach their goals is really the strategy we're taking with the partnership team at Paceline," Link said. "Trying to get in and understand the amazing opportunities enhances our value proposition even more."
Advertiser Disclosure
CardRates.com is a free online resource that offers valuable content and comparison services to users. To keep this resource 100% free, we receive compensation for referrals for many of the offers listed on the site. Along with key review factors, this compensation may impact how and where products appear across CardRates.com (including, for example, the order in which they appear). CardRates.com does not include the entire universe of available offers. Editorial opinions expressed on the site are strictly our own and are not provided, endorsed, or approved by advertisers.