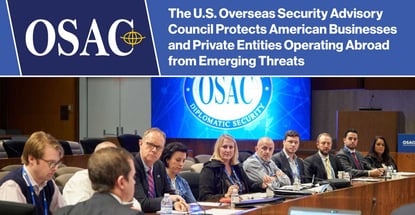 In a Nutshell: The rise of the COVID-19 global emergency highlights the importance of international cooperation and the role of governmental organizations in protecting the public. One such organization is the U.S. Overseas Security Advisory Council (OSAC), created in 1985 to establish a mechanism for regular communication between the public and private sectors concerning developments in overseas security. Information and analysis from OSAC analysts helps more than 5,000 constituent businesses, academic and faith-based organizations, and non-governmental organizations operating abroad protect themselves and their employees from threats to their security and safety.
In 1983, Americans were shocked at the news that more than 300 military and civilian personnel had lost their lives after U.S. Marines and French forces stationed as peacekeepers in Beirut, Lebanon, had been attacked by terrorists.
The Beirut bombing and other events occurring in the Middle East around that time prompted U.S. Secretary of State George P. Shultz to seek ways — beyond the informal information-sharing networks that existed at the time — to boost the security of U.S. businesses and other private entities operating abroad.
In 1985, Secretary Shultz under the auspices of the Federal Advisory Committee Act created the U.S. Overseas Security Advisory Council (OSAC) to provide officials in the private and public sectors with liaison opportunities regarding overseas security risks and to offer recommendations to mitigate them.
Now, more than 35 years after its creation, OSAC endures as the premier public institution supporting the international security concerns of U.S. private-sector organizations, helping them manage security-related issues in overseas environments.
Security, as construed by OSAC, encompasses all situational and endemic threats — terrorist or otherwise — to U.S. overseas private entities and their employees. The recent rise of the COVID-19 virus brings new attention to the importance of OSAC's work on behalf of U.S. institutions overseas and the people who operate them.
"Secretary Shultz was personally affected by the tragedy in Beirut," James Weston, Head of OSAC's Research and Information Support Center (RISC), told us. "He had served as a Marine and he had also worked in the private sector. He thought, there must be a mechanism he could use for bringing those two worlds together. And so he turned to a tool he thought would work best."
Timely Alerts and Analysis Based on Intelligence and Public Sources
OSAC at its core is a federal advisory committee made up of 31 private-sector organizations and three government agencies, with the State Department's Bureau of Diplomatic Security acting as the locus for the group's activities.
OSAC is housed and managed by the Department's bureau responsible for law enforcement and security, the Diplomatic Security Service (DSS), which creates a partnership between DSS's worldwide workforce of special agents and private security officers.
OSAC exists to receive information from the private sector on security and safety challenges they're facing overseas. Based on those exchanges, Weston's RISC office communicates to OSAC's member constituents and facilitates networking for the mutual benefit of those members.
"Timeliness is crucial to what we do," Weston said. "Whether it's coronavirus or any other threat, our continual responsibility is to ensure we're giving accurate information in a timely fashion."
Constituent membership in OSAC is not limited to businesses but includes U.S.-based academic institutions, faith-based organizations, and nongovernmental organizations. OSAC now serves more than 5,500 U.S.-based private organizations with more than 22,000 individual users.
OSAC represents organizations, not individuals, however. The work of OSAC compliments the State Department's Bureau of Consular Affairs which is responsible for the welfare and protection of U.S. citizens abroad. Where Consular Affairs' messages are aimed at U.S. citizens, OSAC serves U.S. organizations and their staff, regardless of nationality.
While OSAC counts on the participation of its individual users, it defines membership in organizational terms. OSAC pulls information from intelligence sources when practicable, but a good deal of the work OSAC analysts do emanates from publicly available sources.
"Probably the biggest asset we have is our members — people on the ground in a certain country, or maybe their regional managers based here in the U.S. — that closely cover what's going on," Weston said. "They really become firsthand sources for us."
Twice-daily news reports and occasional announcements go out to both members and the public. What's published is a combination of OSAC-generated analysis, member exchange, and relevant data and information sourced from other government entities, including embassies and consulates.
Web Resources Including a Traveler Toolkit Provide High-Demand Information
Joining OSAC definitely carries benefits, however. Registered users and organizations receive exclusive OSAC reports on the latest social, political, and economic issues that are impacting U.S. private-sector security, while the member-networking and information-sharing functionalities are packaged through participation in Country Councils and Common Interest Councils.
Throughout the year, constituent members also meet, share, and network at OSAC-sponsored events and meetings.
Still, the OSAC website serves as an indispensable resource for members as well as the public. Along with the news, advisories, and announcements that go out to everyone are global crime and safety reports, for example.
"Anyone can pull up a report written by an embassy or consulate relevant to their overseas location," Weston said.
Perhaps the most in-demand information, however, is the most basic. OSAC's Traveler Toolkit acts as a central repository for anyone going overseas.
The Traveler Toolkit includes practical advice on areas deemed dangerous, due to law or custom, and dos and don'ts for carrying prescription medicine on an overseas trip. Even member constituents like the Traveler Toolkit.
"Organizations want access to a comprehensive resource," Weston said. "Maybe this is the first time the user's gone overseas or to a particular country. We try to present some basic information to appeal to that level."
OSAC: A Community of Support for U.S. Private-Sector Interests Abroad
Measuring OSAC's impact on safety and security is a challenge. "Part of the role of security professionals is to make sure that nothing goes wrong," Weston said. "And, if indeed nothing goes wrong, how do you measure your impact on that? From what I understand from talking to other organizations and from serving in diplomatic security for 19 years, it's a problem that's not unique to OSAC."
Nevertheless, anecdotal evidence as to specific OSAC successes does exist — a lot of it due to the organization's role as a networking conduit.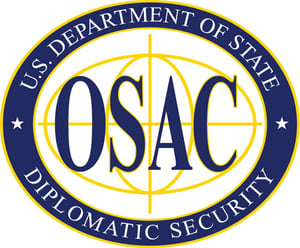 "In times when an organization needs to evacuate from a location, they'll often charter a plane to get their people out," Weston said. "They might have seven employees in the location, but the plane they charter has 25 seats. So, they'll share through the OSAC channel that they have 18 seats available for other organizations."
OSAC's access to intelligence also pays off.
"We've had cases where we've provided a warning to a U.S. company about a threat and seen anticipated terrorist activity diverted as a result," Weston said.
Meanwhile, health threats such as COVID-19 grab a great deal of OSAC's attention. With no medical experts on staff, OSAC serves as a means of information from sources like the Centers for Disease Control and Prevention, and from embassies and consulates on the ground in stricken countries.
"The most important thing we've been offering is the opportunity for our members to benchmark with one another regarding the virus," Weston said. "It's not unique to this recent outbreak — you see in a lot of cases that companies get a lot of benefit out of asking peers and competitors about what they're doing in response to a given event or something that's changing."
Advertiser Disclosure
CardRates.com is a free online resource that offers valuable content and comparison services to users. To keep this resource 100% free, we receive compensation for referrals for many of the offers listed on the site. Along with key review factors, this compensation may impact how and where products appear across CardRates.com (including, for example, the order in which they appear). CardRates.com does not include the entire universe of available offers. Editorial opinions expressed on the site are strictly our own and are not provided, endorsed, or approved by advertisers.