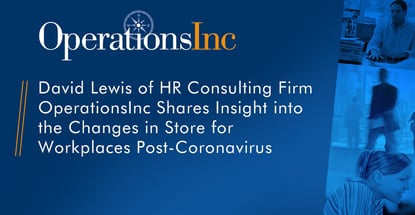 In a Nutshell: OperationsInc is the largest HR consulting practice in Connecticut and one of the largest HR firms in the United States. As COVID-19 continues to impact workplaces around the world, CEO David Lewis shares his thoughts on how employers can set up a safe return to the office — and how a post-Coronavirus workplace may look in the U.S.
The only thing that's remained certain during the Coronavirus pandemic is that nothing is certain. Rules, regulations, and our way of life seem to change hourly. Many people seek happiness by finding little bits of normalcy in their days.
But one thing we've learned is that some things may never return to the way they once were. That's possibly most apparent in office spaces and other businesses around the U.S. — where many employees now roll out of bed in the morning and clock in for work remotely.
David Lewis has followed this trend as closely as anyone. As CEO of OperationsInc — one of the largest HR consulting firms in the U.S. — he's helped mold the vision of a post-COVID workplace.
"Businesses need to make sure they're fully and intimately familiar with whatever guidelines and regulations have been implemented and instituted by their state government," he said. "This has become a state-regulated issue. Depending on where your business or your employees are located, you'll have a different set of guidelines for establishing a safe work environment."
And that environment may include fewer in-office employees if current trends continue. As remote work becomes commonplace for many people, Lewis said he can envision a shift in which many employees don't return to the office on a full-time basis.
"We [employers] have this fear that employees who work from home will have a lower level of productivity, but that couldn't be further from the truth," he said. "Employees who work remotely are actually equally — and oftentimes more — productive."
Lewis pointed to studies conducted since the start of social distancing that show many remote employees now have a blurred definition of when the workday starts and ends. Many don't track when it's time to stop working and end up working more than they would in an office setting, where there's a tendency to watch the clock until the end of the day.
"Offices that are requiring all of their employees to head back into the workplace and get back together are not only missing the big picture, but they're going to have a hard time attracting and retaining talent over the next several years," Lewis said.
But not every business has the ability to work remotely. In those cases, Lewis recommends that employers allow employees to have a say in how and when they return.
"The first step in this process is to survey your employees," he said. "Ask them if they're ready to come back. If they aren't, ask them why. They could have childcare issues, concerns for safety, or worries about underlying medical conditions they may have."
For most employees, a return to the office isn't just about office safety. Public commuting, fears of bringing home the virus to loved ones, and other concerns come into play as well.
An employee survey will likely shed light on those concerns and give employers a chance to respond and, hopefully, help ease concerns.
Workplace Safety Goes Beyond Wearing Masks
Face masks are so common that even fashion designers are altering their summer lines to include them. But wearing a mask isn't a guarantee that someone will remain safe, healthy, and virus-free.
With so many close cubicles and common areas in an office setting, masks are only one necessary component of maintaining a safe environment. The problem is that each state has different requirements for personal protective equipment (PPE).
"The commonality that I'm seeing from state to state is that, at a minimum, employees are to wear PPE — at least in the form of a mask," Lewis said. "There should be social distancing and everyone should be educated on hygiene behavior and how to deal with any commonly touched or accessed areas in the workplace."
Lewis also suggests that his clients provide some sort of employee training on what's required of them to maintain a safe environment. While some practices — such as washing hands frequently and wiping down surfaces — may seem obvious, others may not. That's where training can help.
Training can bring about a sense of unity in an office, where all employees gain a better understanding of the teamwork needed to keep everyone safe and on the same page. That can help ease the potential clashes that Lewis said are inevitable over the coming months.
"We're already starting to see the first wave — of which we're expecting will be significant — of employee conflict around the improper use of PPE," he said. "Conflict also arises around less-than-ideal adherence to the guidelines for safety protocols and sanitary behavior that's meant to keep people safe."
In many cases, Lewis said these conflicts often arise from misunderstandings and not from a brash disregard for safety protocols.
"You're seeing people wear masks on their chin, below their mouth, or under their nose," he said. "They may not be making an intentional statement that they refuse to wear the mask properly. They may just be dealing with their own personal comfort issues and are not aware of the stress or risk they may be creating for employees in their general area."
If employees don't feel safe in the office, Lewis recommends they take the issue up with a supervisor or HR specialist. If that doesn't work, there are ways to escalate a concern beyond the company.
"Most state regulations have some sort of whistleblower provisions in place that encourage employees to contact a hotline to alert the state to concerns an employee might have about an unsafe work environment," he said.
Taking Control of a Positive Test in the Workplace
Most experts predict a second wave of positive tests over the coming months. In an office setting, where there may be dozens of people with varying levels of diligence to maintain safety, there's always a chance that someone could become a statistic in that second wave.
"The state guidelines state that if you're sick — any kind of sick — don't come to the office," Lewis said. "If you're in the office and you start to have any symptomatic behavior, you need to inform your employer and get yourself out of the office as quickly as possible."
Lewis said the next step is for employees to find a testing location. Since many tests now provide results within hours, he said employees should immediately notify the employer of the results.
"Positive testing, on a state-to-state level, will trigger you being notified if you have tested positive," Lewis said. "It will likely also trigger other notification processes. How that contact tracing processing kicks in will depend on your state or the state where you've been tested."
Many states have plans in place to contact employers, family members, or other people who may have come into contact with someone who has tested positive for COVID-19. But Lewis said that employers shouldn't expect those processes to do all of the heavy lifting if an employee tests positive.
"I'm strongly advising our clients not to rely on any contact-tracing exercise," he said. "Instead, you should insist that your employees notify you immediately if they've tested positive for COVID-19.
"I'm not convinced that you can depend on the state, a local official, or a healthcare provider to ensure other people who may have been exposed to that individual are notified."
Embracing the Inevitable Future of a Remote Workforce
While this global pandemic has changed nearly every facet of our lives, a time will come when things start to feel normal again. While our new normal may not look or feel exactly like it did before COVID-19, we'll all adapt and find a way to make the best of it.
For many offices and other businesses, the adapting has already begun.
"I'm fully convinced that we will identify February of 2020 as a point in time in which the way that we work was completely changed," Lewis said. "That moment opened the eyes of the employers who were otherwise resistant to offering remote or at-home work. Many realized that remote work is workable."

Lewis said the current remote workforce is mostly operating in the least ideal conditions possible. Many employees found themselves removed from their offices in a matter of hours with no time to plan for the shift, no chance to remove necessary items from their current office, and no access to the equipment or setups needed to properly do their jobs.
Add to that the possibility of kids being home from closed schools and the rest of the family making the home a little more crowded, and it may not be the best working environment. But as things begin shifting to the new normal, many remote workers will adapt to more organized conditions and settings — which will make their jobs easier to complete.
"I expect that employers will have to embrace a remote work relationship with employees," Lewis said. "They have to consider this as part of their go-forward strategy and assume that significant portions of their employee population will want to continue to work from home."
Similarly, there will be many employees who are eager to get back to the office. These are typically the employees who seek social interaction, collaborative environments, and a way to solidify a work-life balance.
For employers, fewer in-office employees means less required office space and fewer overall expenses. Companies will learn to manage split populations with in-office and remote work teams. If they don't, it could mean the end of their business.
"There's no going back," Lewis said. "We are at a point where this experience, like it or not, is locked in."
Advertiser Disclosure
CardRates.com is a free online resource that offers valuable content and comparison services to users. To keep this resource 100% free, we receive compensation for referrals for many of the offers listed on the site. Along with key review factors, this compensation may impact how and where products appear across CardRates.com (including, for example, the order in which they appear). CardRates.com does not include the entire universe of available offers. Editorial opinions expressed on the site are strictly our own and are not provided, endorsed, or approved by advertisers.