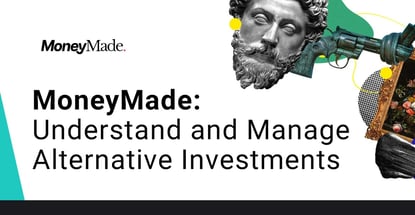 In a Nutshell: Traditionally, only accredited investors and high-net-worth individuals invested in alternative assets such as real estate, farmland, and fine wine. But technological and regulatory changes have opened alternative investments to everyone. MoneyMade educates new investors about the opportunities and pitfalls of alternative investments, evaluates and connects to 200+ platforms, and provides tools for managing investments.
Beyond the world of stocks and bonds, anything with value is a potential alternative investment opportunity. For centuries, wealthy individuals and accredited investors have put money in — and made money from — real estate, farmland, precious metals, and collectibles such as fine art and wine.
But there's a new way of doing alternative investing that makes it an option for everyone. Technological innovation and regulatory change allow fintech companies to create financial products from alternative assets and sell fractional shares to everyday consumers.
Non-accredited or retail investors now have a way to diversify their portfolios with products that tend to counter fluctuations in the value of traditional securities. By following the news, millions of potential investors learn about emerging platforms for investing in real estate, art, autos, and even sports memorabilia and digital assets.
With hundreds of alternative platforms coming online, investing in more than two or three simultaneously could quickly become a management nightmare. It's a challenge even to judge the performance of different types of alternative investments because products lack a common structure for comparison. Because the market is so disorganized, it's easier for investors to misjudge or let opportunities fall through the cracks.
Ryan Fochtman, Head of Strategic Partnerships at MoneyMade, said that by building a platform for comparing more than 200 leading alternative investment products over time, MoneyMade makes discovering and managing alternatives more predictable and potentially far more lucrative. MoneyMade is also an educational platform with content for investors at all stages of their journey into alternatives.

"Not putting all your eggs in one basket is the go-to for investing in alternatives," Fochtman said. "Our simple API pulls in transactional data and produces a dashboard view across every asset class."
Discover What's Trending in the Alternatives Marketplace
MoneyMade reveals trends in real time across all the alternative investments on its platform through the API. MoneyMade's landing page keeps users updated on market trends, including the top return rankings within the previous 24 hours to a year. The landing page also highlights asset classes for comparison and ranks top platforms.
The landing page links to a Discover page where users can sort opportunities by investment type, goal, and availability. Other search filters include risk tolerance, assess liquidity, returns, payout, and minimum investment required that can deliver more refined research results.
MoneyMade's Reads pages offer articles, reviews, and collections organized by subject, asset class, and investment strategy. Content on the Reads pages analyzes proven asset classes and looks broadly at tech and product trends. A weekly market report assesses opportunities in the context of global news and events.
Liz Aldrich, Lead Editor at MoneyMade, said the platform produces a view of the alternative investment market that isn't available anywhere else. MoneyMade helps investors gain a platform perspective with a performance history to back it up.
"These asset classes are either newly available to retail investors, or, in the case of crypto and NFTs, they're just completely new," Aldrich said. "We're one of the first to offer full studies and research analyzing how different asset classes compare and perform."
MoneyMade's automated reviews and updates on performance trends make alternative investments more user-friendly and convenient.
"If you went through and invested in individual stocks with your own strategy, maybe you could avoid fees and see higher returns, but it could take years to develop the knowledge," Aldrich said. "These platforms let you figure out what works and what doesn't."
Track Current Investments and Monitor Watchlists
MyMoney, MoneyMade's management dashboard, brings all the pieces together to help users monitor total investment performance, view portfolio allocations, and review the user's history on the platform.
MyMoney also enables an Asset Watchlist with growth and valuation numbers, and notifications for products and asset classes. Users can sign up for a daily newsletter that breaks down portfolio performance and highlights market movers, shakers, and record breakers.
Fochtman said MyMoney started as a personal tool among MoneyMade power users who were juggling investments on multiple platforms. Drawing on platform data powering discovery, MyMoney becomes a home for the user's entire presence in the alternative investment market, a unique source of actionable insight in a still-coalescing space.
"I've probably invested across a dozen apps and platforms, and it takes time to log into each of those apps and pull up performance numbers," Fochtman said. "MyMoney zooms in on our goal of bringing more transparency to alternatives in general."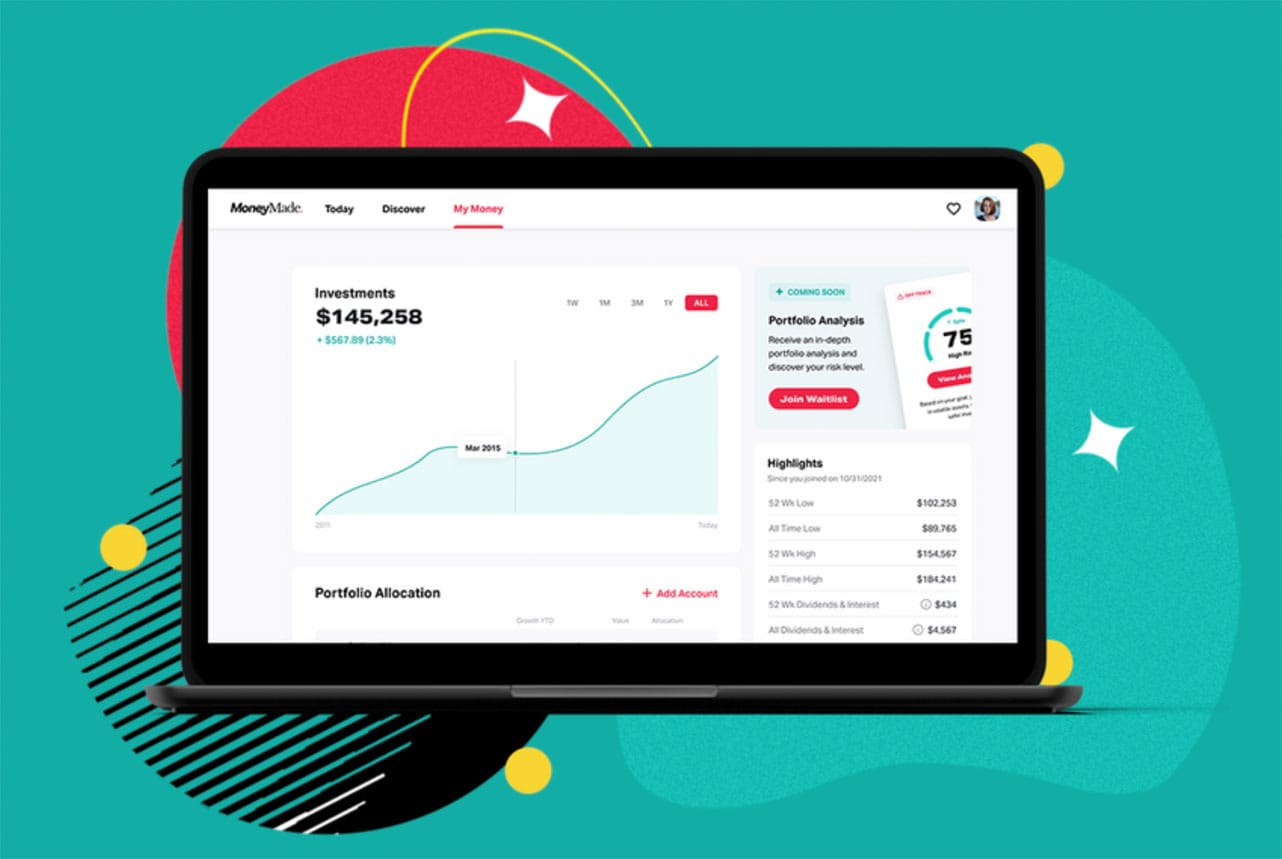 MyMoney puts alternative investments on par with conventional stocks and bonds. With new platforms and products constantly emerging in the alternative investment space, it helps investors at all stages learn more about the market, asset classes, and individual opportunities and pitfalls.
Alternative investments don't plug into mainstream consumer financial management platforms and apps. MyMoney is the next best thing, producing state-of-the-art clarity for new and experienced investors.
"It's good to keep an open mind about the different alternative asset classes out there," Fochtman said. "MoneyMade is a touchpoint for discovering and comparing them all — you learn about the fees, how the platforms make money, and most importantly, how you make money."
MoneyMade: Helping Investors Stick to Fundamentals
The lure of alternative investments as a counterweight to securities attracts investors at all levels interested in stable asset growth. Alternative investments are also frequently in the financial news for positive and occasionally negative reasons, and they attract new investors that way.
Unlike stocks and bonds, alternative investments become outlets for fandom and vehicles of personal expression. MoneyMade links cultural allegiances to financial opportunity.
Controversies over cryptocurrency and crypto tokens linked to tangible assets are a prominent example of the negative attention alternative investments have received. As alternative investments continue to diversify, MoneyMade helps users gain a better perspective by accruing more data on the market as a whole.
MoneyMade stands in favor of tried-and-true investment principles no matter where the money is going. As Fochtman put it, nothing tops common sense.
"The bottom line is it's good to diversify your portfolio," he said. "During the pandemic downturn, farmland, wine, private real estate — all those sectors outperformed the stock market."
Aldrich noted that alternative investment products run the gamut, including high-end wine purchases with storage and shipping provided. A wine cellar isn't necessary — the platform covers all the additional costs and necessities to get started as a wine investor.
Aldrich also recommends MoneyMade as a tool for new investors to get their feet wet. She said it's better to start slowly and make a few early mistakes than wait and dive in fully.
"You don't want to start with a ton of money if you don't know what you're doing, but inching your way into investing will help you earn more in the long run," she said.
Advertiser Disclosure
CardRates.com is a free online resource that offers valuable content and comparison services to users. To keep this resource 100% free, we receive compensation for referrals for many of the offers listed on the site. Along with key review factors, this compensation may impact how and where products appear across CardRates.com (including, for example, the order in which they appear). CardRates.com does not include the entire universe of available offers. Editorial opinions expressed on the site are strictly our own and are not provided, endorsed, or approved by advertisers.