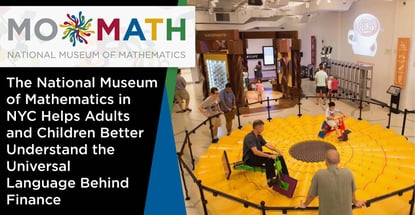 In a Nutshell: New York City's National Museum of Mathematics (MoMath) has welcomed more than 1 million visitors since its grand opening in late 2012. The Museum provides a fun and engaging atmosphere for adults and children alike to develop a love of math. The institution hosts regular events and programs that cater to a wide variety of demographics — from toddlers to CEOs. And it fosters new ways of thinking about how math affects our everyday lives — and what it makes possible.
Not many people can successfully compare mathematics to ice cream, but Cindy Lawrence manages to pull off that difficult feat.
Lawrence is the CEO and Executive Director of the New York City-based National Museum of Mathematics (MoMath), an institution that aims to make math fun, engaging, and approachable.
And visitors don't have to love math to get the most out of a trip to MoMath. In fact, Lawrence said those who dislike mathematics are often the visitors who enjoy the Museum the most.
"If you love ice cream, and you go to an ice cream shop, you'll have a great time there," she said. "But if you think you don't like ice cream, and you've never really tasted all the flavors out there, you can have an eye-opening experience when you find a flavor you love."
The world of finance contains many flavors of mathematics. Whether it's basic calculations or advanced formulas and equations, math keeps the world's economy — and daily life — running.
MoMath provides visitors with an immersive learning experience as part of its mission to reduce the real issue of math anxiety. That's why Lawrence and her team strive to make the subject fun for everyone who visits.
"If there's one thing that MoMath is not, it's frightening," Lawrence said. "People come in and see things that are bright and colorful and engaging. They want to sit down and play with things — which isn't most people's first reaction when it comes to math."
Resources for Personal and Professional Development
MoMath believes that visitors are never too old to learn something new or find a more natural way to complete an ordinary task. Whether it's an entry-level math student or the CEO of a multinational corporation, the Museum offers excitement and inspiration.
One example is a series of events aimed at executives that combines math with a dinner party.
"We have an expert puzzle master who is also a mathematician, and we are hosting a series of events that combine fine dining with puzzle-solving," Lawrence said.
While completing a puzzle may seem more enjoyable than the multiplication worksheets you completed as a kid, Lawrence said the event has an underlying mission.
"We want to help executives learn that by thinking rationally while solving puzzles, you can help yourself make better decisions in the boardroom," she said.
The event is one of the many that MoMath holds each week. Others include lectures, math-themed events for kids, and workshops designed to teach the role mathematics plays in everyday objects around us.
The events often go hand in hand with the Museum's rotating exhibits, such as a recent exhibit on the mathematics behind origami.
"A lot of museums have origami exhibits that are meant to be art exhibits," Lawrence said. "Most people don't expect to see this type of display with a math interpretation. But those types of things work to change people's perceptions about mathematics."
MoMath also hosts special guests for events and lectures, including an upcoming visit from Yoshi Anpuku, the "Godfather of Sudoku" and one of the original designers of the number-based puzzle game.
"We can find math in just about any aspect of the world you might want to look at," Lawrence said. "And that's why we exist. We want to show that math is all around us."
Fostering the Next Generation of Math Lovers
Like many museums, MoMath depends on members, sponsors, and contributions to continue its mission. And it offers several membership tiers for anyone who wants to support the Museum and, true to form, Lawrence's team puts a math spin on each level.
An Infinity Member, for example, receives several Museum benefits, along with passes to the organization's annual ball and other perks. The listed price for the membership? 1,000π — that is $3,141.59 for the less math-inclined.
"We try to have fun and infuse a little humor into everything we do," Lawrence said.
Aside from traditional membership, Lawrence noted that MoMath always welcomes new sponsors, and individuals or companies can help finance specific exhibits or long-term programs. One future program that Lawrence's team wants to develop will focus on getting more young girls interested in mathematics.
"We'd love to find a sponsor for that," she said. "And people can sponsor exhibits, or they can also donate their time by helping explain the exhibits to visitors, checking visitors in for programs, leading tours, or in countless other ways."
MoMath also encourages supporters to make one-time donations. Over the years, the Museum has garnered attention and support from around the globe.
Part of that support comes from individuals or companies that believe in MoMath's mission. But quite often, visitors donate after experiencing firsthand how the Museum can make mathematics and problem-solving fun — and less daunting.
"People who love math are going to love MoMath," Lawrence said. "But it's people who don't like math, or have a less-than-positive relationship with math, who end up really loving the Museum. Those people tend to have a more inspiring experience."
Inspiring More Than 1 Million Visitors — and Counting
MoMath has welcomed more than 1 million visitors since its December 2012 grand opening. Among those visitors are many celebrities, well-known business professionals, and political figures who have stopped by the Museum to sharpen their skills — or to pass their love down to their children.
"Our visitors are some of the nicest people I've ever met, and they come from such diverse backgrounds," Lawrence said. "From famous to not famous, from right around the corner to halfway across the world, we get all kinds of visitors."
Some of those visitors can be found at the popular Square-Wheeled Trike exhibit — where adults and children alike can learn how square wheels can still provide a smooth ride.
"Mathematics can make things that seem impossible become possible," Lawrence said. "It might seem like something with square wheels would be impossible to ride — and it is impossible if you stay inside the box and don't think creatively."
The exhibit uses catenary curves to create several gently sloping hills on a track that feels smooth despite the square wheels. Lawrence noted that the track's creation required calculus to determine that a catenary curve was needed to mate perfectly with the rolling square wheels.
It proves that math is a key component in just about everything we see, do, and use each day. That may be the buildings we call home or the ratio of ingredients in the ice cream that we enjoy. And MoMath plans to remain a key figure in finding more ways to tie it all together to make math fun to explore for adults and children alike.
Advertiser Disclosure
CardRates.com is a free online resource that offers valuable content and comparison services to users. To keep this resource 100% free, we receive compensation for referrals for many of the offers listed on the site. Along with key review factors, this compensation may impact how and where products appear across CardRates.com (including, for example, the order in which they appear). CardRates.com does not include the entire universe of available offers. Editorial opinions expressed on the site are strictly our own and are not provided, endorsed, or approved by advertisers.