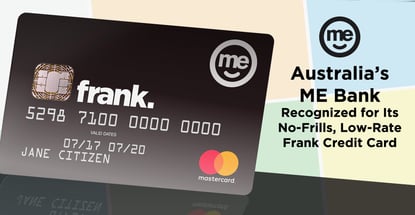 In a Nutshell: Credit card options can be overwhelming thanks to the numerous rewards and perks programs available to consumers these days. Australia's ME Bank has returned to the basics with its Frank Mastercard. The card's greatest feature is its lack of features. The Frank card comes with a low, variable rate for both purchases and cash advances, and no annual fee. The card is a great option for those looking to build credit or just to have a straightforward card on hand for emergencies, and applying for the card is quick and easy. We are recognizing ME Bank's Frank Mastercard with our Editor's Choice™ Award as Australia's Top Low Rate Card. It's no surprise that a card like this would come from ME Bank, whose philosophy is to make banking as convenient as possible for its customers.
Over the past couple of decades, credit card perks and reward programs have proliferated across the finance world. Consumers can choose a card with benefits that focus on travel perks, gas, restaurants, shopping, cash back, and innumerable other niches.
Some cards come with low interest rates but a hefty annual fee. Others have no fees but may carry a high interest rate.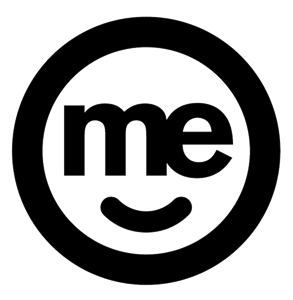 You get the point. The options seem nearly endless.
Keeping up with all the reward offers, point programs, and pros and cons of this or that card can make your head spin. Not to mention worrying about whether you're actually using your card in a way that is taking advantage of its associated perks program.
Sometimes having a credit card that is simple and straightforward in what it can do for you is more appealing.
And that's what Australia's ME Bank provides with the Frank Mastercard.
"Frank provides a clear alternative to expensive rewards credit cards, where customers pay high rates and fees but don't always receive an equivalent benefit from included insurances and loyalty programs," said Christopher Mak, ME Bank's Credit Card Specialist.
With a low variable APR and no annual fee, the card has garnered praise within the industry for its refreshing take on credit card offerings. Now, we are recognizing ME Bank's Frank Mastercard with our Editor's Choice™ Award as Australia's Top Low Rate Card.
We recently had the opportunity to speak with Mak to find out more about the Frank card and why it's been so appealing to ME Bank customers.
The Frank Credit Card's Greatest Feature is Simplicity
A big part of the Frank credit card's appeal is its lack of features. It's clean and simple. Consumers know exactly what they're getting.
"ME launched Frank in May 2015 as a simple, easy-to-understand credit card that offers tangible value back to customers through highly competitive interest rates and no annual fee," Mak said. "In comparison, most low rate cards in the market charge an annual fee."
At 11.99%, the low variable interest is indeed competitive, and that rate is consistent across the board, as opposed to seeing a different rate for cash advances.
"One of Frank's key features is it has one low interest rate across purchases and cash — most banks charge different rates for purchases and cash, with the rate for cash being much higher."
And although the Frank card is simple in its fee structure and lack of reward offerings, it's still a modern credit card that comes with modern security and other features.
"Frank offers up to 55 interest-free days, which places Frank towards the higher end of the spectrum of interest-free days," Mak said.
The Frank card also offers protection from unauthorized purchases, and customers can put a temporary stop on the card in an instant, at any time, through the ME Bank app or website.
Frank cardholders can also use tap-and-go technology to make instant purchases.
Mak said ME Bank receives valuable feedback from its customers over the phone, in writing, and on social media, and the institution is always receptive to learning about new ways to improve.
"We've had great suggestions for process improvements, suggestions for new features and functionality, and even different ways they'd like to be able to use the card in the future," he said.
Applying for the Frank Card
The Frank credit card may be an appealing option for consumers who are looking for a low interest rate but aren't interested in wading through the fine print of introductory offers and rewards programs. And, with up to 55 interest-free days, it may simply be a nice card to have on hand for unexpected expenses.
The card's straightforward approach is also ideal for someone who is newer to the world of credit and is learning how to navigate real-world finances.
"Frank's low rate and no annual fee will also be attractive to people who are looking for the flexibility and convenience of a credit card, but who don't want to pay extra for features and rewards they won't use," Mak said.
"Each application is assessed individually and is subject to credit approval," Mak said. "However, to apply for Frank, you need to be at least 18 years old, an Australian citizen or permanent resident and earning more than $25,000 a year."
The ME Bank website includes tools and educational resources for cardholders, including how to manage credit card payments and setting up regular debit deductions, increasing or decreasing credit limits, and traveling overseas with a Frank card.
The website also includes valuable information on consumer credit scores.
ME Bank's Customer-Focused Approach Has Earned the Institution Multiple Awards
It only makes sense that a customer-friendly, transparent, and convenient credit card like the Frank card would be offered by ME Bank.
"In 1994, we were created to help everyday Australians reach the dream of owning their own home. These days we're a fully fledged bank, with profits going back to the industry super funds that own us," according to the bank website. "We help Australians get ahead. We give you ways to get more from your savings, pay less on loans and cut down on fees — however we can, whenever we can."
The bank is 100% owned by 26 of Australia's leading industry super funds (a type of Australian retirement fund).
ME Bank's philosophy is that banking should be as easy as possible, just like the Frank card.
"And because financial know-how doesn't always come naturally, we give you tools to spend wiser and save smarter: things like our online school of money 'ed', which is fast, free and simple to use," according to the bank.
ME Bank is completely digital, with no physical branches, as a way to deliver customers lower fees, higher returns, and 24/7 banking.
The institution does not invest in fossil fuels, coal mining, coal ports, coal power, gas power, or liquid natural gas plants, and according to its website, never plans to do so. It has also donated more than $1 million over the last decade to the National Breast Cancer Foundation and promotes equality regardless of gender, ethnicity, religion, or sexual orientation or identity.
Even with all of this, ME Bank remains open to becoming even better.
"We're always looking to improve our products and services, and customer feedback is an essential factor in how we prioritize our decisions," Mak said.
Advertiser Disclosure
CardRates.com is a free online resource that offers valuable content and comparison services to users. To keep this resource 100% free, we receive compensation for referrals for many of the offers listed on the site. Along with key review factors, this compensation may impact how and where products appear across CardRates.com (including, for example, the order in which they appear). CardRates.com does not include the entire universe of available offers. Editorial opinions expressed on the site are strictly our own and are not provided, endorsed, or approved by advertisers.