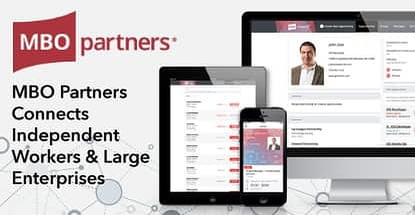 In a Nutshell: In a job market trending heavily toward independent contracting and freelancing, it can be difficult for workers to find premium job opportunities, and large enterprises can struggle to procure the on-demand talent they need. MBO Partners' online talent-sourcing platform for independent professionals, MBO Connect®, helps each side efficiently engage the other. Beyond connecting talent with opportunities, MBO Partners assists in the day-to-day running of independent operations, helps larger organizations integrate and manage their pool of independent workers, and ensures that each side maintains compliance with labor regulations. MBO Partners also undertakes policy advocacy to better define the role and nature of independent labor in the modern economy and help it adapt to the changing needs of workers and the organizations they contract with. //
In the United States, nearly 41 million people — 31% of private sector workers — are members of the independent workforce, and they account for $1.2 trillion in annual economic activity. Today's professional independent worker is gaining more leverage in the talent market, and independent contracting is becoming an increasingly viable way to supplement traditional income.
However, workers still need to connect with clients seeking their skills, and large enterprises need an effective way to find and maintain contact with contractors they want to work with. Prevailing digital employment solutions aren't suited to these independent professionals or the companies that seek to work with them. Sifting through and finding genuine project opportunities and highly skilled, experienced workers is difficult to do on large networks; and job boards lean toward traditional employment opportunities.
One network is aiming to bridge that gap. "Our Connect platform is both an independent consulting jobs marketplace, designed to help professional independents find great work, as well as a preferred talent network for enterprises that allows them to curate their own pools of vetted and proven independent talent," said Gene Zaino, President and CEO of MBO Partners, which helps large organizations engage independent talent, and vice versa.
"At any point in time, we'll have thousands and thousands of people in that ecosystem, with hundreds and hundreds of project opportunities that are curated and matched for the different talent and aligned with the right kind of project," Zaino said. "It gives people the opportunity to work across different companies, do the work they really want to do when they want to do it, and it gives companies the ability to tap into some talent just in time and keep a curated community of people they want to work with."
Leveraging an Independent Workforce to Meet Changing Business Needs
By 2027, MBO Partners-sponsored research predicts that 60% of the workforce will have engaged in independent work at some point in their careers, either as a full-time independent professional or to do part-time or occasional independent work.
"We don't believe people are one or the other," said Zaino. "You're not either a full-time employee or an independent contractor. You will go in and out of that throughout your career. There will be times in your career when you might want to learn a new skill, and a good way to do that is to take on a few projects. Then maybe you'll go back into the full-time world. At different points in your career, you may want more flexibility."
Zaino added, "One thing is for certain. Organizations, and the makeup of the workforce, are changing fast."
This is true in terms of labor as well as technology, marketing, business strategy, and other aspects. Companies need skilled, talented workers to keep pace with innovation and implementation — but hiring them as permanent employees isn't feasible.
"We tell our large enterprise clients that this is an important segment of the workforce, and they're seeing how important it is," Zaino said. "Companies are recognizing that a significant part of their workforce really needs to be focused on independent professionals. To do that, they need to build the capability to easily work with these workers."
The MBO Partners platform, MBO Connect, offers exactly that capability. The platform integrates into existing corporate systems, enabling central management and easy access to independent contractors. Connect helps those contractors navigate their own business, find new clients, and deliver projects. It also helps contractors manage back-office work like finance, billing, collections, and benefits, all while helping them grow and succeed in their careers as independents. Zaino said, "It's a win-win-win all around."
Helping Workers Seize Opportunities & Manage Contracts
The most immediate benefit of MBO Connect is that it helps workers find jobs. "They can go to MBO Connect and see different projects from companies that are part of the MBO ecosystem," Zaino said. The platform matches worker skills, availability, and rates to opportunities, and it notifies workers when a new project match is posted. It also highlights key aspects of workers' resumés that are most attractive to MBO Partners' stable of clients.
"Today, we have over 50 Fortune 500 companies that use MBO for their independent worker arrangements," Zaino said. MBO Partners also has Master Service Agreements in place in many industries. This helps workers quickly complete vendor paperwork and enables MBO Partners to review their contracts, offer advice, and help them gain fast approval. Once a contract's approved, workers can shift focus to the project.
The MBO Partners' business management services are designed to cater to three types of engagement options: Business Services, used by independent consultants who don't do business under a separate legal entity; Corporate Services for entities with an existing corporate structure or workers who want to establish an LLC, S corporation, or C corporation; and Vendor Services for established business owners who have their own back-office services but want compliance certification, increased access to clients, and aid navigating business.
The MBO Partners business management software, an independent professional operating system, offers assistance with accounting, administration, finance, and legal matters, letting individuals manage and maintain all aspects of a back office as well as cost-effective compliance.
The platforms also allows workers to keep track of their clients, invoices, and accounts receivable. Many aspects are also mobile accessible, including important details like invoicing and expense submission. Workers can also photograph receipts to record their business expenses on the fly and save them for tax deductions.
MBO Connect adds the final necessary component to manage one's independent career — the ability to find one's next project.
Zaino said, "It's pretty much their online business center."
Accessing Talent while Maintaining Efficiency & Compliance
"The opposite side of that platform is a way for the organizations to curate a community of these individuals," Zaino said. "There's great independent talent out there. Today, it's about one-third of the workforce. It's a very important part of the workforce. Companies need access to this talent."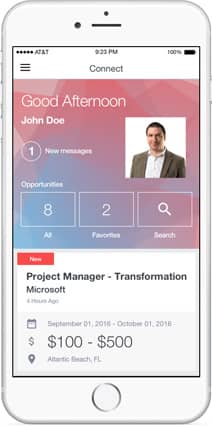 MBO Connect allows enterprises to source independent talent by posting project opportunities and reviewing independent contractors' profiles. Managers can search the marketplace themselves, or they can take advantage of the platform's auto-matching algorithms to find talent in MBO Partners' large pool of proven workers.
The company maintains a comprehensive, up-to-date qualification process for its independent contractors, using technology and personal review to ensure compliance. With this legwork out of the way, on-boarding new talent is fast and easy. Consequently, managers are able to make efficient use of independent workers, drawing on their skills for a particular type of work precisely when they're needed.
"Having the ability to just bring on the type of person you need when you need them is very efficient," Zaino said. "You're able to get a better mix of skills just when you need them, which is more economical, more efficient, and generally gets the work done faster."
Zaino likens it to a talent cloud of independent workers that a company's departments can tap whenever they need a special skill set. MBO Connect allows for central administration of independent contractors within an organization. This provides a more positive experience for workers by getting contracts in place quickly, helping contractors navigate the organization, and getting invoices processed and paid more efficiently.
It's important to remember, though, that these workers aren't traditional employees. "It's different from hiring a full-time person," said Zaino. "It's different from working with a large vendor or consulting or staffing company."
Companies engage directly with individual contractors, which results in cost savings, a decrease in overall time to fill open roles, and faster, more efficient onboarding and management of contract labor, plus the peace of mind that comes with knowing that all contingent workforce activity is managed in a compliant, centralized program. To express these values and differentiators to the client, MBO Partners offers Elevate, its proprietary blueprint for independent workforce management programs.
"You're able to get a better mix of skills just when you need them, which is more economical, more efficient, and generally gets the work done faster." — Gene Zaino, President and CEO
Elevate helps enterprises observe best practices for implementing, structuring, maintaining, and tracking the effectiveness of its independent workforce program. "We help these large companies build a third channel of talent that they can directly engage with," Zaino said, "and to make sure that we keep them out of trouble from worker classification problems."
Independent contractors are legally distinct from employees, and misclassification can incur penalties. MBO Partners educates enterprises and workers on these important differences between a traditional workforce and an independent talent pool, and it helps them maintain compliance with labor regulations.
"If you're a large company, you need to make sure that your independent contractors and freelancers don't get classified as your employee," Zaino said. "We make sure we put people in a proper work classification."
Technology & Policy to Embrace the New Way of Working
The general precepts of how and where Americans work are experiencing a fundamental shift. "Today, so much work is digital, so geography is not as much of a factor," said Zaino. Likewise, when we work is also changing. "There's even a trend of people going on vacation and doing work — sort of a work vacation," he said. "They can go somewhere and still work and enjoy travel, so I think we're seeing a lot of interesting dynamics happen on both sides of the equation."
MBO Partners is keeping pace with these trends in the growing independent workforce and helping its customers enjoy the best possible business advantages.

"We are continuing to add some very interesting capabilities into that platform, including sophisticated matching algorithms as well as market data," said Zaino, "so that both understand what the market rates are for the different types of talent and the different types of projects in different geographies." The company is also helping sole proprietors and pass-through entities enjoy the tax advantages they are legally entitled to.
MBO Partners is advocating for a change in labor policy through a push for Certified Self-Employed worker classification. This designation would address obstacles to the growth of the independent services market, the economic disadvantages enterprises encounter when working with talent, and the lack of a safety net provided by traditional employer-employee work relationships.
Altogether, MBO Partners is looking to the future with its offering and its advocacy. By facilitating a new model of partnership between independents and clients, the organization is helping create a labor ecosystem that accommodates the changing nature of the future workforce.
Advertiser Disclosure
CardRates.com is a free online resource that offers valuable content and comparison services to users. To keep this resource 100% free, we receive compensation for referrals for many of the offers listed on the site. Along with key review factors, this compensation may impact how and where products appear across CardRates.com (including, for example, the order in which they appear). CardRates.com does not include the entire universe of available offers. Editorial opinions expressed on the site are strictly our own and are not provided, endorsed, or approved by advertisers.