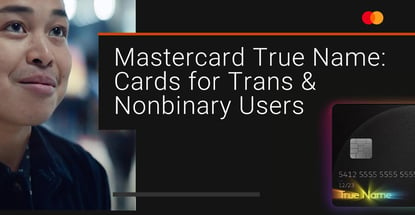 In a Nutshell: Members of the LGBTQIA+ community face challenges nearly every day that straight, cisgender people often don't encounter. For example, when the name on your credit card does not match your chosen name it can be a real pain point and a reminder that the battle for equal rights still has a ways to go. Mastercard recognized these challenges and established its True Name program, which allows transgender and nonbinary people to use their chosen name — rather than their legal birth name — on their cards. The feedback to this initiative has been overwhelmingly positive, and Mastercard is advocating for True Name to become an industry standard.
In recent years, civil rights conversations have often focused on members of the LGBTQIA+ community. While progress has been made, there is still plenty of work to be done.
The transgender community in particular continues to fight not only against violence and discrimination, but for everyday rights that many people take for granted. Trans and nonbinary people often deal with challenges cisgender people never even have to think about, like having their name on their credit cards.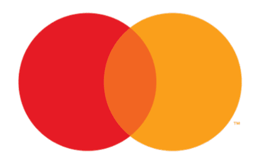 Many transgender and nonbinary individuals choose to go by a different name than they were given at birth — names that truly represent their identities and who they are.
With identity theft and other security concerns ongoing in the fintech world, that preference is often overlooked, and trans and nonbinary people have been forced to use their legal name on credit cards when they no longer identify with that name.
Mastercard has developed the True Name initiative to address these challenges.
"For many in the LGBTQIA+ community, the name on their credit, debit, or prepaid card does not reflect their true identity," according to the company. "That's why we're working with partners to bring products to market that will allow for chosen names to appear on the front of cards, helping ease a major pain point for the transgender and nonbinary communities."
We recently spoke with Cheryl Guerin, EVP of Marketing and Communications for Mastercard, to learn more about True Name and the inspiration behind it.
"Transgender people are our neighbors, family and friends, doctors and lawyers, teachers, mechanics and customer service reps," Guerin said. "We can learn so much from listening to the trans people in our lives about what it means to truly know yourself, to persevere even when the odds are against you, to risk everything and challenge the status quo."
Recognizing a Need in the Market Among Trans and Nonbinary Consumers
"For many in the transgender and non-binary communities paying with a card can be an everyday challenge when the name on their card doesn't match their true identity," Guerin said. "A quick errand to the grocery store can be traumatizing for someone who feels misrepresented by the card in their wallet."
According to research by the National Center for Transgender Equality, nearly one-third of individuals who have used an ID with a name or gender that did not match their presentation reported negative experiences, including being harassed, attacked or denied services, she explained.
"That's why we're working with partners to bring products to market that will allow for chosen names to appear on the front of cards, helping ease a major pain point for the transgender and nonbinary communities," Guerin said.
To address this, in June 2019, Mastercard launched the True Name feature to enable cardholders to use their chosen name on their cards without the requirement of a legal name change.
Shortly after the launch, BMO Harris Bank became the first issuer to implement the True Name feature through an initial rollout on the bank's personal debit Mastercard cards and ATM cards in December 2019, Guerin told us.
"And after seeing the positive feedback of the initiative firsthand, BMO expanded the True Name with a full launch offering across its suite of consumer credit cards as well as small business debit and credit cards in June 2020," she said.
In October 2020, Citi became the latest partner to offer the True Name feature across the U.S., giving customers the ability to use their self-identified chosen first name on eligible branded credit cards and across customer service channels, including phone, online, and mobile access points, Guerin said.
Balancing Customer Security and Inclusion
Personal and financial information is understandably sensitive to both consumers and businesses. Featuring a person's name on their credit card was established as a security feature itself.
Guerin discussed how Mastercard approaches this delicate balance between security and inclusion.
"Mastercard is working with our issuing banks to make them aware of the need for the True Name feature and are calling on the industry to apply the True Name feature to ensure a way for people's financial products to reflect their true identity," she said.
Mastercard actually does not have a rule that specifies that the cardholder name must be the cardholder's legal name. The name on the card is at the discretion of the card issuers, Guerin said.
"Issuing banks can make the True Name feature available to their customers very easily," she said. "All that is needed is a question that asks consumers what name they would like to appear on the card as part of the application process. There is nothing in Mastercard network rules that requires validation of the cardholder name on the card."
Mastercard also does not require merchants to validate the cardholder name to accept a credit card.
"With the increase of contactless payments, the instances where a consumer hands over a card to a merchant are reducing," Guerin said. "However, if a merchant does insist on matching the name on the card with a government-issued ID, our recommendation is that the cardholder ask the merchant to call their acquirer."
Mastercard continues to ensure that card issuers — like BMO Harris Bank and Citi — see the value and importance of offering the True Name feature to its cardholders, she said.
"With these issuers on board, the True Name feature by Mastercard lets consumers display their chosen name because that's who they truly are," Guerin said.
Listening and Responding to User Feedback
"Since introducing the True Name feature, we've received incredible feedback from our partners and allies within the transgender and nonbinary communities on how the capability has eased a major pain point in their lives," Guerin said. "By working with BMO Harris and Citi, we are thrilled that we have been able to extend the reach and impact of the True Name initiative and provide consumers the opportunity to use their chosen name."
Since the Citi True Name launch, Citi has seen more than 5,100 people update their name and over 110,000 customer visit citi.com/updatemyname where they can find more information about the offering, according to Guerin.
"To be supportive allies, we must carry that ethos and speak up when we witness injustice," she said. "We must stand up for decency and equity. And that is our commitment as a brand, to not only stand against inequity but to be an agent for change."
Watch on
Guerin said she considers herself fortunate to work for an inclusive company that welcomes all employees with policies and values that celebrate diverse backgrounds and experiences.
"Mastercard recognizes that acceptance and inclusivity are fundamental consumer rights and is committed to continuing working with its partners to ensure consumers everywhere can represent themselves on their cards as their true selves and is in continued conversations with card issuers, large and small," she said.
The company is continuing its work with issuing banks to make them aware of this need, and it is calling on the industry to apply the True Name feature to ensure a way for people's financial products to reflect their true identity, Guerin said.
Advertiser Disclosure
CardRates.com is a free online resource that offers valuable content and comparison services to users. To keep this resource 100% free, we receive compensation for referrals for many of the offers listed on the site. Along with key review factors, this compensation may impact how and where products appear across CardRates.com (including, for example, the order in which they appear). CardRates.com does not include the entire universe of available offers. Editorial opinions expressed on the site are strictly our own and are not provided, endorsed, or approved by advertisers.