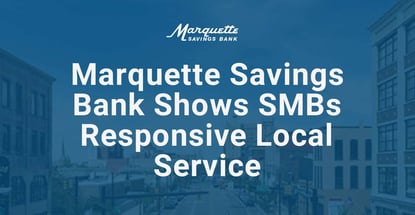 Our experts and industry insiders blog the latest news, studies and current events from inside the credit card industry. Our articles follow strict editorial guidelines.
In a Nutshell: Marquette Savings Bank is the only remaining locally owned and headquartered financial institution in Pennsylvania's Erie and Crawford counties. Marquette started off as a mutual savings bank and has expanded its operations to include personal and commercial banking options that rival its larger competitors. What's more, the bank recently opened a community-oriented Innovation Learning Center offering financial education both for locals who bank with the institution and those who don't. When banks are enmeshed in their communities, individuals who may not otherwise qualify are more likely to receive loans.
Marquette Savings Bank has operated in Erie and Crawford counties in Pennsylvania, for the last 115 years. For much of its history, the bank used a traditional mutual savings bank model and only started to offer checking accounts and other personal banking options in 2006. In 2009, the financial institution opened its commercial banking division.
Today, Marquette is a significant operator in the region.
"We're first in market share in Crawford County in terms of mortgage lending, second in the market in Erie County. So, we pride ourselves on being the mortgage experts, particularly for construction in this area," said Kelly Montefiori, EVP, the bank's Chief Operating Officer.
Marquette serves a region dotted with national and international financial institutions Montefiori calls "the big guys." And while Marquette manages $1.2 billion in assets, it maintains the commitment to personalized service of a small, local institution.

"Our branding has included 'the hometown bank' with the hometown touch for 115 years, and it's still true for us today," Montefiori told us.
And many businesses turn to Marquette because it's the only locally headquartered and owned bank in the area — which means it understands the market.
The Marquette team wants small, community-based businesses to succeed. With that goal in mind, the financial institution offers localized solutions that "the big guys" might overlook. One example Montefiori and her colleagues have discussed is developing a class for businesses and consumers seeking construction loans.
"I think that banks are evolving, and we are trying to be what our communities need. I think education as a service is going to be a huge change that comes out of all of the change in our industry," Montefiori said.
Serving Both Individuals and Large Companies
Customers looking for personal banking solutions turn to Marquette for its simplicity and straightforward ethos.
"We offer a lot of flat fees, no nickel and diming customers here and there. We also keep our fees fairly low, because we're a pretty efficient model coming from that mutual bank background," Montefiori told us.
Marquette also has an extensive digital banking suite that's attractive to both individuals and businesses. If a customer needs help, for instance, a representative from the bank can drive to the customer's location to help them, or the customer can come to the Innovation Learning Center. Once a week, a Marquette tech professional helps clients with online and mobile banking issues. The representative can demonstrate online banking features or show customers how to use the app, for instance.
One of the bank's goals is to more closely integrate individuals' personal and business banking needs. For instance, the team wants to hold training sessions at a company's headquarters on how to improve credit scores, something with which small business employees can struggle.
Certainly, SMBs are Marquette Savings Bank's bread and butter. Small manufacturers and CNI clients are widely represented, though the bank is starting to serve larger business customers, as well, including operations in food services and printing paper.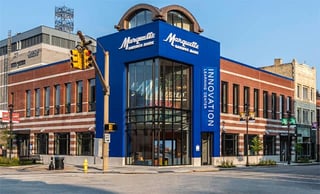 Marquette is responding to this growth in business banking clients.
"It's been very exciting for us, and surprising in a lot of ways. Our business banking area is growing quickly, so we've just brought in cash management experts. We feel as though that's our next level, so we really needed to bring in people for merchant services and those treasury management services that our larger counterparts offer," Montefiori said.
Offering Financial Education for Everyone
The bank cares about financial literacy, which is one of the five tenets of its strategic plan moving forward. Though the financial institution has long recognized the value of financial education, it has been better able to offer classes to the community through its Innovation Learning Center.
To meet this objective, the bank offers businesses monthly sessions, either in person or via Zoom. Recently, for instance, these sessions have centered on merchant services, like POS systems and fees.
"Anything that we offer educationally is not just for our customers, it's for the public at large. This year, we're upping that game, into not just what does the business owner need, but also what helps supplement their employees. Happy employees, happy business, happy customers all the way around," said Montefiori.
The bank has also partnered with local colleges to foster business incubator programs that support the next generation of community business leaders.
Marquette's series of classes and workshops on fraud have been especially popular, both with consumers and businesses. Business owners, for instance, don't always understand liability. They also may not have the resources or time to check their accounts every day. Many are also still falling prey to check fraud.
In turn, the bank is offering products like Positive Pay, an anti-check fraud solution.
"Our customers have the ability to say, yep, this is a real item. This puts all the control back in the business owner's hands, and they're in the best position to decide if it's a good or bad item," Montefiori told us.
Marquette Savings Bank: Community-Oriented Solutions
In addition to these classes, locally focused financial institutions like Marquette Savings Bank help consumers and businesses that may not otherwise receive loans or forgivenesses.
"Lines of credit are an important part of that capital management for businesses, particularly new businesses. Certainly, I think we are in a better position to understand how business works in our geographic areas, because the decisions are made here, we're living here, and we know these people intimately," said Montefiori.
During the pandemic, for example, an Erie business that had operated for more than 70 years was about to shutter. At the time, the business banked with a different, non-local institution that still asked them to pay on their line of credit during the shutdown, something they couldn't do.
In response, Marquette connected the small business to a community-based lender that was able to provide them a temporary loan. Still open today, the business now banks with Marquette instead.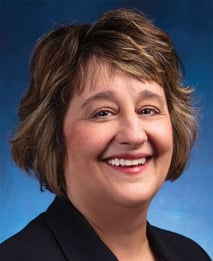 "They're one of our best customers. I think that a lot of businesses fail because they think, 'Well, I want to be a big business, I want to deal with a big bank,' but those big institutions don't understand them. Sometimes when the decision-making is not in the same geographic region, they don't understand how things work. Every community is unique," Montefiori said.
Recently, Marquette made another commitment to the region by opening a new 7.5-million-square-foot Innovation Learning Center in downtown Erie. The space provides offices for employees as well as public spaces that locals can rent out for their own training and meetings. The Innovation Learning Center also includes a cafe and classrooms for financial education.
"We sit in the heart of downtown Erie, which is the poorest census tract in the state of Pennsylvania. So, we kind of look at it as our mission to be successful at the Innovation Learning Center," said Montefiori.