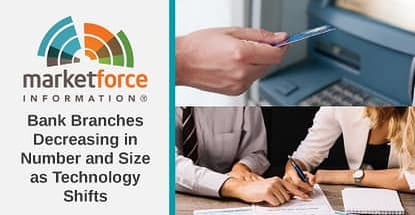 In a Nutshell: Over three decades ago, some financial experts predicted the imminent death of brick-and-mortar bank branches, noting the advent of internet banking would overwhelm the industry and create a lot of excess real estate. While that grim outlook hasn't come to fruition, Market Force's US Banking Customer Experiences and Competitive Benchmarks Study found that consumers are visiting their bank branch in smaller, but still significant numbers. In fact, 22% of bank customers go to a branch to visit a personal banker or advisor at least once per month — but the reasons for their visits are changing.  Of those that have visited a branch to speak with a personal banker, almost half said they did so to resolve a problem and roughly a third said they spoke to a personal banker to learn about other products or services. Based on these consumer trends, financial institutions are rethinking how their locations are configured. The customer assistance brick-and-mortar branches likely offered in the future will lean toward advisory and problem-solving services instead of cash transaction and loan offerings. //
In the 1980s, as the first signs of online banking crept into mainstream consumerism, experts prematurely predicted the inevitable demise of branch offices across the country.
If you believe in similar premonitions, we should all be able to log in to our digital banks by now and apply for loans for flying cars (I still want my flying car).
But, as we know, bank branches continue to exist — for the time being. According to extensive research conducted by Market Force, technological innovations both in and out of the banking space are changing the ways institutions view the future of their brick-and-mortar locations.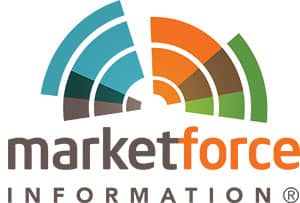 The Market Force US Banking Customer Experiences and Competitive Benchmarks Study polled more than 6,500 bank customers for insights into banking trends, technology adoption, digital and branch customer experience, satisfaction and loyalty competitive benchmarks, and credit card usage. The study found that many customers still visit their physical branch at least once a month. That trend will likely continue for the foreseeable future, according to Chuck Rogers, Financial Services Practice Leader at Market Force.
"From our perspective, despite, lower overall numbers, branches will continue to be a key channel for retail banks," he said. "In fact, banks are continuing to open new branches, but they're doing so more strategically. However, branches are likely to shrink, both in number and square footage as their purpose evolves."
While fewer bank customers will be visiting a branch to conduct transactions, they will continue to visit a branch to resolve a problem, learn about financial products or seek advice.
"When consumers have a problem, many of them still want to visit a branch or call the contact center, to speak to a live human to resolve the issue they're experiencing," Rogers said.
When comparing year-over-year trends, one of the most alarming trends is an increase in customer dissatisfaction, which jumped from 15% in 2016 to 23% in 2017. The survey uses a five-point satisfaction scale with responses of three or below recorded as dissatisfied. Concurrently, the percentage of customers who said they were likely to recommend their bank to a friend or colleague declined from 81% in 2016 to 76% in 2017.
1:5 Consumers Visit a Personal Banker at a Branch Monthly
Survey results showed 22% of consumers come to a branch to visit a personal banker at least once a month, while 53% said they visit a physical branch to speak with a personal banker a few times a year. About half of those respondents said they go the branch to visit a personal banker to resolve a problem with their account and about four in 10 do so to perform a transaction, while one in four goes into the branch to speak with a personal banker for the purpose of opening a new account.
"The primary purpose of the branch used to be to provide a place for customers to conduct their transactions," Rogers said. "Banks branches are now being designed to fulfill the role of a sales center and a place where personal bankers can enter into and grow an advisory relationship with the customer."
Rogers said that bankers still have a long way to go before customers will turn to them for advice on more complex financial issues, despite a positive reputation for their ability to deal with issues related to bank operations.
Part of this can be attributed to a lack of trust between customers and bankers, with many consumers reporting they feel the main objective of each bank employee is to make a sale.
"Most bankers are well-respected for their abilities to solve an operational problem, but they are not necessarily where customers go to get more complex financial advice," Rogers said. "That will obviously need to change if banks are going to evolve in the way they want to."
Banks and Fintech Firms May be Better Off with Partnerships
The technological wave sweeping over the financial services industry is being driven as much or more by non-bank fintech companies as it is by traditional banking institutions. Although traditional banks invest large sums of money to improve their mobile applications and customer-facing products, the biggest strides are often being made by smaller companies pushing the envelope to challenge traditional financial ideals.
These companies, once thought to be minor distractions within the overall banking ecosystem, are becoming large enough for banks to take notice. Rogers said the future of banking will be characterized by a greater degree of collaboration and coopetition between traditional and non-traditional financial services providers, including fintech companies.
"One of the trends we're seeing is the growth of the 'If you can't beat 'em, join 'em' mentality," he said. "What will become more predominant in the future is partnerships between the banks and the fintech companies so each company can take advantage of the competitive edge each other has in the marketplace. They are realizing that in many cases, they can achieve more success together than they can independently."
Security and innovation are two of the areas in which banks could greatly benefit from a partnership with fintech firms. While Market Force's survey found a respectable 96% of consumers between the ages of 18 to 24 had downloaded their bank's primary mobile app, only 68% of respondents between the ages of 55 and 64 years old said they had downloaded their primary bank's mobile app.
Customers' high overall adoption rates of bank tech don't tell the whole story. App users in the 18- to 34-year-old age group showed significantly more frequent usage than the 35-and-older group.  For example, 48% of 18 to 34-year-old customers vs. 26% of customers who are 55 or older, use their primary bank's mobile banking app on a daily basis.
These numbers give some insight into the gap separating the two generations of bank customers and provide questions that need to be answered before bank tech will become even more mainstream — particularly, how can these applications continue to innovate the space while remaining easy to use?
Security is also a strong concern among modern bank customers. Of the 21% of respondents who had yet to download their bank's app, a third said their decision was based on security concerns.
"That's a relatively small percentage overall, but it is the second largest reason given by respondents for why they hadn't downloaded their bank's application," Rogers said. "The first reason was that the respondents preferred to use the bank's website on their personal computer."

Rogers attributed much of the security concerns to highly publicized financial data breaches by the likes of Experian, Target, T.J. Maxx, and Home Depot. Still, he said, mobile applications are among the safest choices bank customers have for accessing their accounts outside of a branch, in part thanks to multi-factor authentication and biometric security innovations such as fingerprint and facial recognition technology.
"When people hear about data breaches and payment breaches, it creates a perception of greater risk with electronic transactions," Rogers said. "In reality, a sizeable amount of identity theft and fraud occurs through stolen wallets and dumpster diving."
Branches Continue to Evolve, Regardless of Uncertainty
Rogers said much of the success of traditional banks moving forward will be dictated by their ability to create a best-in-class customer experience both digitally as well as in the context of a physical branch. To illustrate this, he pointed to consumers who don't make excuses for companies who can't provide a superb internet interface.
"As we move further into the digital experience environment, banks will increasingly find themselves competing not only with the experience created by other financial institutions but the experience provided by companies like Apple and Amazon," he said. "Customers don't differentiate with their services. They expect the experience with their bank to be on par with that of Amazon Prime."
Those expectations are forcing banks into partnerships and acquisitions of fintech firms once thought to be only disruptors. While that may not get us any closer to owning our own flying cars, this type of collaboration could bring banking closer to a future once predicted by such noted prognosticators as the Jetsons.
Advertiser Disclosure
CardRates.com is a free online resource that offers valuable content and comparison services to users. To keep this resource 100% free, we receive compensation for referrals for many of the offers listed on the site. Along with key review factors, this compensation may impact how and where products appear across CardRates.com (including, for example, the order in which they appear). CardRates.com does not include the entire universe of available offers. Editorial opinions expressed on the site are strictly our own and are not provided, endorsed, or approved by advertisers.