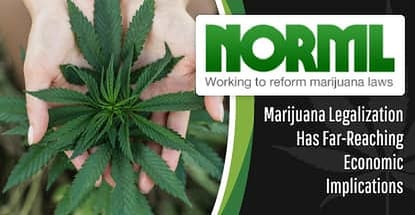 In a Nutshell: In recent years, voters in eight US states and the District of Columbia have chosen to legalize the recreational use of marijuana among adults. In even more states, marijuana is now decriminalized and/or legal for medical use. While this may be a controversial subject in many communities, what's clear is that legalizing, regulating, and taxing marijuana sales has led to increased revenue and jobs in those states that have adopted the change. What's less clear is the role of the federal government in these local decisions, especially when it comes to banking and tax laws, which continue to present challenges. //
In the half-century or so since the war on drugs was first declared, the US government has spent $1 trillion fighting the so-called enemy, with $36 billion in federal funding budgeted in 2015 alone. In addition to this direct spending, the cost of incarcerating drug offenders, who make up close to 50% of our prison population, is another $40 billion a year.
Of those arrested on drug charges in 2016, 42% were for marijuana use and possession. As a nation, the US spends more than $50 billion annually on finding, arresting, trying, and imprisoning people who use drugs, mostly marijuana. To put this in perspective, the federal government allocated a total of $87.4 billion for the nation's entire public education system in 2015.
Colorado and Washington became the first states to legalize the recreational use and sale of marijuana, or cannabis, in November of 2012. Since then, six other states and the District of Columbia have passed similar laws legalizing recreational use of the drug by people over 21. In total, 30 states have laws on the books legalizing marijuana in some form.
The federal government, however, still views marijuana as a Schedule I drug — alongside drugs like heroin, LSD, and cocaine. The classification as a Schedule I drug by the Drug Enforcement Administration (DEA) means marijuana is still illegal on a national level, even while laws in some states allow for its possession and use. This conflict between states and the feds has led to some interesting challenges, both for state lawmakers and for the entrepreneurs and businesses involved in the production and sale of cannabis products.

To learn more about the legal marijuana debate and its implications, we reached out to the oldest and best-known advocacy group for the cause, the National Organization for the Reform of Marijuana Laws (NORML).
Since 1970, NORML has fought to change the laws so the responsible use of marijuana by adults is no longer subject to penalty.
"The sale and use of marijuana is not new, it's been taking place for a long time," a NORML spokesperson said. "Now, though, in states where it's become legal, rather than have profits go to black-market sellers, the activities are now taking place transparently in a controlled and regulated setting. It's now in the hands of licensed entrepreneurs and business people."
Tax Revenues and Job Creation in States with Legalized Pot
Whatever side of the legalization argument you fall on, one thing is certain: States where pot has been approved for legal use have seen economic benefits from the passage of these laws. In Colorado, over $500 million in revenue has been collected since cannabis legalization. It's estimated that California's legal recreational pot industry, when fully implemented, could generate $1 billion or more in annual tax revenue.
A paper published by the Cato Institute estimates the national tax revenues derived from legalizing and taxing marijuana similarly to tobacco and alcohol could amount to $8.7 billion each year. And that figure doesn't even take into account the savings from eliminating federal prosecution of the war on marijuana.
Another argument cited by proponents of legalization is the increase in jobs attributed to the marijuana industry. Although it's difficult to accurately predict the exact number of new jobs created nationally, the Cato study showed the legal pot industry accounted for nearly 150,000 jobs last year. Another report put out by New Frontier Data forecasts that the industry would create an impressive 283,422 jobs by 2020.
If the legal weed lobby needed even more ammunition for its argument, there is evidence that Denver real estate located near marijuana dispensaries has actually increased in value. We asked the NORML spokesperson to help explain this phenomenon.
"What generally happens is that the businesses initially are zoned in areas that have lower economic value, and when these and other businesses begin to revitalize the area, you see an increase in property values," the spokesperson said. "As these economically downtrodden neighborhoods are transformed into financially successful ones, more people want to live there."
Cannabis Businesses and the Federal Government are at Odds Over Banking Access
One major hurdle for the legal cannabis industry, as we mentioned earlier, is the conflict states find themselves in with regard to federal laws. This first hurdle has to do with US banking laws. Since banks are regulated and insured by the federal government, many financial institutions are unwilling to engage in a relationship with any state-licensed cannabis operations.
"As a result of our banking laws, you see these entities relying on either very small local banks that may be more willing to take the risk or, more commonly, engaging in largely cash-only operations," a NORML spokesperson said. "This latter approach poses not only a disadvantage, but also a potential public safety risk to the businesses involved, and to the individual consumers who patronize those businesses."
The risks associated with running an all-cash operation caught our attention. If banks are unwilling to do business with these legal dispensaries, this means credit cards are not an option.
"There is not a blanket mandate that says no credit card processors can have business dealings with these institutions," a NORML spokesperson said. "But, because of the state and federal conflict, the overwhelming majority of them — and, especially, the largest players — are not going to get involved. They're not going to take what they perceive to be an unnecessary risk."
Another significant hurdle is that, while states are responsible for the licensing of marijuana businesses, the federal government is ultimately in control of the taxes owed as a result of their operations. Since the feds don't acknowledge the legal status of these businesses, they are currently ineligible for any associated tax deductions.
A Possible Framework for States and the Feds to Agree
These and other conflicts remain to be resolved between states that have passed laws legalizing marijuana and the federal government. One possible solution dates back more than 80 years.
When the prohibition of alcohol was lifted in 1933, the feds didn't mandate that individual states legalize its sale; they simply said the prohibition of alcohol and the enforcement of that prohibition is no longer going to be a matter of federal jurisdiction. If individual states had wanted to continue to impose prohibition, they would have been free to do so. We wanted to know what NORML thought about where the government will ultimately come down on the issue.
"I think the most likely scenario one can see the government taking at some point is simply to do what it did with the lifting of alcohol prohibition, and say this is a matter best left to the individual states," the spokesperson said. "I don't see the federal government ever telling states what to do with regard to how to legalize and regulate marijuana. I see the government simply getting out of the marijuana prohibition business."
Whether that is, in fact, what occurs, marijuana legalization involves many factors and will likely take many years to play out. There's no doubt, however, that the early-adopter states will be closely scrutinized in an effort to see both the benefits and pitfalls. Tax relief, revenue growth, and job creation will all be considerations, as will any reduction in policing and incarceration.
Communities that have chosen to participate in this great experiment are set to capitalize if all goes well, but it will be an arduous journey. In the meantime, the benefits to these communities are likely to make that journey a little more pleasant, as tax revenues, job growth, and neighborhood revitalization all contribute to a generally positive outlook.
Advertiser Disclosure
CardRates.com is a free online resource that offers valuable content and comparison services to users. To keep this resource 100% free, we receive compensation for referrals for many of the offers listed on the site. Along with key review factors, this compensation may impact how and where products appear across CardRates.com (including, for example, the order in which they appear). CardRates.com does not include the entire universe of available offers. Editorial opinions expressed on the site are strictly our own and are not provided, endorsed, or approved by advertisers.