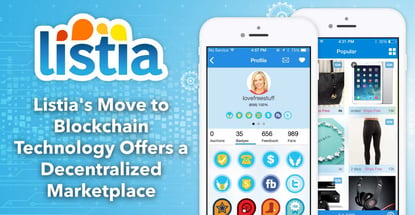 In a Nutshell: The Listia platform serves more than 10 million registered users who buy, sell, and trade collectibles and other used items. Initially, it relied on stored-value credits to enable those transactions, but in 2018, Listia converted to a blockchain-based platform offering its own Ink Protocol and XNK cryptocurrency. That conversion not only makes transactions more secure but it also provides users with more control over their transactional history. And Listia is rolling out a new platform that allows buyers and sellers to showcase their online reputations across marketplace platforms.
Listia got its start in 2009 as a marketplace where people could trade collectibles and other used items without exchanging money. The platform accomplished that by introducing an internal system of stored-value credits to the traditional bartering process. Buyers offered items for auction and earned credits to save and spend on other items.
Because it was easy for buyers and sellers to make trades on the site, Listia quickly emerged as a preferred destination for bargain hunters and those who wanted to declutter their lives. And, in this age of "KonMari" — the lifestyle brand that inspires people to tidy their lives — Listia remains an indispensable tool for those looking to get rid of items that no longer spark joy.
Today, more than 10 million registered users turn to Listia not only to clear out space in their closets, but also to find bargains on collectibles, gadgets, jewelry, and much more.
"People tell us all the time that trading on Listia is fun — that it feels almost like a game," said Co-Founder and CEO Gee Chuang. "The best part is when you save up from the items you've sold and then finally pounce on something you really want."
Over the years, Listia has innovated to accommodate sellers offering fixed-price items. Although the service extracts a small fee from fixed-price transactions, auction participants still get to play for free.
"Our roots are in helping people make trades," Gee said. "You have things you've collected that you want to trade with other collectors. You never have to trade one for one, this card for that card. We provide a platform that lets you find the things you love."
Since its founding, Listia has enabled more than 100 million transactions. And, to allow hundreds of millions more, it is making changes that will position it well for the future.
It all starts with the company's move away from stored-value credits and into the more efficient and secure world of blockchain technology. With recent changes, including the development of its own cryptocurrency, Listia looks to broaden the buying, selling, and trading power of its users.
Ink Protocol and Its XNK Cryptocurrency Give Control to Buyers and Sellers
As Listia was growing into an ecommerce powerhouse, cryptocurrencies like Bitcoin were emerging as possible alternatives to conventional forms of money. But what makes bitcoin and other cryptocurrencies possible is the fascinating blockchain technology underlying them.
Blockchains store data in linked, cryptographically secure packets that are replicated across a computer network. This linking and replication not only makes blockchain data impervious to hacking but also eliminates the need for a central platform — like a bank, for example — to act as an intermediary between individuals looking to transact with one another. In 2018, Listia transformed its internal stored-value credit system into a blockchain platform based on Ink Protocol and trading XNK cryptocurrency, also known as Ink.
"Our focus now is on bringing blockchain and cryptocurrency to a consumer audience," Gee said. "On Listia, you can use cryptocurrency in everyday situations without having to delve into the complexities of cryptowallets, private keys, and things like that. We handle that for you, which enables you to interact with this new tech in a very friendly way."
Listia uses Ink Protocol not just to support Ink cryptocurrency for buyers, sellers, and traders on its blockchain but also to store user data and service applications that formerly resided on Listia's servers. And that opens up a whole new world of opportunity for users both on and off the Listia platform.
"The key is that Ink is designed as a general marketplace currency. We use it exclusively on Listia, of course, and Ink Protocol houses Listia services like dispute resolution and escrow along with a built-in reputation system that helps users feel safer about their transactions," Gee said. "But because it's on a blockchain, Ink cryptocurrency and Listia user data — including profiles, transaction histories, and reviews posted by other buyers and sellers — is completely free to move off the platform."
Enabling Users to Leverage Reputations Across Platforms
Blockchain technology takes data control away from the platform and puts it in the hands of users. It also renders old ways of storing user information on central servers obsolete.
As a user painstakingly builds a profile, transaction history, and review reputation on a centralized platform, there's no way to transfer that information to another platform or account for transactions occurring elsewhere. If a seller lists the same item on more than one platform, there's a danger it could be sold twice. And a buyer on one platform has no way to take a seller's reputation earned on another platform into account.
Listia saw the need for a tool that allows users to access the data and reputation they've accumulated on its platform and apply it to others. Now, integrating with payment giant Paypal, Listia has built that tool — Replin.
"Replin is a consumer-friendly app that allows you to earn and display your reputation across multiple marketplaces," Gee said. "You can export your Listia feedback back to 2009, load it into the app, and show it to buyers when you're selling on Craigslist, Facebook Marketplace — or anywhere. We provide you with a link to your Listia profile that you can use everywhere."
Adding even more flexibility is the integration with Paypal, which allows sellers to leverage their profile and reputational data on Replin while accepting a wide range of payment types. With Paypal handling the funds, buyers can leave feedback on Replin that sellers can carry over to other platforms. And because Replin is linked to Ink Protocol through the blockchain, no central third-party owns or controls the seller's data.
"We want to help our sellers build a single, public reputation so they can more readily earn their buyers' trust. At the same time, we don't want to get in the way of how they currently use marketplaces other than Listia," Gee said. "Ink Protocol helps with the reputation piece for the many Listia users who have huge troves of personal data at their disposal, while Paypal eliminates the need to use a new payment method."
Moving Toward a Decentralized Global P2P Marketplace
Blockchain technology is still in its early days, but by moving to Ink Protocol and rolling out Replin, Listia is bringing its benefits to online marketplaces — and decentralization closer to fruition.
"We have a vision of building a global marketplace," Gee said. "The goal is that any individual or entity should be able to safely and efficiently transact with any other."
According to Gee, in typical online transactions, a consumer finds a desired product on a marketplace platform, researches the seller's reputation, and buys the product if everything checks out. What Listia is doing with Replin is removing the platform from the equation while enabling buyers and sellers to retain the same sense of trust and security.
"Ink Protocol and Replin take what we've been working on since 2009 and build it into a single platform with global potential."  — Gee Chuang, Listia Co-Founder and CEO
An open-source, scalable solution that enables buyers and sellers to feel as comfortable transacting directly with each other isn't built overnight.
"Ink Protocol and Replin take what we've been working on since 2009 and build it into a single platform with global potential," Gee said.
With that dedication comes many advantages. For example, centrally stored data is vulnerable to hacking in a way that blockchain-based data simply isn't. And platform providers also must extract fees for their services, often raising costs and adding inefficiencies. Meanwhile, platform-centric internet users must cede ownership of their identities and reputations to the platforms they use.
Listia's Ink Protocol and Replin app are emerging as an antidote to those problems, capable of securely carrying all types of data and enabling parties to buy, sell, and trade without the need for intermediaries. And that is moving the blockchain closer to practicality.
Advertiser Disclosure
CardRates.com is a free online resource that offers valuable content and comparison services to users. To keep this resource 100% free, we receive compensation for referrals for many of the offers listed on the site. Along with key review factors, this compensation may impact how and where products appear across CardRates.com (including, for example, the order in which they appear). CardRates.com does not include the entire universe of available offers. Editorial opinions expressed on the site are strictly our own and are not provided, endorsed, or approved by advertisers.