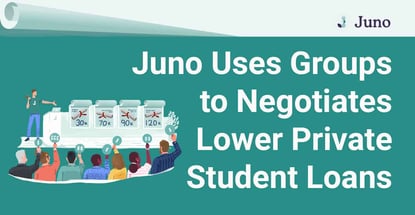 Our experts and industry insiders blog the latest news, studies and current events from inside the credit card industry. Our articles follow strict editorial guidelines.
In a Nutshell: As rates for student loans continue to rise, many are discovering how difficult it is to find affordable options. Juno is a platform that uses collective bargaining to negotiate and lower the cost of non-federal student loans and student loan refinancing. Loan options are available for domestic and international students, as well as students with Deferred Action for Childhood Arrivals (DACA) status. Juno offers fixed and variable rate loans and students can have up to nine months of payment deferral after graduation.
College students across the country are finding it increasingly difficult to secure affordable student loans as the cost of tuition has continued to rise over the years.
Numerous factors, including lack of support from federal and state governments have forced students to take on larger amounts of debt to pay for school.
Applying for private student loans can be a tremendous burden for students from low-income families since lenders often require a cosigner with a good credit score. These students have no other option but to take on loans with high interest rates, paying off debt for far longer than expected.
Juno addresses this challenge by providing a platform to help students acquire school loans at competitive rates.

Juno's founders, Nikhil Agarwal and Chris Abkarians, dealt firsthand with that difficulty to secure low-interest student loans. Both attended Harvard Business School and were shocked by their tuition bills. They tried every kind of financing option available, but it was still too expensive.
The two schoolmates then realized that if they grouped a bunch of their friends together, they could operate like a group purchasing operation to secure discounted loans from lenders.
They began banding students to join their initiative with a Facebook group. The idea soon went viral, attracting over 700 people to pull in around $26 million in potential volume. That got the attention of the banks and Juno began leveraging its resources to gain better loan rates for its participants.
Nicolas Echegaray, Juno's General Manager of Student Loans, said that the business model is repeated every year and increases in scale each time.
"Now we have more than 100,000 Juno members. So we start the year, try to get people early to a group, reach out to as many financial institutions that want to negotiate with us and get the best rate possible for our members," said Echegaray.
Juno Allows Students To Save With Low-Cost Rates
Juno makes it very easy for participants to join the program. Students sign up through the online platform, provide some basic personal details, and then Juno runs its loan bidding.
Once Juno finds the best offers, it shares the negotiating options with the participating students and they then decide whether to use it. But obviously, the more students who join and follow through with the group, the better the deals.
It's important to keep in mind that the active phase for joining a new group is until the beginning of April each year. Juno runs its bid throughout April and May, and then provides its results by June.
"Right now, we're in our negotiation campaign. So we are encouraging everyone to join the group, even if you're not sure about getting private student loans or not. It's no commitment, no fees, and it just helps us get a bigger volume and be more attractive to lenders," said Echegaray.
The platform serves a wide variety of members, including graduates and undergraduates, domestic and international students, and students with DACA status. It even offers parent loans and loan refinancing.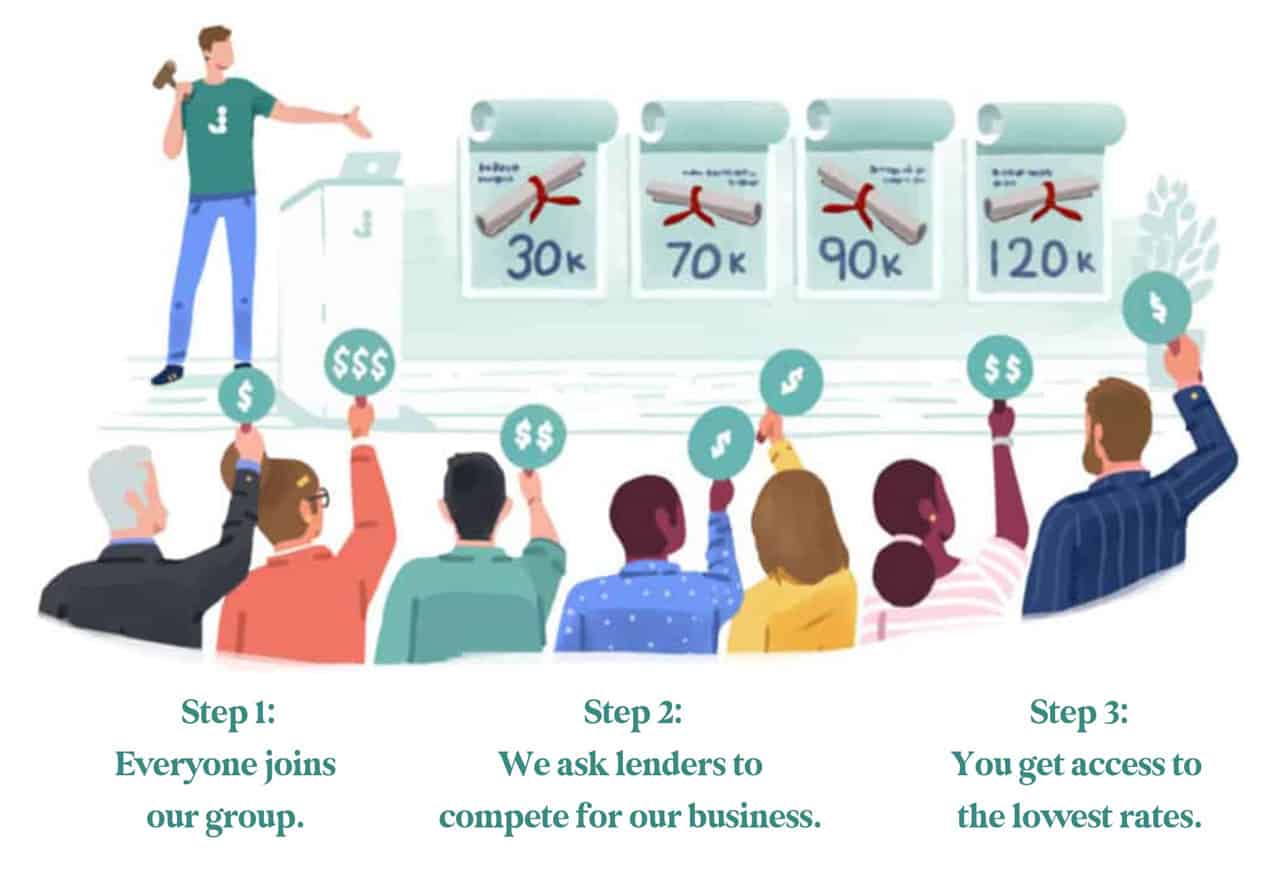 Echegaray said this is especially helpful for some international students who have a more challenging time finding assistance from lenders based on how the market is set.
Credit scores do play a factor to some degree. Echegaray said there's no exact number, but members or their cosigners should have at least a 650 credit score to benefit from the group.
"Our past deal was around 1.6% lower than what the lender offered on its own. So a significant difference, and that's what we aim for. Not necessarily a 1.6%, but a big discount just for being part of the group," said Echegaray.
It's a strategy that's proven to work so far because the lenders are saving on marketing dollars as Juno provides them with the volume of borrowers.
Juno also receives a fixed fee from the lenders. Echegaray explained that it's a set fee so Juno does not select lenders based on who pays out the most. "We fix that percentage whenever we request the RFPs," he said.
"We are not incentivized to choose between lenders. We get paid on disbursed loans. As a company we want to grow robustly, as large as possible, which benefits the members and benefits our lender," said Echegaray.
Financial Education To Help Reduce Borrower Expense
Most of Juno's employees are former college students themselves, and they understand the struggle other students face. Since this problem is close to their hearts, the team at Juno presents all the information they didn't have when they were students.
The platform provides a resource section with a number of helpful materials. Its student loan guides describe different types of loans, repayment plans, and methods to reduce debt.
It also offers several financial calculators to help students and parents determine costs and compare different loan options. In addition, the resource section contains a financial literacy hub containing advice on topics like scholarships, personal budgeting, and school admissions.
This emphasis on financial education also centers around refinancing. Students can often negotiate lower interest rates after they graduate because the student liability decreases dramatically. That way, students can save much more money if they use the right refinancing options.
"We are proud of our sponsor webinars, either doing it ourselves or bringing in outside speakers to tell people about the benefits of these types of loans," said Echegaray. "We have a very big scholarship database on our side."
Echegaray said that, even if some programs don't have a relationship with Juno or don't fit its model, the platform aims to provide people with the best possible financial options — not simply to push Juno's product.
Getting The Word Out and Increasing Enrollment
Since Juno operates as a collective of students pooling their leverage into one massive fund, bringing it to the attention of as many people as possible helps the platform run even more effectively.
According to Echegaray, eight out of 10 members learn about Juno from one of its members. "We cannot spend the same marketing dollars that lenders are saving because it doesn't make financial sense. So we just rely on referrals," he said.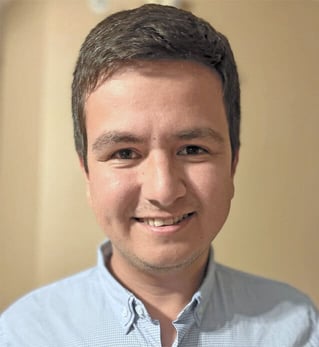 As there are no upfront commitments and no credit pulls when joining one of Juno's funding groups, some may wonder what kind of impact it could have if a significant number of people drop out of a student loan deal just before it is signed.
Nothing of that nature has occurred so far, and Echegaray said that it's not much cause for concern because Juno guarantees the best rates and will match any rate from a private student loan lender and provide a cash bonus on top to make the offer better.
To encourage greater participation in the group funding, Echegaray said it's essential to be honest and straight-forward with potential new members. "We tell everyone that we are super personalized. Everyone on the team takes calls to encourage or tell people to join the group," he said.
If each member tells a friend, that's a very cost-effective acquisition for gaining new people, and it helps Juno provide better rates because it's saving that money on marketing dollars.
"We're very honest and we try to provide any and all information. We encourage everyone to check all their options," said Echegaray.
Overall, whether people join Juno or not, the company's approach to helping students find better loan options is empowering and offers them the tools and resources needed for navigating through their journey.