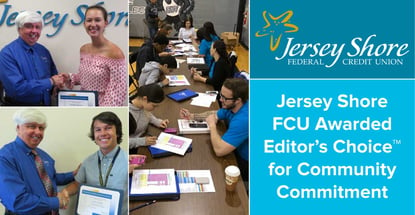 In a Nutshell: Jersey Shore Federal Credit Union provides cost-effective financial services to over 12,000 members, including more than 200 area businesses and organizations. But its commitment to community well-being extends beyond its core banking services to encompass an organized giving strategy with an emphasis on childhood welfare and financial education. For utilizing a formal Social Action Committee to serve Atlantic and Cape May counties, Jersey Shore FCU has earned our Editor's Choice™ Award for Community Commitment.
When a group of air traffic controllers first approached the New Jersey Credit Union League in 1962 to start an employee credit union at the FAA William J. Hughes Technical Center, the League couldn't act because there weren't enough potential members at the Center to form a credit union.
A year later, they acquired the necessary membership base — and spent $25 for a charter and $40 for supplies — to form what would become Jersey Shore Federal Credit Union.
Jersey Shore FCU has come a long way since then. The credit union now serves more than 12,000 members in Atlantic and Cape May counties on the southern end of the Shore. With more than $150 million in assets, Jersey Shore FCU offers a full gamut of personal and business products at great rates to meet the financial needs of its members, including more than 200 local businesses and organizations.
The Jersey Shore itself has changed a lot, too. But, despite its long history of seasonal tourism and its fair share of ups and downs, including a visit from devastating Hurricane Sandy in 2012, the Shore always bounces back.
A big reason for that is Jersey Shore FCU. Managers and individual staff pride themselves on always stepping up to support local charities and promote awareness about the needs in the Shore. The mechanism enabling that support is the credit union's Social Action Committee, which combines monthly meetings with research and visits to local organizations to ensure the institution is giving with maximum impact. The Social Action Committee is headed by Board Chairman Jack Hickey and includes staff from various departments and one credit union member.
"We love doing what we do," said Jeannie Straub, Social Action Committee Co-Chair. "Our primary focus is on helping disadvantaged children. We feel it's just so important to reach out."
Addressing Childhood Needs Year-Round
Jersey Shore FCU's commitment to the children in its communities includes initiatives to help meet the needs of students during the academic year and into the summer season.
When summer break begins, children from low-income families lose access to school breakfast and lunch assistance. Jersey Shore FCU participates in a Kid-Friendly Food Drive to help remedy that situation and ensure kids retain access to nutritious food until the next school year begins. The credit union collects food donations on behalf of the Community FoodBank of New Jersey, which operates an onsite pantry at its Southern Branch in Egg Harbor Township.
"And that ties in with our Tools for Schools drive," Straub said. In that campaign, which culminates at summer's end, credit union staff and members donate school supplies and backpacks to help kids get going again at the start of the new year. During the 2018-19 campaign, the credit union donated more than 100 stylish backpacks to students in Lower Township School District.
"The supplies are greatly appreciated, and we are thankful to Jersey Shore Federal Credit Union for their generous donation," said Leigh Ann Downie, District Secretary to the Office of Curriculum and Instruction,   in a newspaper article.
"The gracious amount of backpacks that were donated by the credit union's members will allow the children to choose their desired styles and designs," District Superintendent Jeff Samaniego added. And the donations also serve another purpose.
"Some of the backpacks actually go home with the child on a Friday filled with food, and when they come back on a Monday, they're given to a local church we provide the donations to, and sent back to the children on the following Friday to go home again," Straub said.
The credit union's extremely generous members and staff lived and breathed their philosophy of "People Helping People" during their most recent charitable collection.
Various baby clothing and items were collected to help children and families in need at the Special Care Nursery at Shore Medical Center in Somers Point, NJ. Jersey Shore FCU CEO Jim Burns stated, "The personal touch from our members with the homemade blankets and hats was extraordinary and extremely heartfelt."
Financial Reality Fairs Teach Area Students How to Budget
Jersey Shore FCU's commitment to local students also extends to classroom instruction. Doing its part to highlight the real-world financial challenges inherent in adulthood, the credit union partners with the New Jersey Credit Union Foundation and other credit unions to offer Financial Reality Fairs at local schools.
As Straub's colleague, Marketing Manager Erna Laielli, noted, the fairs teach an important — if somewhat unpopular — lesson.
"They learn that the money they make isn't always the money they get at the end," she said.
A Financial Reality Fair is a fun, one-day event where students choose a career and learn their starting salary. This year, Jersey Shore FCU worked with partners to offer fairs at 10 schools and served as a sponsor at another. The credit union sends around four volunteers to work booths at the fairs, which collectively reach more than 1,000 middle school and high school students each year.
"The student's salary is broken down into a monthly dollar amount that they have to budget, and then that dollar amount shows their salary, but then it shows taxes taken out, healthcare costs, and things like that," Laielli said.
Students stop at each booth and are faced with meeting various financial responsibilities — renting or purchasing a home, purchasing a car, and buying necessities like furniture, food, and clothing. The goal, of course, is to stay within budget.
Mimicking the uncertainties of actual adult life, the final challenge, called the Wheel of Reality, puts it all on the line. A spin of the wheel reveals either that the student has made some extra money — by selling a coin collection on eBay, for example — or has lost it.
"It's a real eye-opener for some of the students," Laielli said.
Scholarships & Financial Education Invest in the Community
The credit union's multifaceted scholarship program makes educational aspirations beyond high school a reality for traditional and nontraditional students.
Each year, Jersey Shore FCU offers two $500 scholarships to students leaving high school and preparing for college. The credit union also helps fund a $1,000 scholarship offered by the New Jersey Credit Union League Youth Involvement Board.
Jersey Shore FCU also offers two $500 scholarships to nontraditional college or trade school prospects aged 18-25 who are out of school.
"We feel it's really worth it to invest in our younger members," Laielli said.
Along those same lines, Jersey Shore FCU also extends its program for financial instruction beyond the educational system.
"We do a lot of financial education seminars," Laielli said. "We make ourselves available for area businesses and go out and do seminars for their employees."
Popular seminar topics include building and repairing credit, budgeting, and identity theft. And this year, the credit union has begun to leverage its technology footprint to offer live webinars.
"We're really trying to educate the public and our members about financial topics," Laielli said. "You can learn about your credit score, how to rebuild after a financial crisis, how to prepare a budget, and more."
Behind it all are dedicated credit union employees who volunteer their time and raise funds by participating in morale boosters like Jeans Fridays. These funds go to an assortment of charities selected quarterly that provide assistance to needy families, support for military veterans, and money for health-related causes, among other things.
Credit union employees and members also participate in large local fundraisers, such as breast cancer walks.
"By partnering with organizations and also offering support as individuals, we recognize a need to help our community," Straub said. "And, we just enjoy doing these events."
Advertiser Disclosure
CardRates.com is a free online resource that offers valuable content and comparison services to users. To keep this resource 100% free, we receive compensation for referrals for many of the offers listed on the site. Along with key review factors, this compensation may impact how and where products appear across CardRates.com (including, for example, the order in which they appear). CardRates.com does not include the entire universe of available offers. Editorial opinions expressed on the site are strictly our own and are not provided, endorsed, or approved by advertisers.