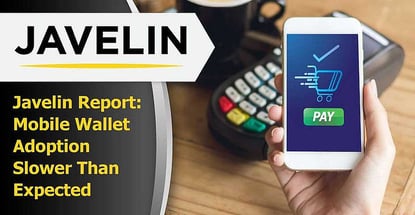 In a Nutshell: Analysts have predicted that each new digital wallet release or update from tech giants like Google, Samsung, and Apple would usher in "the year of the mobile wallet." But, as a recent Javelin Research & Consulting report shows, consumers have been slow to use mobile payment apps. Drawing from a proprietary survey of 3,000 consumers across the U.S., the Javelin study suggests several reasons for the delay in digital wallet adoption, including consumer distrust and lack of perceived value. The report's findings offer tech-forward brands in the financial services industry actionable insights for driving adoption and preparing for the mobile wallet market of the future.
In 2011, Google Wallet was launched and analysts predicted it would be "the year of the mobile wallet," but consumers weren't entirely convinced of this new convenience. Then, in 2014, Apple Pay hit the market, with Samsung Pay following shortly thereafter, and analysts again declared the advent of mobile wallet adoption. However, the numbers didn't support those claims.
Today, however, an increasing number of consumers have adopted mobile banking and now use smartphones to shop both online and in-store. The year of the mobile wallet may be upon us as it becomes one of the most popular payment methods at retail stores.
"Making that transition to in-store POS services just seems like the logical next step, the transition to that all-digital lifestyle consumers are moving towards," said Rachel Huber, a payments division analyst at Javelin Strategy and Research, a San Francisco-based research and consulting firm.
But what many market analysts and the Big Three technology companies seem to have underestimated are consumers' true motivations for using — or not using — mobile wallets. Javelin set out to uncover these reasons by surveying U.S. consumers online in October and November 2017, ahead of the busiest retail season.
After analyzing the feedback from 3,000 respondents, Javelin released its findings in the September 2018 study Mobile Wallet Wars: A Battle for Consumer Loyalty. The Javelin study shows that, even after the high-profile mobile wallet launches from the Big Three, consumer adoption remained relatively stagnant.
"We asked consumers if they had used a wallet for an in-store purchase over the past 12 months. From 2015 to 2017, it's basically stayed around 30%. Three out of 10 consumers said yes, in the past year they'd used it. But, then when we break that down to look at past 30-day usage, which typically indicates they're using it more regularly, those numbers drop to 2 out of 10 consumers, or 20%. So, we see that a lot of consumers are willing to try it but aren't finding it rewarding enough to use it on a regular basis," Huber said.
The availability of digital wallet technology isn't enough to drive consumer adoption on its own. The Javelin study reveals compelling insights into what consumers find most appealing in mobile wallets, who's delivering on these qualities, and a glimpse of how both merchants and mobile wallet companies can engage more consumers with their technology.
Value and Trust in Security are Two Factors That Could be Hindering Adoption
When Google, Samsung, and Apple first launched their mobile wallets, they were focused on revolutionizing the POS payment process and increasing convenience at checkout. In reality, consumers didn't find mobile wallets significantly more convenient, and the novelty of mobile payment alone wasn't enough to entice consumers to use it regularly.
"It's not any easier for me to pull out my phone at checkout than to pull out my card," Huber said.
Another factor that may be holding some consumers back, the study revealed, is the perceived security of digital payments, especially among those unfamiliar with the near field communication (NFC) and tokenization technology mobile wallets rely on.
"When we ask consumers why they aren't using a mobile wallet, the number one answer is 'I don't trust it,'" Huber said. "Actually, NFC is much more secure than swiping or dipping a card in many cases. But we find that across all our surveys: When we ask about new technology, the number one answer is 'I don't think it's secure enough.' It's just unfamiliarity, and over time that will change."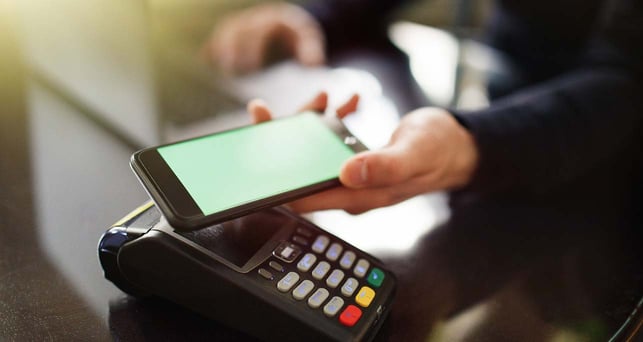 But the second-most common response to why people aren't using mobile wallets is what Javelin believes to be the biggest reason behind lagging adoption: "I don't see the value."
"When we ask them what they want in a mobile wallet, the top three answers aren't about paying at POS. To them, it's about loyalty and rewards," Huber said.
From saving money on airline tickets to earning rewards on a cup of coffee, consumers love loyalty programs — an insight that's key to the success of mobile wallet issuers and factors strongly into other findings from the Javelin report.
How Merchants are Winning the Battle for Consumers' Digital Wallets
While digital wallet adoption has been slow, the study reveals clear market leaders. Surprisingly, merchant-specific wallets — rather than Big Three branded wallets — are what consumers have embraced the most.
"The integration of loyalty and rewards consumers want is one of the biggest reasons merchant wallets are taking the lead," Huber said. "That's what merchants have come to market with and are delivering on more than the Big Three."
A good example of this is the Starbucks mobile wallet, which Huber described as the gold standard of what a mobile wallet should be. In addition to mobile ordering, which allows customers to avoid long lines at the counter, the app integrates Starbucks Rewards, which allows customers to earn "stars" on each purchase toward a free food or beverage item. "They run promotions like Happy Hour, do gamification, and have a lot of features that are valuable to the consumer; payment is just an afterthought. They're leading with rewards and convenience, and that's what consumers want. That's what's going to drive adoption," Huber said.
In delivering this value to the consumer, an advantage merchants such as Starbucks have over generalized mobile wallets is that of a closed ecosystem, which enables greater control over how a mobile wallet works and how customers respond.
"That closed system has the guarantee of acceptance — merchants know what rewards their consumers are gravitating towards and they can run very targeted pilots to make sure the wallet works before launch," Huber said. "They control all facets of the app."
Merchant wallets also bolster customer confidence that the checkout experience will be hassle-free. Consumers know the merchant is going to accept its own app, but that's not always the case with more generalized apps. Huber gave an example: "If I go into Walmart, Apple Pay or Google Pay isn't going to work because Walmart hasn't enabled NFC acceptance — but I know that their proprietary wallet, Walmart Pay will."
While the closed ecosystem of the merchant is hard for Big Three and other general mobile wallets to replicate, it's not impossible. One of the best ways for general mobile wallets to emulate the closed system is to look for ways to integrate debit and credit card issuer rewards programs directly into their wallets.
"If your card is loaded as an issuer into Apple, Samsung, or Google Pay, all the features — rewards, loyalty offers that come with that card — should be automatically uploaded into it," Huber said. "I have a Chase Rewards card, and I can go on Chase's website or their issuer website to look at my rewards. Since I have it loaded into Google Pay, I should be able to redeem my rewards when I'm checking out. The tech does exist, and I know companies are working on this to make it more readily available," Huber said.
Gathering Consumer Insights Across Digitally Focused Financial Practices
Mobile Wallet Wars isn't the only study Javelin has released to offer consumer-based insights to clients in the financial services industry, which caters not only to financial institutions and their vendors but also to Fintech companies, government agencies, and regulatory firms.
Javelin's retail payments division, which conducted the mobile wallet study, is joined by six other practice areas divided into retail and small business focuses. They include mobile and online banking, fraud management and cybersecurity, digital strategy and experience, and digital lending. Each practice area conducts its own proprietary surveys and uses this information and other research in the reports it shares with its clients.
"In the survey that the payment practice runs, we communicate with 3,000 representative consumers from across the U.S. We run this major survey, which takes only 25-30 minutes for consumers to get through, but informs multiple areas of research for the whole year. Each year, we decide what the new survey is going to be about, and as the year unfolds, we develop our topics around that."
By engaging with consumers — the real movers and shakers in the financial technology industry — Javelin serves as a crucial bridge of understanding, providing actionable insights that help businesses deliver the type of experience and value their customers really want.
Javelin Forecast: P2P Companies the Next to Enter the Mobile Payment Race
The biggest takeaway from the findings in Mobile Wallet Wars, Huber said, is that mobile wallet adoption is not going to be driven by payments: It's going to be about those value-added features, starting with loyalty and rewards. "That's what is really going to drive frequent use and adoption of mobile at the point of sale, and payments are going to be a natural evolution of that wallet experience," she said.
The customers most likely to be the first in this adoption process, the study suggests, are those who have already made a purchase using a mobile app or mobile browser but haven't yet made a purchase in-store using their phone. These consumers tend to value mobile wallet features by an average of 10% more than the average consumer. So, mobile wallet issuers or providers looking to increase adoption should target those consumers. "They're also more likely to be women, under the age of 45, debit card owners, and frequent mobile bank users," Huber added.
Looking to the future of the mobile wallet market, Javelin predicts the imminent entrance of peer-to-peer (P2P) services, such as Venmo and the Cash app by Square, into the mobile payment race, which is a current focus of the firm's research.
"They've already released debit cards that allow you to use your Venmo balance or your Cash balance to pay in-store, which is a natural precursor to entering the mobile wallet space," Huber said. "They could be very serious competition for existing mobile wallet providers because they already have great consumer experience around P2P. With Venmo you can already pay in-app or online anywhere PayPal is accepted. I think that's what's coming next and that's something that could be a big propulsion of adoption going forward."
Advertiser Disclosure
CardRates.com is a free online resource that offers valuable content and comparison services to users. To keep this resource 100% free, we receive compensation for referrals for many of the offers listed on the site. Along with key review factors, this compensation may impact how and where products appear across CardRates.com (including, for example, the order in which they appear). CardRates.com does not include the entire universe of available offers. Editorial opinions expressed on the site are strictly our own and are not provided, endorsed, or approved by advertisers.