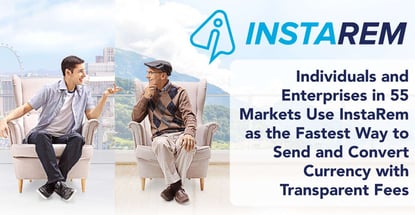 In a Nutshell: Transferring money to foreign bank accounts has always been a time-consuming process that's filled with unfair conversion rates and expensive transaction fees. InstaReM aims to make this process easier and less expensive for individuals, enterprises, and financial service firms by providing faster transfers and a transparent, what-you-see-is-what-you-pay fee structure. InstaReM's service currently spans more than 55 countries and will soon include the option of Visa-branded debit cards for easy transactions.
The global marketplace is filled with individuals and businesses that need to send money to foreign countries for various reasons. Whether it's sending funds to family back home, paying for goods or services, or funding a foreign operation, billions of dollars change hands and cross borders every day.
More than $148 billion in remittances were sent in 2017 out of the U.S. alone. Around the globe, more than $625 billion was sent by migrants to family members in their home countries. Those numbers are thought to be significantly greater for businesses that move large sums of money around daily.
In most cases, the person sending the money is charged exorbitant fees, sometimes exceeding 10% of the transferred sum. For migrant workers who are sending money back home to support loved ones, those fees can impact their families' finances in many ways.
Those people, and the thousands of others who transfer money every day, were the inspiration behind InstaReM's money transfer services. Thanks to InstaReM's 8,000+ global banking partnerships, consumers in more than 55 countries currently use InstaReM, with bank transfers possible to over 3.21 billion banked people across the globe.
And, on top of its already popular money transfer service for individuals, InstaReM's Chief Product Officer, Rajesh Venkatesh, said the company's fastest-growing service is its specialty products for large enterprises and financial institutions.
"We started as a consumer-facing site," said Venkatesh. "But some of the companies in the space approached us about all of the services we can offer, especially through our network in Asia."
InstaReM is headquartered in Singapore and maintains offices in eight other countries. The company currently enables transfers to and from many countries throughout Asia, Europe, Oceania, and the U.S.
Transfers Range Between Real-Time and Two Days
Part of the draw that makes the service so popular is the company's ability to provide midmarket rates that are sourced directly from Reuters and exclude margins. InstaReM currently charges in the range of 0.3% to 0.5% for money transfers from Hong Kong, Australia, and Singapore.
The sender can clearly see all fees before approving the transaction and knows exactly how much money the recipient will receive.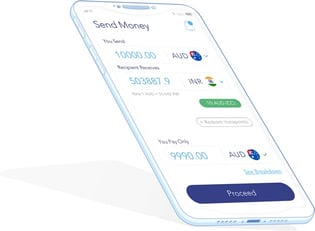 Most InstaReM money transfers reach the recipient within two business days, but many banks in Singapore and Australia now enable same-day transfers from foreign banks with some offering real-time payment capabilities.
"For most of the 55 markets that we work in, we can do same-day transfers," Venkatesh said. "In a growing number of markets, currently around 20, we can do real-time payments. This greatly helps senders who need to send money quickly for various reasons."
Venkatesh said that transfers that originate from within the U.S. typically require the one- to two-day window to complete, though some finalize much faster.
Currently, transfers must be sent to and from a bank account, but Venkatesh said that InstaReM plans to offer solutions for unbanked consumers who may not have easy access to a financial institution.
InstaReM also provides its users with a loyalty program that rewards every transaction with InstaPoints, which are redeemable on future transactions. The program is currently open to individual users and does not apply to business transactions.
"We also pay for behavior," Venkatesh said. "Signing up or referring a new customer will also get you InstaPoints."
Specialized Services for Large Enterprise and Financial Service Clients
InstaReM offers a more robust service for larger enterprises and financial institutions in addition to its consumer-facing money transfer service that is becoming increasingly popular among its clients.
"We have a very different product for these clients," he said. "It allows the customer to send instructions to an API and convert currency first and specify how much the recipient should get."
Singular payments can also include multiple beneficiaries and currencies — with specific instructions to ensure each recipient receives the correct amount. These transfers complete in similar time frames as individual transfers, with many recipients receiving same-day funding.
This is especially useful when a business needs to pay overseas employees and suppliers.
And, with a network of more than 8,000 banks currently accepting InstaReM transfers globally, its business clients can easily take advantage of the company's payment services with low foreign exchange rates, no hidden fees, and easy, fast reconciliations.
"This is our fastest-growing segment and one that we're able to differentiate ourselves from other players because we make it easy for people to move money and convert into currencies that are controlled."
Fully Licensed with Approved Visa Issuance in Three Markets
Many popular money transfer services don't own their own operations licenses, but instead, work in conjunction with partnered businesses that have licensure in the field. Although the process of obtaining a license can be costly — in both time and money — InstaReM began its journey with a mission of holding as many licenses as possible without the need for partnerships.
"InstaReM owns lots of the licenses in the markets that it operates in directly," Venkatesh said. "Our license portfolio is very complex to maintain since we have to meet multiple rules and regulations to keep our licenses in different countries and regions."
That responsibility to its customers and business practices helped InstaReM join Visa's Fintech Fast-Track program in the Asia Pacific region. In the steady state, InstaReM's Visa partnership will enable it to issue Visa cards. Under the Visa Fintech Fast-Track program, InstaReM's partners can ride on its payments and remittances ecosystem. The company will roll out this service in the second half of 2019.
"We're working on creating a product that will leverage the Visa approval and make things easier for customers to issue Visa payment cards," Venkatesh said.
The Visa cards hold many possibilities, including payment cards to employees, travel cards for remote workers, and department-to-department payment cards for international businesses.
"We will also allow enterprises and institutions to use InstaReM as a platform for issuing cards to their customers and employees," he said. "We plan to make it faster and less expensive for them to deal with issuance, and dramatically reduce the time it takes for an enterprise to go live with a card. These companies will be able to issue payment cards to their suppliers and customers in just four to eight weeks of them being in the program. They can issue payment cards on the InstaReM license and don't have to wait the months that it currently takes."
Bold Plans to Expand Services to the Underbanked
While individual and business customers already appreciate InstaReM's fast and affordable money transfer services, Venkatesh said the company hopes that, by the end of the year, it will have the ability to support money transfers for consumers who do not have a bank account.
InstaReM already supports some forms of transfer that don't require bank access, making it very popular among underbanked populations.

"In the Philippines, we support cash pickup," Venkatesh said. That's important because many people in the Philippines, even if they have a bank account, don't have easy access to a bank or ATM."
The company hopes it can ultimately help migrant workers and other individuals, who are stakeholders in the multibillion-dollar remittance payment industry, send money home to family members and loved ones without having to pay egregious fees or wait endlessly for the remittances to reach their destinations.
And with each payment earning loyalty rewards in InstaPoints that can be used to lower the cost of future transfers, the ability to send money to foreign countries has possibly never been cheaper, faster, and easier to execute.
Advertiser Disclosure
CardRates.com is a free online resource that offers valuable content and comparison services to users. To keep this resource 100% free, we receive compensation for referrals for many of the offers listed on the site. Along with key review factors, this compensation may impact how and where products appear across CardRates.com (including, for example, the order in which they appear). CardRates.com does not include the entire universe of available offers. Editorial opinions expressed on the site are strictly our own and are not provided, endorsed, or approved by advertisers.