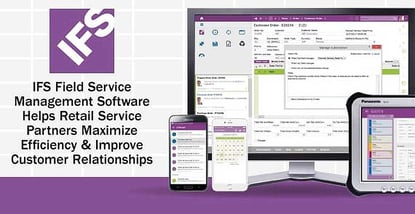 In a Nutshell: IFS is a global enterprise resource planning (ERP) software provider that drives large-scale manufacturing and distribution, asset maintenance, and service management. IFS Field Service Management offers service organizations a platform to integrate asset and service delivery responsibilities with back-office functions including inventory, processing, billing, and more. The product's IoT functionality allows retailers to proactively manage assets and services to boost efficiency. As retail enterprises strive to maximize their competitiveness in a changing marketplace, they look for service partners with the flexibility to optimize their delivery systems over time. IFS Field Service Management brings efficiency and accountability to every facet of the customer relationship, ensuring that skills and assets are available when and where they're needed.
Spencer Technologies was looking for ways to trim costs and complexity from its service delivery infrastructure and position itself for future growth when it turned to IFS for a software solution to manage the changing needs of its client base. Spencer, a large technology and POS system provider for specialty and department store and restaurant chains, wanted to improve its existing business offerings while incorporating flexibility and scalability to handle varied customer relationships.
IFS Field Service Management software helped Spencer achieve those goals. A client portal tool within the package enhanced Spencer's ability to serve its existing customers by allowing them to access real-time relationship data, log requests, and monitor the status of service tickets. Meanwhile, installation of the software's turnkey repair center module enabled Spencer to quickly expand its line of services, win new contracts, and increase revenue.
IFS helps businesses working in demanding, asset-intensive industries manage a variety of core functionalities including financials, human resources, quality management, customer relationship management, and business intelligence. The firm's 3,300 employees support more than 1 million worldwide users.
Thomas DeVroy, Senior Product Evangelist for Enterprise Service Management at IFS, told us that, as retail enterprises build out and streamline their omnichannel offerings in response to digital transformation, they seek service partners that can keep up while improving quality.
"Retail enterprises are best served by service partners that can provide connected, end-to-end field-service functionality, highly responsive customer relationships, positive customer experiences, and process efficiencies," Thomas said. "As a replacement for a first-generation solution, IFS Field Service Management can automate business processes that were previously manual, improve delivery to the customer, maximize asset utilization — and provide a better customer experience."
Asset & Service Integration Optimizes Lifecycle Management
Thomas said that many retail service partners choose IFS Field Service Management for the same reasons Spencer Technologies did. "The product is built around a suite of cloud-based tools and technologies that companies can use to run more efficiently and service their customers," he said.
And IFS knows why companies need to focus on those service efficiencies. "We've found that every dollar a service company earns in product sales generates about $8 worth of services after the sale," Thomas said. "There's a feedback loop there, though, because you won't get that initial sale if you have a reputation for delivering bad service. Good service improves customer relationships and generates new sales and new customers."
The software's modular architecture lets organizations manage customer relationships from end to end, integrating with legacy platforms when necessary without impeding existing workflows. Contact center functionality automatically assigns tasks to team members and manages complex projects using a schedule board and a service workflow engine. And its dynamic planning and scheduling functionality reduces travel and overtime costs for field workers while improving technician productivity up to 40% and service-level-agreement compliance up to 20%.
Integrated contract-specific adjustments automatically override standard system responses and even identify potential new revenue sources through customer, site, product, and asset analysis. Warranty management functionality administers, processes, and tracks all agreements throughout their lifecycle.
"The warranty management piece incorporates any constraints based on the type of repair that's requested, automates the billing process in line with what the agreed-to rates are, and handles the parts reimbursement process," Thomas said.
Along with tools for parts and project management, field service automation completes the package. Customizable mobile apps let field workers quickly accept jobs, use GPS to find and order nearby parts, and enter amounts for labor and expenses. They can also use the app to take notes and pictures, process payments, and capture signatures.
"The imperative to improve converges on service organizations from many sources, so they're interested in automating their field technicians' activities," Thomas said. "They want to simplify workforce and back office administration. They want to create new service offerings for their customers to consider. And, in the process, they might move their product-to-service-sale ratio 1:8 to 1:9 or even 1:10."
IoT Capabilities Bring Large-Scale Efficiencies
IFS also has future-proofed IFS Field Service Management with integrated support for internet of things (IoT) capabilities. Analysts estimate a market with more than 30 billion connected devices by 2020 and now expect large-scale enterprise adoption of IoT technology. IFS Field Service Management allows service organizations to leverage IoT transformations to reduce response times and even proactively address maintenance issues.
The impetus for those developments came from the IFS research arm, an organization known as Labs, Product Manager Andrew Lichey told us. "They're our thought-incubator team," Andy said. "They worked very closely with a couple of our customers in developing proofs of concept for IoT."
"Within retail enterprises, there's potential for IoT connectivity very soon with traditional consumer devices like refrigerators, water heaters, furnaces, security systems, and even POS systems like those offered by Spencer." — Thomas DeVroy, Senior Product Evangelist for Enterprise Service Management at IFS
The IFS IoT Business Connector is the company's hub for processing the astronomical amount of data produced by internet-connected devices. The product compiles IoT operational data, analyzes it, and generates actionable business insights.
"Within retail enterprises, there's potential for IoT connectivity very soon with traditional consumer devices like refrigerators, water heaters, furnaces, security systems, and even POS systems like those offered by Spencer," Thomas said. "Especially on a very large scale, incremental improvements in the way devices are managed can result in huge savings. We can even do predictive analysis on when equipment is likely to have issues and head those off before they ever have a chance to occur."
Assets as a Service: The Future of Outsourcing in Retail
The implications of IoT as a predictive tool are staggering, especially when it comes to how business is conducted between retail enterprises and service partners. IoT may soon impact current models of enterprise ownership and service delivery.
"When you can monitor the age of a machine, its usage, environment, and its expected lifespan, and then predict when it needs service or replacement, you're moving from reactive service to proactive and predictive," Andy said.
Assets traditionally sold to retailers by suppliers function as services in an IoT environment, and may be rented or subscribed to. "In Canada, homeowners don't buy their water heaters; they rent them on a subscription basis. The assets themselves constitute services that the utilities have 100% ownership of and responsibility for," Thomas said.
In that scenario, the customer pays for the functionality of the asset, not the asset itself. "It works just like the boxes that make cable television and internet available at home," Thomas said. "You don't pay for the box; you rent it. And when the internet goes down, you get a refund."
The result is a transformation in the way providers relate to their customers. And through the IoT capability built into IFS Field Service Management, IFS customers have the institutional knowledge required for that transformation. That's knowledge they can pass to their own customers and leverage to win new ones.
Advertiser Disclosure
CardRates.com is a free online resource that offers valuable content and comparison services to users. To keep this resource 100% free, we receive compensation for referrals for many of the offers listed on the site. Along with key review factors, this compensation may impact how and where products appear across CardRates.com (including, for example, the order in which they appear). CardRates.com does not include the entire universe of available offers. Editorial opinions expressed on the site are strictly our own and are not provided, endorsed, or approved by advertisers.