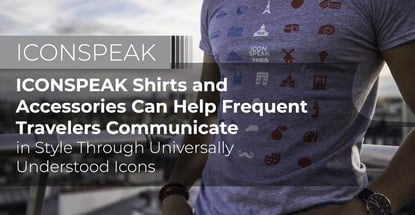 In a Nutshell: ICONSPEAK has created a line of T-shirts and accessories that are as functional as they are stylish. That's because the products are printed with recognizable icons that can help travelers quickly communicate when a language barrier exists. ICONSPEAK City Edition shirts feature landmarks and destinations unique to 11 popular destinations — including Paris, London, Barcelona, and Munich. The products can help people ask for directions to bus stations, restaurants, and hospitals, or just a place to find a good glass of wine and some live music.
Early man relied on simple sketches and symbols carved into the walls of caves to communicate their thoughts, dreams, and fears. A quick look at today's emoji-laden text messages and social media posts shows that trend is alive and well.
As consumers rack up travel rewards on their credit cards, and their destinations become more exotic, that need to communicate simply may be greater than ever. And, depending on where people travel, they may find the locals aren't fluent in emoji.
But ICONSPEAK hit on an idea that can make communication a little more universal — and stylish. The Swiss-based company produces a line of T-shirts packed with informative icons designed to allow travelers to point to their shirt and ask for assistance if they encounter a language barrier.
ICONSPEAK Co-Founders Georg Horn and Florian Nast hatched the idea for the product back in 2013 under circumstances in which one of those shirts would have come in handy.
Horn and Nast spent part of 2013 traveling through Asia and Vietnam on a pair of motorbikes. Both figured they'd learn how to communicate with people in the country along the way. But that's hard when you have no grasp of local customs and language.
"We kind of got lost in the backcountry after traveling off the beaten path," Horn said. "Then our motorbikes broke down."
Stranded, and essentially lost, Horn and Nast had to find ways to communicate with local residents and mechanics to get back on the road.
"That's where the idea for ICONSPEAK came from," Horn said. "We began sketching what the product would look like. It came back in 2016 out of us wanting something fun to do."
Today, ICONSPEAK offers shirts that feature 39 well-recognized icons to help travelers communicate in more than 10 countries. The line of shirts also features unique versions for campers and a worldwide version with universally understood icons.
"After having experienced times when we didn't have electricity or good mobile reception, we wanted to make an item that you can use in any conditions," Horn said. "And we figured a T-shirt would be one of the easiest ways to do that."
Customized Shirts for Varied Travel Destinations
Horn and Nast found that some icons — including restaurants or bathrooms — were universally understood. But early customer feedback showed demand for city-specific shirts that would help travelers find landmarks, food items, or other stops that are unique to popular travel destinations.
ICONSPEAK introduced City Edition T-shirts to meet those demands. The line currently features 11 different cities — from Paris to New York City to Moscow — with the specific icons that tourists demanded.
The shirts come in a variety of colors and styles, with both men's and women's versions available.
"There's no limit to what topic or subject we can apply the icons to," Horn said. "But, when designing a product, you have to think like a tourist. You can't go hyper-local because, when you do that, the locals of that city might like it, but the tourists might not understand it."
To please both sets of consumers, Horn said the company has considered making two versions of the city edition shirts — one with more hidden local hangouts and one with more common needs that a tourist might seek — such as restaurants, hotels, or hospitals.
"For example, on the Paris shirt, you have all of the classic sites and also some of the other elements that make up the Parisian lifestyle," Horn said. "We tried to include as much as possible in the product."
The Paris shirt includes icons that can help travelers ask for directions to metro stations, hospitals, and hotels, as well as recommendations for restaurants, museums, and wifi terminals.
The company is always working to identify new — and necessary — icons and adjusts its shirts accordingly. But whether the shirt belongs to an area resident or a visitor, Horn said the company's goal is to make communication not only easier but also more enjoyable.
"One of our rules is that we don't want any icons on our shirts that you could create as fast — or faster — by using your fingers or by pointing at something," Horn said. "We want to add things that are hard to get around to when using body language."
Consumer Demand Sparks Development of New Products
ICONSPEAK saw immediate demand for its shirts when it launched in 2016. Horn soon found himself granting interviews to large media outlets. Since then, the company has expanded its product line to include other items, with popular options such as tote bags and phone cases.
As the company grew, other companies took notice and found ways to leverage ICONSPEAK's popularity to expand the reach of their own brands.
ICONSPEAK also added customized product offerings when Google approached it about designing a shirt for its employees. The trend quickly expanded to other global organizations that want to grow their brand through shirts that translate to any language.
"It's important to create products that not only solve an issue, but that are also fun," Horn said. "If the people who are using it think it's fun, it gives your brand a completely different feel."
While its products have become stylish travel accessories for many people, Horn said that they're also enjoyable items to wear when you're out and about in unfamiliar territory.
"We get a lot of photos from customers wearing their shirt in different places, or ones who purchased the shirt as a gift for someone who is about to travel," Horn said. "We often hear how happy they are with the shirt and how much it helped them."
Making Communication Fun Instead of Intimidating
Of the many emails Horn receives from customers, one stands out the most. It came from a customer who relayed his story of getting lost in Kazakhstan. Thanks to his ICONSPEAK shirt, he managed to communicate with locals and find a bus station that brought him back to a safe and familiar place.
But while similar stories continue to roll in, Horn said the shirt isn't meant to be a substitute for learning an area's language or customs. If anything, he said the shirt should be an add-on to what you learn before you travel.
"The shirt isn't really meant to help people get out of emergency situations," Horn said. "It's meant to have fun with and to spark communication while you travel."
After all, isn't one of the biggest thrills of traveling the ability to immerse yourself in a new culture and lifestyle? With ICONSPEAK, travelers can confidently navigate through their dream trips while also engaging locals in a unique way.
And, according to Horn, his company's current line of products only scratches the surface of what he and Nast have planned.
"There are always new iterations coming up," Horn said. "And we will have new products launching soon that we'll announce on our social outlets."
In the meantime, travelers continue to proudly display their ICONSPEAK shirts in front of popular monuments and landmarks, confident that they'll never struggle to find a good glass of wine or a plate of cheese during their adventures.
Advertiser Disclosure
CardRates.com is a free online resource that offers valuable content and comparison services to users. To keep this resource 100% free, we receive compensation for referrals for many of the offers listed on the site. Along with key review factors, this compensation may impact how and where products appear across CardRates.com (including, for example, the order in which they appear). CardRates.com does not include the entire universe of available offers. Editorial opinions expressed on the site are strictly our own and are not provided, endorsed, or approved by advertisers.