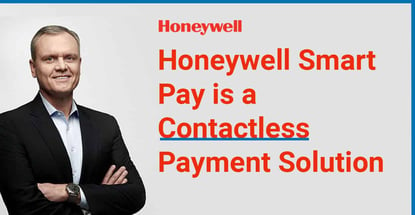 Our experts and industry insiders blog the latest news, studies and current events from inside the credit card industry. Our articles follow strict editorial guidelines.
In a Nutshell: Smart Pay is the newest innovation in payment technology by Honeywell that enables contactless point of sale when integrated with mobile touchscreen devices. The software enables every retail frontline employee equipped with a Honeywell mobile computer to act as a roving cashier. The system helps merchants increase revenue, loyalty and repeat business. Instead of replacing existing merchant payment systems, Smart Pay is designed to integrate into payment solutions and provide a better customer experience. White-box cryptography and code obfuscation are added security measures that help prevent code cracking.
Technology in the customer retail service sector has experienced a boom recently, particularly with the advent of handheld touchscreen computers, also known as commercial off-the-shelf (COTS) devices.
These mobile computers have allowed merchants to transform storefront workers into multifaceted problem solvers, enabling them to perform many tasks, including accepting payments directly from customers.
And payments using COTS devices are about to become even more streamlined. In a recent announcement, Honeywell stated it will roll out its Smart Pay software for the company's mobile computers.

The company has been providing services in retail for more than 50 years, and when consumers go into a store nowadays, they likely encounter employees holding Honeywell devices in the palms of their hands.
The retail ecosystem has experienced some rapid changes due to the COVID-19, and retailers have shifted to serving customers where they are.
COTS devices have become a natural facilitator of that process. The point-of-sale software is able to scan, communicate, and data capture an item, which makes customer services a more efficient procedure.
The capacity of this mobile system is not limited to retailers. Businesses in transportation, delivery, hospitality and other industries can capitalize on cutting operational costs and improving customer loyalty.
Turning Honeywell Computers Into Secure Terminals
Despite the way COTS devices have revolutionized industries, facilitating payments has been a missing element, and retailers have struggled to find an efficient method to speed up the process.
Karen Bomber, VP of Global Marketing for Honeywell Productivity Solutions and Services, said that we are past the point of always standing in line to make a purchase, and it's natural to come up with a more convenient point-of-sale system.
"Brick-and-mortar retailers very much know that meeting the customer, and their journey when they need to be met, is key," said Bomber.
Smart Pay is a natural progression since it allows contactless payment for merchants who already use Honeywell mobile computers. This solution also enhances Honeywell's software ecosystem by allowing employees to use one mobile computer to complete multiple tasks.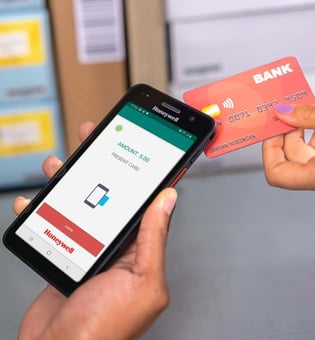 Since Honeywell mobile computers are enabled with near-field communication (NFC) technology, they can communicate with a contactless credit card, or a phone with an electronic wallet. Consumers just have to tap their contactless credit card or phone on a handheld Honeywell mobile computer to make a payment.
Smart Pay is preapproved by Mastercard, Visa, American Express and Discover card and integrates seamlessly with existing systems that use SDKs and APIs. And it is designed to run with Honeywell COTS devices, including the CT30 XP, the ScanPal EDA52, and other touchscreen computers.
Smart Pay transactions are secured by using code obfuscation, which is a code-hardening method that makes applications nearly impossible for fraudsters to reverse engineer. The software also uses white-box cryptography to combine encryption and obfuscation to create secret keys embedded within the application code.
To help design the Smart Pay software, Honeywell partnered with Amadis, which is a leading payment software and consulting provider that has deployed its technology solutions in more than 40 million mobile devices globally.
Technology that Reflects a Shift Away From Cash
Retailers are seeing a major shift in payment demographics as more consumers use credit cards and digital wallets rather than cash to make in-store purchases.
According to research collected by the Federal Reserve Bank of San Francisco, the share of person-to-person payments made with mobile apps nearly doubled from 2020, increasing from 15% in 2020 to 29% in 2021. Meanwhile, the share of cash use fell below 50% for the first time since 2016.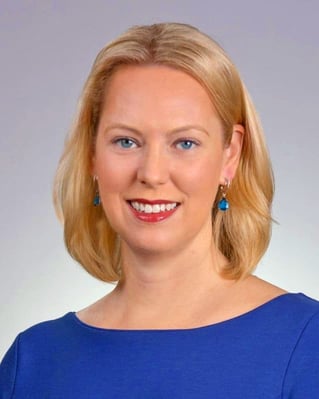 And based on a Visa Back to Business Study, nearly two-thirds of consumers would prefer to use contactless payments as much as or more than they are currently, and only 16% say they would revert to their old methods of payments, post-pandemic.
There are currently more than 2 billion NFC-enabled devices in the world, and as that number grows, more people will accept cashless payments. But that also means the technology used in these devices needs to upgrade based on the needs of consumers and merchants alike.
In the view of merchants, many traditional mobile payment devices are archaic, requiring accessories like sleds and other hardware features that make use and functionality very unaccommodating.
"It's a two-piece thing," said Bomber. "It's heavy, it's not pocketable. You don't really know what to do with it. Wi-fi needs to be connected between the two, and it's just clunky, cumbersome, and expensive."
Bomber said that replacing parts for these traditional devices can get very costly, so switching to Smart Pay and eliminating the need for additional accessories will bring about a significant reduction in expenses for the retailer over time.
Mobile Payments Improve In-Store Customer Service
Bomber noted that Smart Pay fits the growing trend in mobile payments and will serve industries in many ways in the future.
For example, items that are displayed outside of a store may be inconvenient to lug inside to make a payment. Smart Pay-enabled devices will allow an associate to save time and tender a payment instantly and avoid inconvenience to consumers.
This technology can also address the needs of urgent care where hospital processing or an emergency purchase at a pharmacy can eliminate delays.
With Smart Pay solutions, Honeywell is positioning itself within a new frontier in payment technology and commerce as a whole.
Bomber said the company is always watching the evolution of point-of-sale processing and Honeywell is looking to be part of it without being an actual payments company.
"There is infrastructure that we provide through mobility and scanning," said Bomber. "We are always in active communication, certainly with retailers and other merchants, but also with other technology providers in this space."
The rollout of Smart Pay has been positive, according to Bomber, with large companies showing the most interest so far. While smaller businesses tend to be slower at adapting to new technology, SMBs are expected to get on board over time.