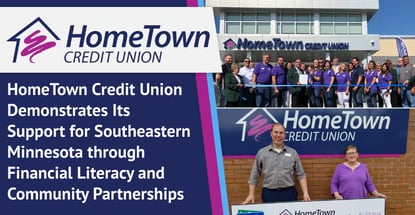 In a Nutshell: HomeTown Credit Union serves a four-county area in Southeastern Minnesota — not only by providing quality banking services, but also through efforts to improve the community. The credit union is deeply involved in financial literacy initiatives aimed at students in the area to help them learn about financial responsibility from an early age. It also offers finance classes for people of all ages and provides robust financial literacy resources through its partnership with EverFi. HomeTown Credit Union is also active in establishing and maintaining partnerships with community organizations, promoting volunteerism among its employees, and sponsoring community events.
In Minnesota, a single mother with four children has been forced to move time and time again due to increasing rent or the rental property being sold. Neither her budget or credit is in a place where she can purchase a home for her and her family.
Recently, the mother turned to HomeTown Credit Union for help, where Community Education Coordinator Kurt Halverson has been providing the woman with financial counseling.
"She's looking to turn her financial situation around so we're working hand in hand on how to create a budget and how to rebuild her credit," Halverson said. "We're also working on providing her with the tools she needs to get to a position where she can become a homeowner."

Not only will this help the woman avoid the stress of having to move frequently, but it will also provide her children with a more stable environment in which to grow up, he said.
"When we're able to work with these clients who are really passionate and driven, and willing to make these important changes, it's really awesome," Halverson said. "It's very rewarding."
This is just one of many examples of how HomeTown Credit Union gives back to Dodge, Rice, Steele and Waseca counties in Southeast Minnesota. In this case, the credit union was working with an individual, but its efforts range from helping people individually to programs with communitywide impacts.
The credit union was founded in 1974 as the OTC Employees Federal Credit Union. After several years, the organization expanded its membership to include a number of other institutions and has continued to grow ever since.
Several more mergers and expansions resulted in the HomeTown Credit Union of today, which serves more than 18,000 members in its four-county area in Minnesota.
"We're leading the charge to offer financial education in our community and are here to be a trusted partner for financial success," according to the institution website. "Finally, our staff and volunteers work hard to fulfill this mission every day."
We spoke to Halverson to learn more about these efforts to educate and give back to the communities HomeTown Credit Union serves.
A Strong Focus on Setting Up Students for Future Financial Success
"One of the interesting things we've been working on recently has been with DECA, which is kind of like a business and marketing club to teach high school students skills that will be useful in their future careers," Halverson said.
While the credit union has supported DECA for years, Halverson said its most recent project is more in-depth. DECA facilitates several regional competitions where students can advance to state and national levels, and HomeTown Credit Union has become more actively involved in these competitions.
"I worked with two students on creating a financial literacy awareness campaign," Halverson said. "They identified their target market as students and parents, and they developed a plan on how they were going to reach them."
Halverson also helped the students access resources, coordinate roundtable discussions, and develop a financial trivia game, he said.
"It's been really fun to foster those young people with those opportunities, as well as being able to give them a little bit more insight into the credit union industry as well," Halverson added.
The credit union is also very involved in initiatives that reach large numbers of students at once.
"We're committed to educating our youth in many different ways — from offering youth accounts that help teach real-life money management skills to student-run operations that help teenagers learn integrity in the workplace and the importance of saving," according to the credit union website.
In 2011, HomeTown Credit Union partnered with Owatonna High School to open a student-run branch at the school. The branch is open to students, administration, and staff each day during lunch and offers regular branch services such as withdrawals and deposits, according to the institution.
By maintaining the student-run branch, the credit union encourages students to save, provides employment and mentorship opportunities, and offers curriculum enhancement opportunities for teachers.
The credit union also offers scholarship opportunities for students, and youth accounts, which helps young people learn to manage their money responsibly from an early age.
Financial Literacy Resources for Consumers of All Ages
HomeTown Credit Union's financial literacy efforts aren't limited to students. The institution has a number of ways it reaches out to community members of all ages.
"We're offering classes through a unique community education model called the Faribault Community School," Halverson said. "It offers free programming Monday through Thursday for people of all ages. Students can come and get a free meal. And adults pay a couple of dollars for a hot meal. This model focuses on increasing access to education for the whole family."
He said the community school offers classes on an array of topics, including arts and crafts, Zumba, homework assistance, and more.
"Now, we're offering a financial education series through the school, and I'm actually teaching a class there tonight about credit scores," Halverson said. "It's been a fun partnership. With our financial education, we always offer it free of charge because we feel that there should be no cost involved with that."
In his credit score class, Halverson discusses the differences between FICO and Vantage scores, and how lenders may look at different scoring models, he said. He said he encourages attendees to obtain their free credit report and he sits down with them to help them understand it.
He said learning about credit scores and how to build credit is a frequently requested topic when it comes to financial literacy courses in the community.
"I work with an in-patient chemical addiction recovery facility here about once every other month to do a presentation in a small group setting," he said. "This is the presentation they typically request. It has such a broad appeal because there's a lot of mystery when it comes to credit scoring — what things impact your score and what doesn't."
Other presentations Halverson gives regularly address the topics of responsible credit card use and how to identify and avoid frauds and scams.
The credit union also partners with EverFi to provide members with access to robust financial literacy resources on demand.
"Financial wellness is not just a destination, it's a journey. Certain life events are unavoidable, and we understand the importance of having someone by your side to help guide you through them," according to the website. "The HomeTown Learning Center is a place for you to access the learning tools needed to assist you in making difficult financial choices."
Direct Impact Via Partnerships, Volunteer Efforts, Sponsorships, and Donations
Halverson discussed other ways HomeTown Credit Union instigates positive change in its communities as well.
"We promote volunteerism with our employees," he said. "A lot of our employees might have something that they're very passionate about. For instance, we've got some folks that serve for Habitat for Humanity, and others like to work with the Humane Society — things like that."
Other popular organizations for which employees volunteer include Steele County Clothesline and the Faribault Rotary Strive Program.
"HomeTown is recognized as a community partner and proudly supports the local area through donations, sponsorships, volunteerism, and events," according to the credit union website.
On Columbus Day, HomeTown Credit Union team members participate in HomeTown Spirit Day which focuses on a different project each year to help those in need.
On Columbus Day, 2019, the HomeTown team gathered to become certified in first aid, CPR, and the use of a defibrillator through the American Red Cross. According to Halverson: "These skills could be called into place at any time and any place. With much of our staff working with the public everyday, these are important things to know. Having this training could save a life."
The organization also helps promote a healthy diet through its partnership with Fare for All.
"With Fare for All, healthy eating can also help to stretch your budget!" according to the website. "HomeTown Credit Union is a proud supporter of Fare for All in Faribault by serving as an order and payment site and providing volunteers for order distribution."
Most recently, HomeTown Credit Union partnered with Northfield High School's DECA club to facilitate a clothes drive.
"These donations benefit Northfield's Clothes Closet, which provides discounted and sometimes free clothing and household goods to people in the Northfield area," according to the website.
HomeTown Credit Union's proactive efforts to promote financial literacy to its Minnesota communities are impressive, as are its heavy involvement in community organizations.
Halverson said the credit union will be expanding its impact in the near future by opening its fifth branch in the Northfield community.
"That's really taking a lot of our energy and focus right now," he said. "There's currently no credit unions operating in that community. And we feel like the personality of the Northfield community will be a great fit for HomeTown Credit Union and vice versa."
Advertiser Disclosure
CardRates.com is a free online resource that offers valuable content and comparison services to users. To keep this resource 100% free, we receive compensation for referrals for many of the offers listed on the site. Along with key review factors, this compensation may impact how and where products appear across CardRates.com (including, for example, the order in which they appear). CardRates.com does not include the entire universe of available offers. Editorial opinions expressed on the site are strictly our own and are not provided, endorsed, or approved by advertisers.