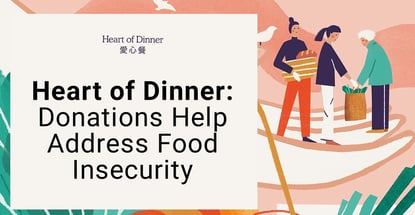 In a Nutshell: During the height of the COVID-19 pandemic in 2020, Yin Chang and Moonlynn Tsai began to deliver meals to East Asian seniors in New York City through their Heart of Dinner nonprofit. Those elders faced food insecurity as their communities shut down to slow the spread of the coronavirus. Rising anti-Asian sentiment and the real threat of violence in some neighborhoods further isolated Asian elders. As the Heart of Dinner service expanded, the founders began to understand how widespread a social problem food insecurity is in American cities. Assistance, including card rewards donations, can help Heart of Dinner become a lasting solution for community health and cultural unity.
The COVID-19 pandemic brought many of society's pain points into hig relief. Some of those revelations may set the stage for an era of progress in the years and decades ahead.
Yin Chang and Moonlyn Tsai, the founders of Heart of Dinner, a group that delivers meals to homebound elderly, said they are committed to affecting that change after their experiences over the past year. The COVID-19 pandemic changed their lives by showing them how they can impact the lives of others.
Thanks to Chang and Tsai, the nonprofit organization has delivered more than 80,000 hot lunch meals and pantry essentials to East Asian seniors facing food insecurity in New York City. Unfortunately, that respected community of elders have been among the hardest hit during the pandemic.
Financial support can help Heart of Dinner reach its target of 250,000 meal and grocery deliveries and have a lasting impact on food insecurity in the communities it serves. Charitable-minded consumers can even redeem their credit card rewards points for cash or statement credit and use the money to help support the organization.

Well before the pandemic, as early as January 2020, Manhattan residents Chang and Tsai began to hear about and witness restaurant shutdowns in nearby Chinatown.
"It was way beyond a coincidence that as the COVID-19 news started coming out, that's when restaurants owned by people who looked like us began to suffer and struggle," Chang said. "In general, people were avoiding Chinatown."
Chang and Tsai said they began to experience anti-Asian xenophobia by way of random gestures and remarks. That included stares from people on the street and even expletives from the more brazen telling them to go back to where they came from.
The crisis grew from there. First came the announcement of a pandemic by the World Health Organization, followed by shutdowns, news of rising food insecurity among East Asian seniors in New York, and then reports and videos of elderly Asians being harassed and violently targeted.
"So we decided to cook meals for them," Chang said.
A Community of Volunteers, Restaurant Partners, and Sponsor Farms
Chang and Tsai are "partners in life and love," according to their website, and both have East Asian backgrounds. Their life experiences have informed the work of Heart of Dinner and made it a burgeoning institution in New York.
Chang, born in New York City, is an actor, producer, writer, and podcaster. Taiwan-born Tsai, meanwhile, was raised in California and has a background in restaurants and hospitality. The couple first began serving meals through a kind of supper club venture when they lived in Los Angeles in 2015.
"The dinners were all donation-based," Tsai said. "Yin and I would cook comfort meals — nothing fancy — and proceeds from the donations would go to combat food insecurity through NoKidHungry."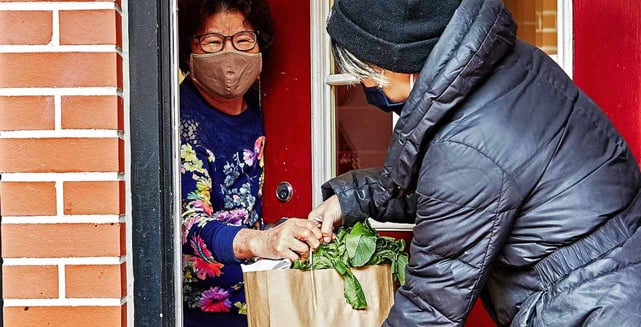 When they moved to New York a few years later, their space was too small for that type of operation. Chang and Tsai said they envisioned a new version of Heart of Dinner as a Chinatown food tour business. The pandemic changed that plan. Fortunately, friends were willing to step up and help.
"It's a huge community effort. When we first started, we thought it was going to be a three-month pop-up," Tsai said. "And here we are, a fully formed nonprofit."
Friends and volunteers initially put the meals and care packages together using space and resources donated by restaurant partners and sponsor farms. Those folks are still integral to the operation, but as Heart of Dinner scaled, Essex Market on the Lower East Side also generously began donating space.
"We would love to get to a point where we have our own headquarters," Tsai said. "And we would also love to bring on a small team and provide work for the people in our community."
Pairing Hot Lunch Care Packages with Handwritten Notes
Today, Heart of Dinner weekly grocery packing events are included on the Essex Market calendar. Card rewards donations and other financial support can help Chang, Tsai, and their many friends and volunteers accomplish their goal of achieving permanency.
"We don't plan to stop," Tsai said.
That's because the pandemic merely exposed a problem that has been there all along. The many limited-income and homebound Chinese and Korean elders Heart of Dinner serves are often vulnerable to food insecurity and social isolation. When COVID-19 forced shutdowns, they were on their own, and that brought attention to the problem.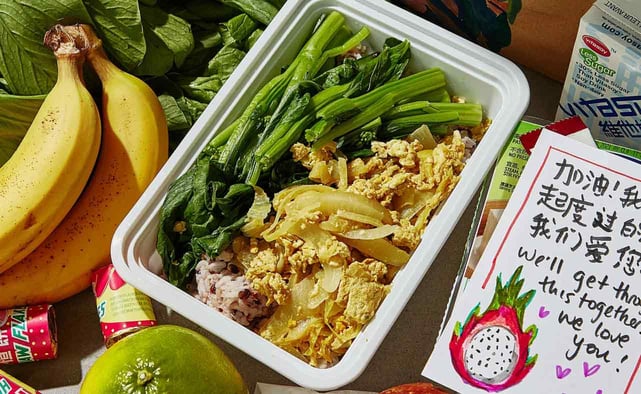 That also makes the service Chang, Tsai, and their partners provide all the more nourishing — because it comforts the soul as well as the body.
"We pair every hot lunch box and fresh grocery and pantry package with a handwritten note," Chang said. "And we pack all of the meals inside beautifully hand-illustrated bags."
Volunteers prepare the notes in the native language of the intended recipient and create the illustrations. The packages convey traditional respect for elders.
"The packages themselves are all culturally thoughtful," Chang said. "Instead of a can of tuna that many of our elderly might have a hard time opening and might not understand how to use, we provide familiar items like fresh bok choy, fresh bitter melon, and eggplant. Every step is well thought out."
Heart of Dinner: Delivering Meals and Raising Awareness
Heart of Dinner is still classified as a 501c3 private non-operating foundation. They are in the process of taking the steps to amend that classification and switch it over to a 501c3 public charity. In the meantime, they were advised by nonprofit specialists to work through a fiscal sponsor. So while they are currently a 501c3 private nonoperating foundation, they are recently operating through our fiscal sponsor Edward Charles Foundation dba Heart of Dinner. All donations go through their fiscal sponsor.
"Donations are essential to us because we are a grassroots organization, and all the funding that has enabled us to keep going is from our communities," Tsai said.
Given the culturally conservative nature of many East Asians in America, Chang and Tsai were concerned at the start of their venture that their status as a same-sex couple would offend some of the elders they were seeking to serve. They were heartened when they were accepted as community caregivers.
"Being in an LGBTQ relationship, it was very healing to hear one of our elderly recipients call to tell us she saw our story in an Asian newspaper and that she was happy we were together and that we were doing this for the community," Tsai said.
In fact, the entire process of building Heart of Dinner has been a learning experience for Chang and Tsai, who now run in different circles than they did before the pandemic.
"Honestly, Yin and I, we weren't that familiar with food insecurity. We were both brought up fairly privileged, and we never had to worry," Tsai said. "I think there are a lot of people in our demographic who haven't been aware of this ongoing work, and by sharing our experiences, we increase awareness about the importance of addressing food insecurity."
Card donations help with that. And credit rewards card giving is expanding an already diverse team of supporters.
"We invite all who are not Asian to help and let our elderly see for themselves that there are so many people from different backgrounds and different upbringings who want to show up for them," Chang said. "We're proud that we've brought so many people together across all backgrounds, all cultures, and all races, and it's a beautiful thing to see."
Advertiser Disclosure
CardRates.com is a free online resource that offers valuable content and comparison services to users. To keep this resource 100% free, we receive compensation for referrals for many of the offers listed on the site. Along with key review factors, this compensation may impact how and where products appear across CardRates.com (including, for example, the order in which they appear). CardRates.com does not include the entire universe of available offers. Editorial opinions expressed on the site are strictly our own and are not provided, endorsed, or approved by advertisers.