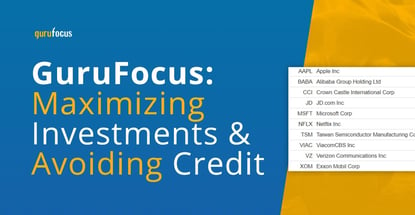 In a Nutshell: Investing used to be largely a rich person's game, but thanks to advances in technology nearly anyone can invest in the stock market today. Even with these barriers to entry eliminated, knowing where to invest your money can still be challenging. GuruFocus is a website that helps eliminate this uncertainty by providing information on what the greatest investors in the world are doing with their portfolios. The company focuses on value investing by analyzing important data about the companies offering stock to help investors make informed decisions. The website offers free and premium-level memberships.
Planning for the future comes naturally to some. Others, not so much. Regardless, preparing for what lays in store is an important task and inevitably involves thinking about money. Experts recommend individuals and households should maintain a savings account, a retirement account, and an investment portfolio.
This isn't the reality for many U.S. residents, however. Data shows that about 40% of Americans would not be able to afford an unanticipated expense of $400 without going into debt — or further into debt — via a credit card or loan.
Of course, credit cards can be valuable in a pinch, but in general, experts do not advocate credit to be used as a financial safety net. Instead of turning to credit in times of need, experts suggest that people should establish an emergency fund for immediate needs and maintain an investment portfolio for long-term financial goals.
And, if a major financial crisis arises in your life, dipping into an investment fund (your money) is a better option than maxing out a credit card or turning to questionable loan sources. Additionally, average stock market returns are around 10% while many savings accounts average annual returns of less than 1%.
In decades past, investing was often limited to the more affluent members of society because of hefty trading fees and accessibility challenges. But today, nearly anybody can dive into the world of investing thanks to advances in technology that have helped democratize investment opportunities.
GuruFocus is a website that offers valuable information on investing, whether you're new to the world of securities or a seasoned investor.
We recently spoke with Dr. Charlie Tian, the Founder and CEO of GuruFocus, to learn how he became involved in investing, what the website has to offer investors, and the importance of listening to members of the investing community.
Establishing a Hub Where People Can Learn About the Most Successful Investment Strategies
"I was a scientist — a physicist for a long time. I have a Ph.D. in physics, and my field was lasers, optics," Tian said. "I know very well about those kinds of things. I have 32 patents in the field of optical communications."
Tian then moved from China to the U.S. in 1998 and began buying stocks the following year, he said. Because of his physics background and optics expertise, these are the areas in which he purchased most of the stocks.
Then, the .com bubble burst, and he lost all the money he had invested, Tian said.
"I was very poor. I didn't actually lose much," he explained. "But I learned a big lesson. I realized that investing is not just technology — it's a lot more about the business you're investing in, and also the philosophy of investing."
That's when Tian began reading books by some of the most well-respected financial experts of the time, including Peter Lynch, Phil Fisher, and Warren Buffett, he said. He said he also read 40 years' worth of shareholder letters and other valuable investing documents.
"That basically transformed me from a scientist into someone who thinks more about the business side and the financial side of companies when I look at stocks," Tian said. "But there are so many stocks in the market. In the U.S. alone there are more than 10,000 stocks. Where are you going to start?"
With his newly attained knowledge of how the world of investing works, Tian decided to start by looking at what the most successful investors, people like Warren Buffett and Donald Yacktman, were investing in.
"If I start there, the chance of making mistakes will be smaller," Tian said of his thinking behind the strategy.
That simple but effective idea is what formed the basis for GuruFocus, which he founded in 2004.
"Focus on the best investors and stand on the shoulders of giants and make less mistakes," Tian said.
Offering Free and Premium Content to Help People Make Informed Financial Decisions
Visitors to GuruFocus will indeed find a wealth of valuable information about all aspects of the investing world, and, in particular, it tracks the stock picks and portfolio changes of the best investors in the world.
"GuruFocus.com is dedicated to value investing," according to the company. "As employed by Warren Buffett, the greatest investor of all time, value investing is the only winning strategy for the long term. GuruFocus.com hosts numerous value screeners and research tools, and regularly publishes articles about value investing strategies and ideas."
Tian said the website focuses on the fundamental valuation for businesses, including business quality, profitability, and analysis of valuations.
"That makes us quite unique," he said. "We provide fundamental-oriented research tools that even Bloomberg doesn't provide. You can inquire about a stock and you can see a chart, and we'll let you know if we think this stock is overvalued, undervalued, or a fair value — things like that."
In addition to ranking the quality of a business, GuruFocus also provides users with a warning if they see a business heading in a bad direction.
"We go through a checklist of many items to warn you, for instance, if a company's profit margin has not been growing or is declining, things like that," Tian said.
While much of the content within GuruFocus is free to all visitors, Tian said there is a premium tier membership that provides subscribers with access to all the information and features the site has to offer.
"We now have more than 40,000 users daily to our site; 22,165 investors have subscribed to our premium membership," according to the website. "Our users focus on long-term successful investing, and are the most intelligent group of investors on the internet. We have subscribers ranging from individual investors to investment advisors of almost all brokerage firms, big and small, and to analysts and fund managers of multibillion-dollar mutual fund and hedge fund firms."
Tian also wrote the book, "Invest Like a Guru: How to Generate Higher Returns At Reduced Risk With Value Investing."
"I wrote it for my children, actually," he said. I wanted to teach what I have learned to them. The book is relatively easy to read, and I tell lots of jokes in it so it's not so boring for them."
The book has been translated into multiple languages, and Tian said he recommends it for anyone who wants to learn about the world of investing.
Valuing and Implementing Feedback From Users
Although the foundation of GuruFocus is all about learning from the masters, Tian said he also values user feedback to refine the website or implement new features that will appeal to his audience of investors.
"Even these days, I get suggestions all the time from our users who ask us to add this or that feature," he said. "Some of the things, I am actually not familiar with so we start to learn them. If we find out that it makes sense, we'll add it."
Tian said the GuruFocus team makes it easy for users to provide their feedback and access support when needed.
Watch on
"We have several channels," he said. "We have live online chat support. We also have a ticket system. Users can make a support ticket anytime. I also do a monthly user town hall meeting."
"Every support request is assigned a unique ticket number which you can use to track the progress and responses online," according to the company. "For your reference, we provide complete archives and history of all your support requests."
Tian said the town hall meetings take place on the first Wednesday of each month. He said this meeting is often a great place to hear direct feedback from GuruFocus users.
GuruFocus also hosts an ongoing series of virtual events featuring various investing gurus, who offer their take on investing. Many of these virtual events are free to registered GuruFocus users.
GuruFocus offers a wealth of valuable investing information whether you're a seasoned trader or if you're simply tired of living paycheck to paycheck or seeing your credit card balance go up instead of down.
Advertiser Disclosure
CardRates.com is a free online resource that offers valuable content and comparison services to users. To keep this resource 100% free, we receive compensation for referrals for many of the offers listed on the site. Along with key review factors, this compensation may impact how and where products appear across CardRates.com (including, for example, the order in which they appear). CardRates.com does not include the entire universe of available offers. Editorial opinions expressed on the site are strictly our own and are not provided, endorsed, or approved by advertisers.