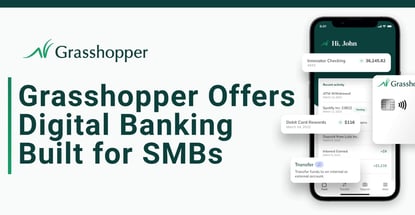 Our experts and industry insiders blog the latest news, studies and current events from inside the credit card industry. Our articles follow strict editorial guidelines.
In a Nutshell: Grasshopper provides businesses with secure operating accounts, flexible lending solutions and powerful digital tools. The digital bank is devoted to improving financial literacy to SMBs through its useful resources. Grasshopper also offers an attractive Rewards Debit card that provides unlimited 1% cash back on online and signature-based purchases.
Grasshopper is a New York-based digital bank for small businesses and start-ups that began operations in 2019. The commercial bank offers business entities a number of banking options, such as commercial API banking platforms, SBA lending, and commercial real estate lending.
The bank was named after famed computer scientist and US Navy rear admiral Grace Hopper, and the bank's tagline, "Only Forward," refers to the grasshopper, which can only jump forward.
Grasshopper is a Federal Deposit Insurance Corporation member and privately owned and headquartered in New York City.

In March, it expanded its vision to focus on strategic partnerships and investing in SMBs and the SMB community, which the bank felt were underserved.
"Right now we're on the SMB side, and we're really trying to acquire and build out a portfolio so we can start better serving and optimizing the experience for customers," said Danielle Kane, Director of Small Business Banking at Grasshopper.
"I think that these past two years, entrepreneurship has really been a big trend in our economy – side hustles, mom-and-pop shops have been really big. I think the pandemic also made people go out on their own," Kane added.
Those are the sectors that Grasshopper is focusing on: small- and medium-sized businesses that are seeking a great digital banking experience.
Banking Centered on Client Needs
Grasshopper has set up several programs and tools to help SMBs get the most out of their accounts.
"We're making a very large investment in this space. Right now, it's our number one focus because we know that we have the products that SMBs need, and we have the frontend and ease of use to make it digestible," said Kane.
Grasshopper's digital business checking account does not charge any monthly fees, and offers unlimited cash back and interest, unlimited transactions, and useful digital tools.
Accounts can be opened in as little as five minutes, and customers can earn up to 0.75% APY on balances of over $10,000.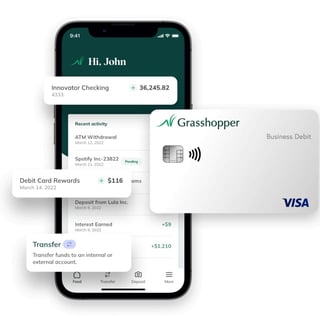 Customers can also receive a free Visa Rewards Debit card and earn unlimited 1% cash back on online and signature-based purchases. It also has security features that allow cardholders to lock or unlock their card in seconds. And cardholders can enjoy the convenience of fee-free withdrawals at over 37,000 MoneyPass ATMs and 8,500 SUM ATMs.
"If you're using your account every day, and using your debit card, it's really nice to get that 1% cash back," said Kane. "The small businesses themselves are going to be spending, they're going to have expenses, and why not get a percent back on that?"
And Grasshopper helps with a number of business financing and loan options. Clients can apply for loans that are backed by the Small Business Administration, including the SBA 7(a) Loan that offers financing for nearly any business expense, or an SBA 504 Loan, which is long-term, fixed-rate financing for real estate purchases and buildouts.
Useful Tools for Business Development
As part of its service to small businesses, Grasshopper provides powerful digital tools that give customers many advantages.
"I feel like that's where some of our competitors in the industry are falling short of giving these tools that are easy to use," said Kane.
Grasshopper's digital tools have been very useful so far. Clients can pay bills seamlessly by making and scheduling payments from any device – via check or ACH.
They can also send digital personalized invoices directly to their customer's inbox and get paid faster.
Another very useful tool is the automated bookkeeping that allows clients to generate reports, reconcile transactions with Autobooks accounting or integrate with QuickBooks.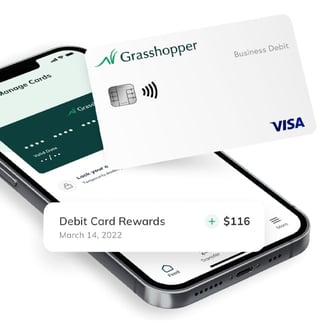 Lastly, there are tools for managing cash flow and establishing personalized security measures.
Most small business owners are operating passion projects, and they don't want to spend a lot of their time on finances.
The team at Grasshopper understands this, and that's why Grasshopper made digital tools to make it easy for SMBs to get what they need done fast and effectively.
"We're in an interesting space where we're a bank, but we're a digital bank. So we're not a large institutional bank, but we also see ourselves as a tech forward company. So we're very similar to fintechs," said Kane.
"We don't have the overhead of branches, and so all the money that we're saving from the overhead and the large infrastructure, we can give back to our customers. That's why we're able to provide features like cash back and no monthly fees," said Kane.
Attentive Customer Feedback for SMBs
From the top down, Grasshopper has a client-first mindset. That's one of its core values, and the bank always strives to stay true to that.
Every week, the team at Grasshopper conducts cross-functional meetings with a person from every department. As they go over the friction points, they also review the feedback and determine how the entire company can work together to make the product better and create a better experience for customers.
Kane mentioned that since most of these business owners are not CFOs or finance majors, Grasshopper just wants to ensure that they have the tools they need to figure out how to be successful.
"So if someone's confused in the app, and they need help with bill payments, they can just chat with us and we can help them," said Kane. "It's a personalized experience. And we're really there and invested in them in their success."
A key differentiator for Grasshopper is that it has industry-leading partners. But it also has in-house engineers who allow the bank to rapidly bring in new products to the roadmap.
Kane added that the needs for these small businesses are all unique, and they are ever-changing. So what they need today may not be what they will need six months from now. "Having these in-house engineers really allows us to be first to market," she said.
"We're partners with them. Their success is our success. And we're really investing in them."