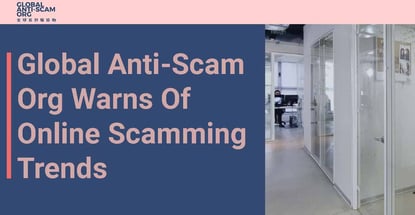 Our experts and industry insiders blog the latest news, studies and current events from inside the credit card industry. Our articles follow strict editorial guidelines.
In a Nutshell: Online activity is rife with criminal scams that are becoming more deceptive and pervasive. The Global Anti-Scam Organization (GASO) is dedicated to fighting back and informing the public about various scam tactics. GASO also serves as a support system for victims of cybercrimes and helps them with the recovery process. By cooperating with law enforcement worldwide, the organization has aided in preventing scams, seizing stolen assets, and rescuing victims of human trafficking.
Scamming comes in all shapes and sizes, whether it be by phone, snail mail or online. The latter is now the most prevalent due, in part, to improved and more sophisticated technological advances.
Online anonymity provides scammers the perfect coverage for carrying out their crimes.
It has led to the creation of many kinds of scams designed to fool victims online, and where some scams fail, others adapt to user defenses and succeed. According to the Federal Trade Commission, consumers lost an estimated $5.8 billion due to fraud in 2021 — with investment scams among the most costly.
To combat these malicious actors, a number of advisors and advocacy groups have emerged to warn people of present dangers and help those who have become victims of these crimes.
Because many scam syndicates originate in East Asia and China, in particular, some groups are tackling the problem at its source. The Global Anti-Scam Organization (GASO) was created in response to the surge of rising scams, including one known as "pig butchering."

The Founder of GASO was a scam victim herself and created the organization as a way to fight back against cybercrimes and human trafficking rings operated by scam syndicates from East Asia.
The US-incorporated nonprofit has already connected with more than 2,000 victims worldwide who together have lost an estimated $350 million. After uncovering numerous money laundering networks, GASO has expanded its outreach by helping to educate the public and law enforcement of its investigative work.
Among its many accomplishments, GASO's efforts led to the freezing of suspected accounts by law enforcement — intercepting an estimated $1.2 million — and the nonprofit helped rescue 327 trafficking victims from scam companies in Cambodia and Myanmar.
Emerging Scams and What to Know About Them
In its efforts to educate the public, GASO's Deputy Director, Jan Santiago, said that the nonprofit tries to inform people about the most devastating financial crimes, which include romance scams, money mule scams, and more recently, pig butchering scams.
The term "pig butchering" comes from the Chinese expression shāzhūpán, which likens victims to farm pigs and essentially means to fatten them up before taking all of their money. This type of scam often involves cryptocurrency but can also employ other forms of financial trading.
The scammers will typically find their victims on dating apps, on language learning apps, by cold-messaging them through text, or on other forms of social media. After an extended period of communicating with potential victims, whether that involves romantic enticement or investment suggestions, the scammer will then introduce a fake investment platform.
"Once you're in that website, it really does look legitimate. It has a customer service that is even responsive to you. So it's really well planned and set up," said Santiago.
After setting up an account on the fake platform, the victim will be encouraged to start making deposits. In the beginning, it will appear legitimate and they usually are able to take some money out. Once the victim feels assured, he or she will be advised to dump greater sums of cash into the account.
When the scammers get as much as desired, they close the account and disappear.
Santiago said many victims are young, old, or lonely. And even successful professionals, including lawyers, bankers and doctors, have been susceptible to this kind of scam. The most common victims tend to be women in their 30s.
Pig butchering is often considered a hybrid scam because it may involve elements of romance scams, investment scams, or both.
Traditional romance scams would require scammers to beg their victims for money with the excuse that they are in some sort of financial hardship. Investment scams on the other hand involve promises of financial gold mines that are too good to be true.
But by building long-term relationships with their victims, sometimes over many months, scammers can easily build trust. "Consumers should know that scammers can be very patient and that's how these scams are being successful," said Santiago.
Preventive Measures to Safeguard Consumers
Researchers and law enforcement officials emphasize that educating the public is critical to preventing online scams. When people recognize the signs and understand how the scams work, they vastly reduce the likelihood of becoming victims.
The main challenge is in reaching the greater public and getting those who learn about pig butchering and other scams to share information with as many people as possible.
Santiago said that if people can recognize what the scammers are doing, that's the best defense against falling for these scams. He also said that, as a general rule of thumb, people should avoid investing with someone they have met only online.

"Aside from doing due diligence, specifically, you should make sure that you have a recourse," he said. Should there be any kind of disputes or conflicts, there needs to be some type of regulatory body that is able to intervene.
And while it is good for a company to have some type of visible legitimacy or be mentioned by a major independent news outlet, even that cannot ensure total reliability in some cases.
A perfect example of that would be FTX. At its peak, FTX had over 1 million users and was the third-largest cryptocurrency exchange by volume. It was backed by top companies and organizations. Yet when FTX filed for Chapter 11 bankruptcy, it was unable to meet the demand for customer withdrawals. The resulting devastation has left disenfranchised investors scratching their heads as to how it could have happened.
But Santiago said that, if a platform is unfamiliar or the regulatory claims seem shady, it is most likely a scam. Sometimes these websites claim they are regulated, but as you dig deeper, it really means nothing.
GASO's website provides an online database of malicious sites that people can search by using keywords to identify potential scams. The database includes both English and Chinese search results.
What To Do If You Become A Victim
According to GASO's findings, more than 75% of victims lose all their savings, and one-third can get into debt as a result of scams. And Santiago said that these scammers understand the American retirement system well, so they may ask victims to tap into their 401Ks claiming they won't be penalized if they put the money back in 60 days.
Once someone becomes a victim, Santiago said they should immediately report to the police department and to the FBI. However, he noted that while it should be the first point of contact, many law enforcement agencies won't accept a case when it involves highly complex fraud that's difficult to trace like cryptocurrency. In some situations, authorities may lack understanding of how the scam works and end up blaming the victim instead.
GASO's online tools can assist victims by offering communication with the organization's live chat team and volunteers who can point victims in the right direction and help them with resources.
"We do try to help them connect to the right law enforcement and basically guide them where to report and give them helpful information so that their report will contain all the necessary information for law enforcement to follow up," said Santiago.
Helping law enforcement understand the scale of these crimes and how they occur is part of GASO's advocacy role.
"We're actually already connected to many law enforcement, including some people at the DOJ who are getting alarmed about these kinds of scams," said Santiago. "We're trying to help them understand the scams and also point them to what we know about these criminal syndicates in East Asia."