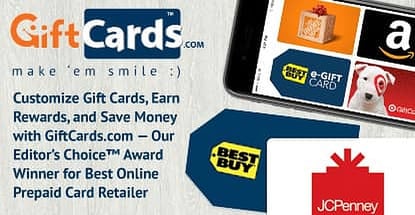 In a Nutshell: Thanks to its massive selection of retailers, restaurants, and the ability to customize cards of any quantity or value, GiftCards.com has earned our Editor's Choice™ Award for Best Online Prepaid Card Retailer. After being acquired in 2016 by gift card leader Blackhawk Network, the site expanded its selection and added new features — like access to its partner site, Cardpool, where consumers can sell unwanted gift cards for cash or buy them at a discount. GiftCards.com also helps site users with its Gift Card Girlfriend Blog, a valuable resource chock-full of tips from industry expert Shelley Hunter. //
While it may be difficult to pinpoint exactly when public sentiment shifted, the gift card is currently one of the most requested gifts in modern society. In 2016 alone, consumers spent $46 billion on gift cards, and growth in the sector seems to be steady.
Plastic or digital gift cards come in a variety of denominations good for use at specified retailers. Gift cards are convenient to buy and considered by many to be more likely to meet the recipient's desires than a present that may — or may not — be what they really want.
Indeed, the convenience factor of gift cards is high, with the ability to buy gift cards at nearly every brick-and-mortar store in America. However, GiftCards.com, our winner of the Editor's Choice™ Award for Best Online Prepaid Card Retailer, takes the bar for convenience and raises it even higher.
Founded in 1999, the website started with an offering of around 150 gift card options. In 2016, the company was acquired by Blackhawk Network, the same group responsible for most of those kiosks with multiple gift card choices in your favorite grocery and convenience stores. Now, with Blackhawk's backing, GiftCards.com offers options for personalized gift cards from a plethora of retailers, as well as a rewards subscription for frequent buyers and the ability to sell or purchase new gift cards at discounted rates.

With 2016's top choices for gift cards falling into the restaurant and department store categories, it's safe to say that most of the major retailers and brands you'd want to shop with are represented on the website. But that's not all the company has to offer.
Along with the popular Gift Card Girlfriend Blog, the site aims to be a one-stop destination for gift-givers and everyone on their holiday list. GiftCards.com also has a program for corporations to create employee gifts, enabling each company to design gift cards usable at any of the approved retailers that feature its company logo and a custom message.
But what we like best about GiftCards.com is the company's vast offering of flexible and customizable prepaid cards that can be used anywhere credit cards are accepted.
Add a Splash of Personalization to Your Visa® or Mastercard® Prepaid Gifts
With so many gift card options for stores or brands available through the website, many gift givers are moving toward the option of handing out prepaid Mastercard or Visa cards that can be used anywhere credit cards are accepted, in person, online, or over the phone. Where GiftCards.com stands out from the prepaid card crowd is in the tremendous number of options available when piecing together your gift.
You can start by personalizing a card with an image of your choice. Many credit and gift card issuers offer this option with a group of canned stock photos to choose from (those are available here, too). However, GiftCards.com allows users to upload their own pictures or choose a photo from Facebook, and apply them to the card — so you can add an old photo of a friend as a gag or a picture of the recipient's children to hold onto as a keepsake.
The choice is yours, and the cost of personalization is only $1. Fees for the physical prepaid cards range between $2.95 and $6.95, depending on the value of the card, which ranges from $10 up to $500. Through a partnership with the American Cancer Society, select Mastercard inspirational designs have the option of an additional $3 donation to the worthy cause.
For the last-minute gift giver, Visa Virtual Gift Cards are available. These digital cards are typically processed within two to 24 hours and delivered to the recipient via email. You can choose from a large selection of occasion-appropriate animations to be added to your email message, and a code will be included that allows the recipient to use the funds at any online retailer that accepts credit cards (which is pretty much all of them these days). Virtual cards have a flat $4.95 fee regardless of card value, and can be purchased in amounts between $10 and $250.
If you're a business owner, holiday or incentive gift giving is simple with GiftCards.com's Business Rewards Card. These cards can be customized with your company logo or an image of your choice. The total fees for these cards, which can be ordered in any number, range from $4.95 to $7.95 per card, and cards can be purchased in values between $10 and $500. If you're ordering 50 or more cards, Blackhawk offers a discounted corporate bulk rate.
The funds on prepaid cards never expire, and no fees are charged for funds that sit on cards for extended periods of time.
Earn G-Money Rewards Points and Save on Future GiftCards.com Purchases
Buying gift cards for friends, family members, or employees is not only a convenient and useful present for any occasion, it can put you closer to getting something for yourself. Every purchase made through GiftCards.com earns G-Money Rewards Points that can be redeemed toward discounts on purchases, with future site plans to extend redemption options to include gas discounts or charitable donations. With the potential for rewards, some customers buy gift cards for themselves on the site, allowing them to accrue points for something else they're already going to buy.
"G-Money Rewards is our GiftCards.com rewards program, available to customers who register for the program," said Teri Llach, Chief Marketing Officer for Blackhawk Network. "Whether you are shopping for yourself, or buying gifts for others, you can easily earn G-Money points on select brands when you place an order on GiftCards.com."
Users can earn up to eight points for every dollar spent on gift card purchases on the site. You can also rack up points for referring friends to GiftCards.com, earning points equal to 1% of the total purchase of any referred friend made within the first 30 days of their membership. Additionally, linking your Facebook account to your GiftCards.com account is worth 25 points, and downloading the company's app is another way of earning points. Every 100 points are worth $1 off an eligible gift card purchase on the platform.
Cardpool Exchange: Buy Discounted Gift Cards and Get Cash for Selling Pre-Owned Cards
Despite a giver's best intentions, sometimes a gift card doesn't really meet the wants or needs of the recipient. Maybe it's a restaurant that's not in their area or a store they don't shop at.
According to the numbers, it's not an uncommon phenomenon. More than $970 million in unused gift cards collected dust in 2015, which is a lot of money not being used for its intended purpose. If you're one of the many who have these cards, or if you're looking to buy cards in the near future and want a price break, GiftCards.com has a popular service for you, thanks to its acquisition by Blackhawk Network.
Namely, its partner site Cardpool, a popular platform that allows users to sell unwanted gift cards for cash, or to join in a pool of buyers who take part in offers to buy bulk gift cards from select retailers.
"We work with Cardpool, a Blackhawk Network, Inc. company and a leading gift card exchange company where customers can buy discounted gift cards or sell gift cards for cash," Teri said. "Cardpool buys gift cards directly from its customers, verifies the balance of each gift card, and holds on to them until a buyer is found."
Since Cardpool and GiftCards.com are both part of Blackhawk Network, purchases made through Cardpool are still eligible for G-Money points, meaning you could buy your gift cards for less and also benefit from future rewards on the purchase.
Discover Gift Card Trends, Secrets to Saving, and Creative Gift Ideas with "Gift Card Girlfriend" Shelley Hunter
The trend of giving gift cards built slowly over time. Once thought of as impersonal gifts, times have changed, and new ways have been found to turn that little envelope into a big surprise.
Leading the way in the creative gift-giving trend is Shelley Hunter, GiftCards.com's authority on creative gift card ideas. Her blog, the Gift Card Girlfriend, is a must-read for anyone looking to transform a gift card into a memorable present.
"GiftCards.com is proud to feature the popular Gift Card Girlfriend blog," Teri said. "From gift card tips and practical advice to inspiring ideas and insights into the gift card industry, Gift Card Girlfriend Shelley Hunter is the spokesperson for GiftCards.com — and a consumer's guide to gift cards. In addition to sharing creative ideas, she is always on the lookout for gift card trends that impact the public such as her ongoing ranking of top store digital gift cards and the popular Chapter 11 gift card watchlist."
Whether you're the most seasoned giver or new to digital gifting, Shelley's blog has you covered with ways to make each gift special and unique.
GiftCards.com: Over 8 Million Gift Cards Sold and Counting
Nearly every holiday season, it's likely someone on your list will want a gift card. After all, these small, plastic commodities have become the most requested gift over the last decade.
GiftCards.com allows customers to purchase cards good at many of the leading retailers in just a few clicks, then ship them to recipients without any extra work — adding convenience and removing stress from holiday shopping.
And with its G-Money points program, in which rewards can be saved up over time and used on future gift card purchases, all of those holiday gifts can lead to you putting something for yourself under the tree.
Advertiser Disclosure
CardRates.com is a free online resource that offers valuable content and comparison services to users. To keep this resource 100% free, we receive compensation for referrals for many of the offers listed on the site. Along with key review factors, this compensation may impact how and where products appear across CardRates.com (including, for example, the order in which they appear). CardRates.com does not include the entire universe of available offers. Editorial opinions expressed on the site are strictly our own and are not provided, endorsed, or approved by advertisers.