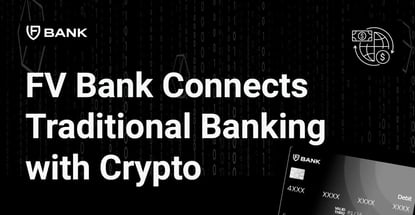 Our experts and industry insiders blog the latest news, studies and current events from inside the credit card industry. Our articles follow strict editorial guidelines.
In a Nutshell: FV Bank is promoting greater accessibility among channels in the divide between cryptocurrency exchanges and traditional banking. FV Bank is a global digital bank and a digital asset custodian offering traditional and digital asset banking, and custody services to fintech and blockchain firms. It recently launched a service that allows customers to make direct deposits in USD Coin (USDC) to the bank's US Dollar accounts. FV Bank will also launch debit and credit cards later this year in cooperation with Visa.
The disparity between cryptocurrencies and traditional banking has been a contentious issue over the years. While traditional banks have fought against it, crypto companies are pushing for acceptance and appear to finally be gaining traction in the banking ecosphere.
FV Bank is one of only a few banks seeking to link the two together so customers can have access to both simultaneously.
FV Bank's co-founders, Miles Paschini and Nitin Agarwal, began their journey nearly 10 years ago when they formed a fintech company that was the first to launch a debit card linked to Bitcoin, which was the only viable cryptocurrency at the time.

"We always loved to join the crypto world with the traditional world," said Agarwal. "There needs to be both systems to exist together and an easy way to bridge the gaps."
Agarwal, who is also FV Bank's Chief Revenue Officer, said that the previous company generated over one million cards and totaled $200 million of Bitcoin to dollars spent on the cards.
However, after Visa sent a cease-and-desist letter, the debit card company was dissolved in 2018.
"We shut that program down and we understood that fintech still significantly depends on banking. Fintech companies need to innovate and they need a solid banking partner behind them," said Agarwal.
After the disappointment of their first business venture, the duo decided to run a bank that is fintech and blockchain friendly.
Formed in 2018, FV Bank, which stands for Fintech Ventures, is now a full-service bank that integrates traditional banking and digital assets management into a single regulated account.
The bank mainly caters to fintech and blockchain companies and their clients. "We take care of the compliance side, the regulatory side, and the technology side," said Agarwal. "Then on top of it, fintech companies can innovate."
Offering Robust Financial Services to Startups
FV Bank is striving to redefine digital banking by linking online banking digital asset custody and blockchain services. It offers both business and personal banking, serving a number of different functions.
But most of the bank's account holders are startup companies that operate from outside the US.
One of the advantages of opening a business account is having access to banking APIs. It allows account holders to automate deposits and payments for their clients, and integrate with fintech and blockchain applications.
"If an exchange wants to provide their customers an integrated banking experience, they can take over APIs and build the entire thing within their system because they're not holding dollars on behalf of the customer," said Agarwal.
"They don't need to be licensed in that order. Customers can trade all day long, and at the end of the day, they want to move their money to the safest place, which is a US dollar bank account."
The bank recently announced a strategic integration with Circle's USD Coin (USDC). Account holders can now receive USDC directly into their bank account, and the funds are immediately converted into US Dollars at the moment of receipt.
That means customers will experience significantly less friction on settlement processing than they would through traditional banking.
Providing Access to Debit and Credit Cards
Agarwal and Paschini's relationship with Visa appears to have taken a turn for the better since FV Bank will soon be launching its own debit and credit cards through Visa.
Agarwal said that is just part of being an entrepreneur – not getting bogged down by roadblocks and pursuing your vision while knowing larger enterprises sometimes take longer in realizing the change in industry.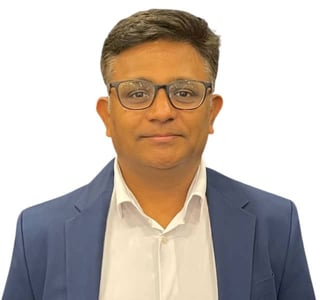 "And yes, it is significantly satisfying that we are back with [Visa]," he said.
Cardholders will be able to add their debit card to a digital wallet to make safe and efficient payments by phone. Visa's Zero Liability policy will also protect cardholders against fraudulent credit card charges.
FV Bank will enhance the experience by enabling web applications for cardholders to more conveniently manage their credit card.
"There will be significant innovations coming out from there as well. The credit line will be based on your digital assets," said Agarwal.
Connecting Traditional Finance with Blockchain Tech
When it comes to building banking and payment systems, creating a monolithic standalone software is not realistic because it has to have connections with existing banking systems.
"That's how financial systems work. Money has to move. It has to move from one person to another, one bank to another, one country to another," said Agarwal.
Blockchain crypto is evolving, but it's still in its infancy because not everyone understands it. And while people and industries have acknowledged it is here to stay, there's still a lot of work to be done with cryptocurrencies.
"It is extremely important for crypto growth in itself, to have acceptance in the traditional finance world."
We still can't buy a coffee with Bitcoin in most places, and we don't see any items with a Bitcoin price tag. People are even starting to refer to crypto as crypto assets because it's becoming a new asset class in itself.
And so the definition of cryptocurrency and how it can be used is still evolving.
"When we are evolving, it's really important to have good linkage with the traditional finance world where both will coexist and benefit each other. But it is difficult, because not all the financial companies are comfortable with crypto," said Agarwal.
That is also why FV Bank has to explain to its regulators, correspondent banks and other partners that this is what the company is trying to achieve and why it makes sense. That is also why FV Bank has all its systems in place for compliance and risk management.
"It takes time, and it is not easy. Otherwise, there will be many more doing it. And I think that's the beauty of this system," said Agarwal.
"It's actually pretty satisfying when you see what you've achieved and when people will say "Yes, you are doing something which is needed in the industry."