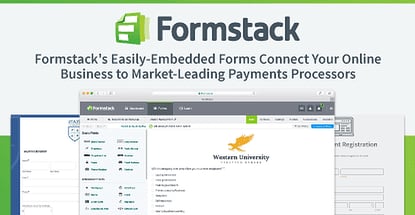 In a Nutshell: Many aspects of building a new website have gotten easier over the years, but developers and novices alike have continued to labor over making online forms. Formstack eliminates the form grind with templates and software to develop fully customized, branded, dynamic online forms, including fully integrated payments forms and processing. With 10 top payments processing companies working with Formstack, including popular brands like PayPal and WePay, merchants can spend their time focused on developing their business — not their payments forms. //
Though not something of which I commonly brag, I have been known to display a remarkable vocabulary of curse words. I can express explicit dislike or frustration in a variety of ways, in several languages — and with great exuberance.
To this day, however, I have never experienced such eloquent profanity as that which came from my developer friend, the last time he had a tricky form to build. Not only did I learn several entirely new curse words that day, but I was utterly overjoyed with the novel ways he found to string them together.
No matter your level of technical expertise or coding prowess, putting together forms can be a pain — for amateurs and pros alike. All but the simplest forms take a while to build, and more complex forms can be enough to make even an experienced developer hesitate, let alone a startup merchant who just wants to take online payments.
Well, with a little help from Formstack, just about anyone can build forms like a professional. Formstack offers easy to use, click-and-drag form-building software that can generate easily-embedded payments form, fully integrated with a top payments processor, for just about any business.
"Whether you're a nonprofit who needs to collect donations, or an events coordinator selling tickets, we have a pre-built form that can collect all of that data," described Jessica Hass, Formstack's Director of Customer Experience.
Experience Developer-Free Form Creation with Cut-and-Paste Integration
Jessica described the process as adaptable, capable of being as technical — or not — as the customer wants. "We have a lot of customers who will say, 'I'm not technical,'" she said, "but they can get this up and running within one day."
In the simplest implementation, users can customize one of Formstack's variety of pre-made form templates. These forms span categories and types such as payments, surveys, marketing, and business operations. They can then be personalized with logos or other aesthetics in the form-building software, and used right away.
For a more complicated form, users can take advantage of the software to move or add form items (buttons, answer boxes, event and credit card fields, etc), choosing to start from a pre-made template or a blank form. Each item can be fully edited, including setting required fields and changing the layout. There's even a feature that allows for conditional logic, which can reveal or hide form items based on responses to other items.
Upon completion, your form can be linked directly to one of Formstack's 10 payment processing partners — which include popular companies like PayPal and WePay — allowing you to start taking payments as soon as your form goes live.
To make sure everything is working, test it before you publish. "We have a test mode, so you can actually fill out the form and test the payment," explained Jessica.
Once everything works as you want it to, it's time to integrate. "At that point, you'll be given an embed code, the type depending on your website or server. Then, you literally cut and paste the embed code into your website, save, and publish."
Payments Processing Partners Carefully Selected for Security and Usability
When the team at Formstack decided to introduce payments integration into their forms, it wasn't a decision they took lightly. Each payments processing partner has gone through a detailed evaluation before they joined forces with Formstack.
"It is almost like a scorecard," described Jessica. "We ask, 'Does this company meet these individual criteria?' If the answer is yes, we move forward." So, what criteria does a processor have to meet?
"Security is the number one thing. We make sure the company is cognizant of security, that they do their own legwork to make sure they're meeting all PCI requirements." The security of the payments company is paramount to Formstack, as they depend on it to keep their customers' information secure.
"The [payments] data doesn't actually touch Formstack," Jessica explained. "It gets parsed directly to the payments processors, and they complete the payment on that side."
Once a processor passes the security test, the Formstack team looks at usability. They check for features and options, including the ability to process recurring as well as one-time payments, and the countries and currencies in which users can collect payments, as well as any restrictions.
"Because it's software, we also look at limits; users often need to hit some minimum processing amount each month," said Jessica. "We really like to give our customers options, so we make sure there's flexibility."
It turns out the team has done too good a job picking great processors, making it difficult for some to choose which processor is best for them. Formstack's solution was to make a payments gateway comparison tool. "People can see everything we offer, at a glance, and find what options might work for them."
The Formstack Culture: Destinations, Drinks, and… Donkeys?
It's not just the customers that get plenty of options with Formstack; the company has adopted a remote-work culture that allows employees a lot of freedom. In fact, 57% of the Formstack team works from outside the office.
They never feel isolated, though. The company works hard to ensure everyone feels engaged at all times, including frequent video chats and even various company- and team-wide meetups throughout the year.
"We just had an all-company meet-up in Indianapolis, where all of our employees flew in and hung out for a week," said Jessica. "We also have individual team break-out meets in different cities. Our team was recently in Louisville — we did bourbon tastings and scared the locals."
If that sounds like a lot of fun, well, Jessica says that's the idea. "We try to inject that fun every day, however we can. It's always on the forefront of our minds."
The good times aren't limited to cool trips; the Formstack team have their share of office antics, too. "We like to create silly motivational posters, and we're always making weird GIFs of each other." They've also adopted their own Formstack donkey.
"One of our developers came in one day and suggested it," said Jessica. "There was a website that let you adopt a donkey — we adopted Walter. He's sort of our unofficial mascot."
Of course, the team can't exactly have Walter in-house; not in Indianapolis, anyway. "I think he's in Bolivia somewhere. He lives in the mountains."
Expanding Current Markets and Growing Into New Ones
The ability to make forms, quickly and easily, and have them live in just hours or minutes not only saves time and energy, but can equate to a lot of money saved. More people will soon have that option, too, as Formstack is in the process of expanding their repertoire of forms and functionality.
"We're going to be focusing on new verticals," revealed Jessica. "We just did a soft launch on our site for HIPPA compliance, and we're looking into events features."

While I would likely miss the true creativity with which my developer friend crafts his curses, I am sure he would not miss the troublesome forms that inspire his elicit excitation. With the ease of Formstack, the hours he spends flinging expletives at his computer can be put to better use.
Advertiser Disclosure
CardRates.com is a free online resource that offers valuable content and comparison services to users. To keep this resource 100% free, we receive compensation for referrals for many of the offers listed on the site. Along with key review factors, this compensation may impact how and where products appear across CardRates.com (including, for example, the order in which they appear). CardRates.com does not include the entire universe of available offers. Editorial opinions expressed on the site are strictly our own and are not provided, endorsed, or approved by advertisers.