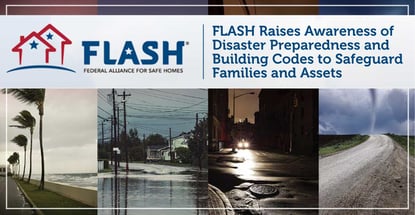 In a Nutshell: The mission of the Federal Alliance for Safe Homes (FLASH) is to empower communities through education and resources so as to strengthen their homes, protect their families, and become resilient in the face of natural and man-made disasters. We spoke to FLASH President and CEO Leslie Chapman-Henderson about the importance of proper planning and insurance when facing a disaster. She also discussed FLASH's #HurricaneStrong campaign and how hurricane preparedness steps can translate to being ready for nearly any other disaster. The nonprofit also promotes the importance of maintaining building codes that meet or exceed legal requirements as an important step to safeguarding family and property in a disaster.
Leslie Chapman-Henderson stood beneath a tree in Roanoke, Virginia — a bit of shade on the warm, sunny afternoon, and a break from the crowd of 2,000 gathered for Hurricane Preparedness Week.
In fact, Chapman-Henderson had already run out of the printed pamphlets on hurricane safety that her organization, the Federal Alliance for Safe Homes (FLASH), brought to the event. She was awaiting delivery of more pamphlets to distribute to the eager attendees.
But it was all in a day's work for Chapman-Henderson.
It was during this short break that we caught up with her to talk about — of course — disasters.
As the President and CEO of FLASH, it's a regular topic for Chapman-Henderson, who works hard to spread the word far and wide about the importance of being prepared for disasters.
And preparation — like disasters — comes in many forms.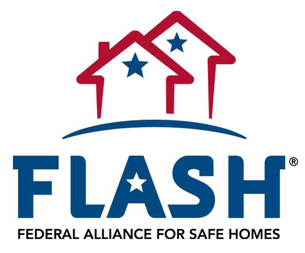 FLASH focuses on helping people brace for earthquakes, floods, tornadoes, tsunamis, hurricanes, and just about any other type of natural or man-made disaster imaginable. Not only does preparedness include knowing where to take refuge during disasters or when to evacuate, it involves knowing if your home is up to code to withstand disaster forces.
"The FLASH mission is to empower people with the information they need to be safe and to protect their homes," Chapman-Henderson said. "Our niche is taking science, research, and engineering, and providing it to the public in a way that's useful, understandable, and relatable."
She said FLASH originally formed as a committee of volunteers in the wake of 1992's Hurricane Andrew. At the time, Chapman-Henderson was a claims leader in the insurance industry responding to the costly disaster.
FLASH's existence sprung up around the question of, "Who is going to make sure these homes aren't simply going to get built back the same way they were before the storm?" she said.
The organization officially launched as a nonprofit in 1998 and has been educating people about disaster preparedness for their homes ever since.
How Insurance and Planning Ahead Leads to Resilience Against Disasters
"One of the things that is critical for a hurricane, flood, earthquake, tornado, or any type of disaster is insurance," Chapman-Henderson said. "Insurance is the ticket to financial protection."
And with the start of hurricane season just around the corner, she said FLASH has really been emphasizing the importance of flood insurance.
"After Hurricane Harvey, 80% of people who needed flood insurance did not have it," she said. "And with flooding in particular, it's very difficult, if not impossible, to make a comeback from that without some type of financial support."
Earlier in the day, Peter Gaynor — the acting Chief of FEMA — mentioned that, following Hurricane Harvey, people without flood insurance received on average $3,400 in federal support, Chapman-Henderson said. Such a small sum would not go very far in recovering from one of the costliest hurricanes to ever hit the U.S.
"There's no getting around the need for flood insurance," she said. "It's a really big focus of messaging for us right now, and it's a great investment. And if you're outside the required flood hazard area it becomes a lot more affordable."
Chapman-Henderson said that, in addition to emphasizing the need for insurance, FLASH tries to raise awareness of the importance of being generally prepared for a disaster and its aftermath.
"We try to help people move through a digestible progression of information to become disaster-resilient," she said. "We do lots of research and it can be easy to overwhelm the audience, so we try to break it into reasonably sized bits of information."
This includes numerous campaigns that address a variety of disasters that can occur, but the main theme is having a plan in place that keeps families safe and encourages mitigation. FLASH also provides "If Disaster Strikes Will You Be Covered? A Homeowners Guide to Insurance" for free in English and Spanish on its website.
The #HurricaneStrong Campaign Serves as a Model to Prep for Any Natural Disaster
Developing and disseminating impactful messages is a crucial part of FLASH's operations, Chapman-Henderson said.
"We have to compete for the attention of the American public," she said. "We have to come up with the best way to get people's attention and then provide messaging that they can accept and utilize."
From 2008 to 2016, FLASH operated StormStruck: A Tale of Two Homes at Disney's Epcot theme park. She said the experience was extremely valuable for the organization to hone its messaging and storytelling skills as it learned to efficiently parse and present valuable information from academic partners and the scientific community.
Among the more recent successful campaigns from FLASH is #HurricaneStrong, a "national hurricane resilience initiative to save lives and homes through collaboration with leading organizations in the disaster safety movement," according to FLASH.
The five-phase educational campaign offers hurricane safety and mitigation information through a range of tactics, including business summits, social media and internet channels, home improvement store workshops, kids programming, media outreach, school lesson plans, and special events.
Chapman-Henderson said that, while the steps in the #HurricaneStrong campaign are geared toward hurricane preparedness because of the time of year, they can generally be applied to any disaster.
"Personal safety is the first phase. Figure out where you will be in any kind of event, whether you're in a flood-prone area, an earthquake faultline or whatever it may be," she said. "And decide where you're going to take shelter. Know you're at risk and understand how you'll be physically safe."
She said the next phase deals with preparing a disaster emergency kit, which includes nonperishable food, water, a battery-powered radio, batteries, and flashlights. Additionally, any special needs for the family should be included here, such as prescription medications.
Next is the financial protection phase, which educates the public on the importance of insurance.
The fourth phase addresses how to strengthen homes, which includes clearing any moveable objects from yards and patios, checking gutters and soffits, and reinforcing your roof if necessary.
Ideally, you and your family will be optimally prepared after completing phase four, Chapman-Henderson said. So phase five teaches people how they can assist their communities with activities that include associating with local nonprofit volunteer organizations or preparing hurricane disaster kits for neighbors in need.
Helping Communities Understand the Importance of Exceeding Minimum Building Codes
Chapman-Henderson said phase four of the #HurricaneStrong campaign dovetails with another recent FLASH campaign called "No Code. No Confidence." that addresses building codes.
"Building codes are minimum guidelines for life safety, and without a building code in place, it's impossible for a community to become resilient and bounce back quickly because buildings fail," she said.
FLASH discovered in its research that building codes are not a concern for many people. They assume that either someone else has inspected a home to make sure it's up to code or it would not have been built in the first place.
Chapman-Henderson said this is not true. She said there are areas all across the country that don't maintain or actively enforce building codes. The shortcoming is often due to funding issues because municipalities may not have money in their budgets to allocate to building codes.
But at FLASH's Inspect to Protect website, consumers can search their address in a national database to find out which building codes are in effect in their communities or to contact their city government for information about past building code standards.
"We analyzed more than 24,000 jurisdictions in the country that are high hazards for disaster," Chapman-Henderson said. "Out of these, only 7,200 had sufficient building codes in place. 70% of codes didn't enforce basic structural protection."
Once a street address is entered into the Inspect to Protect website, the visitor will be presented with a color-coded map that indicates whether the building codes in the area are up to date, whether codes have not been adopted, or whether the code status is unavailable.
Users can also see the status of the region surrounding their address.
FLASH approaches its mission with the three themes of innovation, integrity, and collaboration. And under the guidance and work of Chapman-Henderson, the nonprofit has been able to reach vast numbers of people to help them mitigate injury and property damage in disasters.
In fact, earlier this year, Chapman-Henderson was awarded the William Gray Award at the National Tropical Weather Conference "in honor of her 20-year legacy of service to the cause of hurricane preparedness, safety, and resilience," according to a press release.
As our conversation with Chapman-Henderson wrapped up and her short break from the Hurricane Preparedness Week activities came to an end, the background noise from the crowd swelled as she returned to the task at hand of educating as many people possible about disaster preparedness.
Advertiser Disclosure
CardRates.com is a free online resource that offers valuable content and comparison services to users. To keep this resource 100% free, we receive compensation for referrals for many of the offers listed on the site. Along with key review factors, this compensation may impact how and where products appear across CardRates.com (including, for example, the order in which they appear). CardRates.com does not include the entire universe of available offers. Editorial opinions expressed on the site are strictly our own and are not provided, endorsed, or approved by advertisers.