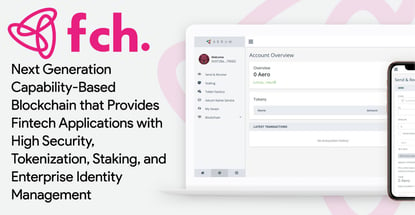 credit card news
Our experts and industry insiders blog the latest news, studies and current events from inside the credit card industry. Our articles follow strict editorial guidelines.
In a Nutshell: Blockchain technology has emerged as a potential game-changer for businesses searching for efficiency and security in transactions. But, so far, the reality of blockchain technology has yet to catch up to its commercial promise. That's why FCH Network is building a capability based platform to address those throughput and vulnerability concerns. FCH's blockchain also combines scalability with a world-first proof-of-identity protocol for on-chain user verification. The result is a robust solution for identity management, tokenization, and security that could bridge the gap between the blockchain and broader business adoption.
Since Bitcoin introduced the world to the benefits of the blockchain in 2009, people have predicted that digital currency will eventually replace traditional fiat money. And many businesses are looking into decentralized blockchains to enable more efficient digital transactions than their current centralized databases.
In theory, blockchain technology offers plenty of advantages over the status quo. On the blockchain, information can pass freely and securely between users without the need for human verification — or any intermediaries like banks.
But blockchain also has inherent disadvantages. For example, the proof-of-work (PoW) consensus mechanism necessary to validate transactions can be energy-intensive and time-consuming. For blockchains like the Bitcoin network, that means only processing about seven transactions per second.
Another problem is that cryptocurrency wallets often hold the private keys necessary to access them, potentially exposing the information to cybercriminals.

But FCH Network is poised to fix those blockchain flaws by taking a business-focused approach that improves efficiency, scalability, and security. It plans to accomplish its goals by working with other companies in specific verticals — including mobile wallets —to provide a comprehensive solution for businesses.
FCHis rolling out its Atmos 2.0 protocol in October 2019 in partnership with secure enterprise wallet provider SignKeys, among other platforms. Those partnerships will allow businesses to leverage the blockchain's benefits without being slowed down by its weaknesses.
"We're taking the next big step by starting a new network as a consortium of companies that will address not only payment requirements but also other solution verticals," FCH Network Co-Founder Alex Randarevich said. "FCH Network features a robust, high-performance, scalable blockchain protocol with an identity management solution and high-security applications for functions — including marketing and tokenization."
Identity Management Framework Leverages the Secure SignKeys Wallet
FCH's Atmos 2.0 addresses scalability concerns through its delegated cross-chain proof-of-stake (dxPoS) consensus mechanism. It is also compatible with the industry-standard ERC-20 protocol pioneered on the Ethereum blockchain.
Like PoS-based networks, the FCH Capability-Based Network platform avoids inefficiencies inherent in PoW architectures. The system also rewards holders of FCH's XF token with opportunities to earn transaction fees for validating new data blocks. Those rewards are based on the percentage of the total number of XF tokens they hold.
FCH's dxPoS goes two steps further. First, it protects against any single XF holder gaining a majority share of the total number of tokens — and thus control of the network — by subjecting prospective validation delegates to a voting process. Second, it houses this democratic process on the transparent Ethereum network.
FCH couples this more efficient and secure solution with the SignKeys Enterprise mobile wallet, which validates the identity of delegates and stores their identity attestations on the blockchain using the FCH.ID protocol.
"There risk of fraud due to identity falsification is significantly reduced because it uses public infrastructure security," Randarevich said.
The SignKeys wallet works with a range of credentials, including biometrics, passwords, and smart devices, and supports EU-standard know-your-customer and anti-money-laundering protocols. And military-grade FIPS 140-2 hardware rooting safeguards and manages digital keys for stronger authentication.
"It's military-grade and better than traditional banking systems," Randarevich said. "We're running hardware security modules to create a real possibility for businesses to onboard fiat."
Blockchain Technology Boosts Efficiency and Reduces Costs
Thanks to its secure innovations, FCH can scale to 100,000 transactions per second — which presents a unique opportunity for enterprises.
"We have enabled real solutions to a whole array of possible applications, from financial inclusion — identity services for people who may not have a paper trail — to B2B and B2C operations," Randarevich said.
FCH Co-Founder Joseph Toh agreed. "Blockchain companies can have great ideas, great passion, but often when it comes to execution, it's a whole different story. A lot of these startups struggle," he said. "So when Alex talks about identity on the protocol, we can keep those things very private and GDPR adherence."
Because the blockchain allows all business assets to be tokenized and exchanged without central authorities or intermediaries, FCH solutions can accommodate a wide array of mobile payment platforms. Those include rewards programs, marketing flows, and even microloan services. That is because FCH's dxPoS mechanism rewards successful validators with XF tokens, allowing them to subsidize transaction costs for their customers and even offer free transactions.
Enterprises that use the FCH Network blockchain and SignKeys wallet also gain peace of mind from FCH's guaranteed backing of assets it holds. The wallet currently supports more than 250+ cryptocurrencies and not limited to cryptocurrencies helping bridge the gap between non-blockchain solutions.
"All the things blockchain skeptics say don't work — scalability, privacy, too hard to use — that's what we have solved," Toh said.
FCH: Helping Businesses Grow Their Customer Bases
As a fintech solution, FCH is ideally positioned to help enterprises and businesses leverage the efficiencies of the blockchain with none of the drawbacks. And partnerships beyond its affiliation with SignKeys are starting to fuel FCH's outreach.
One of those is with CoreLedger, a tokenization and exchange platform.
"It's a company that combines a tokenization platform, an asset-trading platform, and a specific type of exchange," Randarevich said. "They're already working with several established organizations, including banks and commodity-type exchanges that will be running on our protocol."
Meanwhile, FCH is also stepping up with front-to-back solutions that, among other things, support a well-known marketing firm's work. "We're doing the tech for them," Toh said. "They do the last mile for microloan services to reach the unbanked. What we do is help them power that last mile to reach those potential customers. The banks don't do a lot because it costs them too much."
Enterprise and businesses interested in the blockchain world are looking for practical solutions built on a foundation of beneficial technology and partnerships. FCH provides a complete infrastructure for user enrolment, including a secure mobile multi-sig wallet-based identity management standard and an asset tokenization platform.
But, according to Randarevich, the technology isn't worth the investment if it doesn't produce results.
"It's already a mature solution," he said. "We're real, and we have all the pieces of the puzzle. All the front-end solutions — wallet, staking, identity — are already well established. Testing results are excellent and FCH Network is in October 2019."