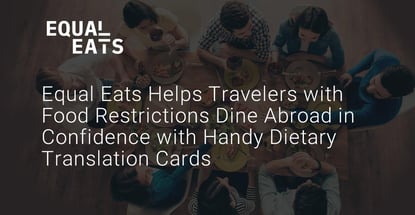 In a Nutshell: Traveling abroad can raise anxiety levels for people who suffer from food allergies because language barriers can make it challenging to express dietary restrictions. Equal Eats solves this problem with its handy dietary translation cards. The cards provide details in more than 50 languages about food allergies and other dietary restrictions, such as adhering to a vegan, halal, or kosher diet. The cards are growing in popularity in the U.S. as well, as diners discover that handing a server a card that clearly lists food allergies can be easier than trying to explain every detail. Equal Eats is also working more with the food service industry and plans to offer ways to help restaurants better address dietary restrictions for its customers.
Traveling abroad and being exposed to different cultures, customs, and cuisines can be extremely rewarding and educational.
It's no secret that experiencing food and dining habits in other countries is one of the best ways to gain quick, impactful insights into cultures different from our own. I've been fortunate enough to spend time abroad on several occasions and have always found this to be true.
Language barriers sometimes caused orders to be mixed up or misunderstood, but, thankfully, I don't have any major dietary restrictions or allergies so no major damage was done. Sometimes the miscommunication resulted in my trying delicious dishes I would have remained unaware of.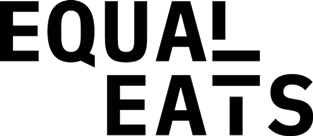 But food allergies and other diet restrictions can cause problems for others when language barriers are at play. Travelers may try their best to communicate to the restaurant workers that they have a deadly nut allergy or severe shellfish allergy. But these travelers may often not feel confident that their message was received loud and clear and opt instead for safe, bland foods rather than getting the full dining experience.
This was the case for Kyle Dine, CEO and Founder of Equal Eats (formerly known as Allergy Translation), when he backpacked across Europe in 2005.
"I was a young, naive traveler who just thought I would be able to manage it, but the language barriers were profound in terms of trying to communicate my allergies effectively," he said. "I just didn't have the confidence in what I was actually getting served. That trip was a big eye-opener for me."
Rather than take a chance, Dine said he essentially lived off granola bars from his backpack on the trip.
But his experience sparked the idea for Equal Eats. Dine realized how handy it would have been if he could have simply handed restaurant workers a card that conveyed his food allergies in their native language.
Today, Equal Eats offers its dietary translation cards in every major world language, and even offers English dietary translations cards for free.
A Wide Range of Dietary Cards Clearly Communicate Food Allergies in Numerous Languages
When Dine launched his handy translation card solution for travelers with allergies the service wasn't exactly an overnight success, he said. But a few early media mentions, including Martha Stewart holding up one of the cards on her show and the increasing prevalence of food allergies, helped the cards gain traction among consumers.
Over the years, the card offerings have evolved and now cover the gamut of food allergies in an array of languages.
Travelers can easily obtain a card by visiting the company website and selecting the language — from a list of 50 — they want their card printed in.
And, don't worry, Equal Eats isn't cutting and pasting your allergies into an automated translator.
"We do not use machine translations as we believe life-threatening food allergy information should be handled by the pros," according to the company.
Next, customers select their allergy or allergies and pay a small fee, then they can print unlimited copies of their translated card.
Equal Eats offers two main types of allergy translation cards — customized cards for multiple food allergies and pre-set cards for one specific food allergy.
The customized cards allow users to select up to 10 allergens from a database of 500 foods.
"This is a great option for people with multiple food allergies, or rare allergies," according to the company.
Pre-set cards address specific allergens, such as peanut, tree nut, fish, or wheat, and contain more precise details for restaurants and information on what foods may contain those allergens.
"We have sold over 15,000 cards to-date and look forward to many years of helping the allergic community stay safe while traveling abroad," according to the company.
Offering Cards for Other Dietary Restrictions and Using Cards Domestically
Dine explained that one reason the company recently rebranded itself from Allergy Translation to Equal Eats is because the service is no longer strictly for people with food allergies.
"Allergy Translation is very black and white in terms of targeting people with food allergies," he said. "But we also have cards available for people with celiac disease, vegan diets, halal diets, kosher diets, and more."
The new name speaks to the fact that the company helps bring together a wide range of people to make sure they have an equal seat at the table no matter their dietary restrictions or requirements.
"It also ties it more into our bigger social impact mission that we're on because it's more than just providing cards," Dine said. "We are really trying to open doors for people who normally might not have ventured out of the country because of anxiety with their food allergies."
Equal Eats has discovered that an increasing number of people are using the translation cards at home, in English as well, he said.
"It's really been interesting to see the growth of domestic use of the dietary cards, where more and more people are using them in English at their neighborhood restaurant," Dine explained. "It's essentially just to make sure that it's getting to the kitchen."
Being able to present a server with a printed card with the diner's exact dietary restrictions is a savvy way to avoid the game of broken telephone, Dine said, where the information that reaches the chef is different from the original message.
Because of how useful the cards can be for users in the U.S., Equal Eats has made all of its English cards available for free.
The company has also branched out into making cards outside of the food realm. It now provides cards for people who may be traveling abroad and are allergic to latex and insect stings.
Working with Restaurants to Ensure Safety and Helping Them Establish Allergy Policies
With its recent rebranding comes revamped translation cards, Dine said.
"We're really proud of the new cards because we really put in the research from all sides," he said. "This includes the food service side and what they want to hear, and what the consumers want to say, and striking that balance."
Dine said he wants to let people know that Equal Eats cards are the gold standard for travel-related cards for allergies.
Seeking input from the food service industry is extremely important, he said. Equal Eats has seen that the overwhelming response from food service workers has been very positive because the cards are detailed and straightforward.
"They like that it just calls it what it is and it doesn't sensationalize it either," he said. "A lot of people will take a message and put a spin on it. If you do this in the kitchen, I'll die."
As Equal Eats continues to evolve, the company now sees its dietary translation cards as only one half of the solution.
"They don't really do much if the person who reads the card has no idea what an allergy is," Dine said. "And that is a scenario that happens, where there's just no training in the restaurant, and they may be very unfamiliar with dietary restrictions."
That's why Equal Eats is looking at launching an off-the-shelf solution for restaurants to help them better understand how to handle dietary restrictions on their end. This includes establishing an allergy policy and information on what kind of measures should be taken to ensure the safe preparation of food and better understanding ingredients.
"So, for our path forward, it's really looking at that holistic solution from both sides," Dine said. "How we're providing the gold standard in communication tools, and we're starting to learn how we can provide a gold standard in terms of an allergy verification system in a restaurant."
Whether you're packing your bags for an adventure on the other side of the world or just heading down the street to the corner restaurant, Equal Eats' dietary translation cards can help relieve food anxiety and lead to an enjoyable, worry-free dining experience.
Advertiser Disclosure
CardRates.com is a free online resource that offers valuable content and comparison services to users. To keep this resource 100% free, we receive compensation for referrals for many of the offers listed on the site. Along with key review factors, this compensation may impact how and where products appear across CardRates.com (including, for example, the order in which they appear). CardRates.com does not include the entire universe of available offers. Editorial opinions expressed on the site are strictly our own and are not provided, endorsed, or approved by advertisers.