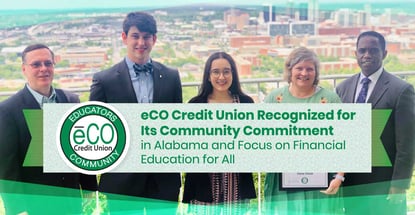 In a Nutshell: ēCO Credit Union started in 1939 as Jefferson County Teachers Credit Union. It has maintained its founding commitment to teachers and education despite growing its service area to include all of Birmingham, Alabama. This is evident in its many financial literacy programs offered to everyone from elementary school students to retirees. The ēCO Credit Union Foundation provides educational modules to 36 area schools, free online courses for all consumers, and scholarships that help adults return to school.
Credit unions around the country have offered financial literacy modules to their members to help improve their fiscal know-how for years. These modules are sometimes created in-house, but often come from third-party partnerships, and are proven to work.
Many of the institutions we speak to say they have high engagement with these lessons and that their members thank them for the lessons.
But those same kudos show why the modules can be limiting. They're usually for members only and focus on the skills — saving, budgeting, and balancing, to name a few — that, in a perfect world, we'd all learn at an early age in elementary school.
But that's how ēCO Credit Union is different. Started as Jefferson County Teachers Credit Union in 1939, the institution is now community chartered as ēCO Credit Union and still maintains its commitment to teachers and their students.
"At ēCO Credit Union, we value financial education and see the importance of providing financial education to our members and the community," said Melissa Stewart, Marketing Director at ēCO Credit Union. "In an effort to expand our outreach efforts, the ēCO Credit Union Foundation was created in 2015."
Given ēCO's long history of working alongside teachers, it's no surprise that the credit union's financial literacy resources span all ages. Whether it's providing curriculum materials to early elementary students or awarding scholarships to adults who want to return to school and better their financial situation, ēCO cares equally about every member of its community.
"As a not-for-profit financial institution, we feel we exist to help make our community even better," Stewart said. "Our board and management team both place a strong emphasis on the importance of giving back. It is a part of ēCO Credit Union and what makes us different."
That difference is what has inspired us to present ēCO Credit Union with our 2019 Editor's Choice Award™ for Community Commitment.
Financial Literacy Programs Impact Area Schools & Students
Thanks to the ēCO Credit Union Foundation, 36 Shelby County, Alabama, schools received free Banzai financial education materials. This online financial literacy program teaches K-12 students a host of vital skills, such as how to interpret interest rates and establish credit, create a budget, and save for the future.
ēCO also hosts in-class financial education seminars that have benefited thousands of students to date. The seminars touch on a variety of topics, depending on the students' ages, and can cover everything from credit card basics to compounding interest and the difference between student loans, grants, and scholarships.
The foundation also awards grants to teachers, who then use the money to create their own curriculum that caters to their students.
"At the beginning of the 2018-2019 school year, the foundation awarded a $500 grant to a local teacher from North Highland Elementary School," Stewart said. "She used the funds to create a classroom store, giving her students the chance to study money skills through a real-world simulation."
The second-grade teacher, Yvonne Hare, said the grant helped her students learn skills that every child should know, but few often learn at an early age.
"One only needs to speak with friends and relatives, read the newspaper, or watch or listen to reality television and radio shows to learn of hardships faced due to the mismanagement of money," Hare said. "The classroom grocery story provided opportunities for students to make financial decisions: How much money do I have? Do I have enough to purchase these items? Which is a better deal or more cost-effective? Should I save money in order to purchase an item later? What happens when I spend all of my money?"
While some adults take these skills for granted, a large percentage of today's youth struggle to acquire this knowledge — mostly because it does not show up on the mandatory standardized tests that schools hurriedly prepare their students for. Without early financial education, young adults learn by trial-and-error at a crucial time in their lives when the consequences of financial mistakes can take years to overcome.
"As with reading, it is my sincere belief that our students need financial literacy at an early age," Hare said. "This proactive measure will equip them with the decision-making skills required in the real world. Our second-grade classroom, teacher included, benefited greatly from the classroom grocery store funded through the ēCO Credit Union Foundation."
Making Financial Education Resources Available to People of All Ages & Demographics
While ēCO understands the need to provide financial literacy education at an early age, the institution doesn't neglect its adult members who are still on their financial journey. The credit union's ēCO Educational Center offers adults simple three-minute modules on a variety of basic and advanced financial topics.
Anyone can access the modules and calculators, regardless of their membership status. Stewart noted that the free program is ēCO's way of helping empower as many people in its community as possible.
ēCO also redirects some of the donations it receives to create scholarships and grants for members who meet certain criteria.
To date, ēCO has awarded three scholarships to adults who used the money to return to college and better their careers and financial situations.
"We will also host our first Magic City Money Matters Financial Conference in the fall," Stewart said. "We hope to be able to reach millennials — a generation often missed by financial literacy efforts — with relevant financial information in a fun environment."
The event will take place at Regions Field, home of minor league baseball's Birmingham Barons, and will feature keynote speaker Erin Lowry, author of Broke Millennial.
"The mission of the ēCO Credit Union Foundation is 'to make financial education resources available to people of all ages and demographics, specifically in the areas served by ēCO Credit Union,'" Stewart said. "Our mission helps shape our outreach efforts. We focus on having programs in place to impact students and adults throughout ēCO's footprint."
Outside Partnerships Extend ēCO's Community Outreach
As with an individual's education level, an organization's strong partnerships can mean the difference between passing with flying colors and struggling to get off the ground. That's why ēCO strategically partners with various charities and organizations within its footprint to better serve its community.
"We were originally chartered to serve educators, so we have a strong focus on impacting schools and teachers," Stewart said. "We deliver thousands of No. 2 pencils and academic calendars each year. We also sponsor events and programs that benefit schools and teachers."
A major benefactor of ēCO's outreach is the Children's Miracle Network of Alabama. ēCO collects and matches donations for the organization during the month of October through the credit union's Change for Children program. In the program's first nine years, it has raised more than $300,000 for the local Children's Miracle Network Hospital — with donations increasing each year.
And these donations and outreach programs aren't just for promotion and publicity. ēCO doesn't overly promote its good deeds on social media and other online platforms.
After all, the credit union understands that you can't expect immediate results and gratification from educational outreach. The real impact of providing community building programs reveals itself years later when the lessons taught become routine for a new generation of savers.
"ēCO Credit Union is thankful for the opportunity to serve our community and make it a better place to live and work," Stewart said. "We look forward to making a difference for years to come."
Advertiser Disclosure
CardRates.com is a free online resource that offers valuable content and comparison services to users. To keep this resource 100% free, we receive compensation for referrals for many of the offers listed on the site. Along with key review factors, this compensation may impact how and where products appear across CardRates.com (including, for example, the order in which they appear). CardRates.com does not include the entire universe of available offers. Editorial opinions expressed on the site are strictly our own and are not provided, endorsed, or approved by advertisers.