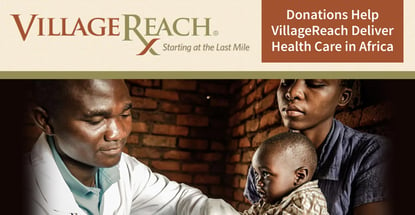 In a Nutshell: Signs of economic growth and improvement in social equity promise a more prominent role for African nations on the world stage. But many challenges remain — not the least of which is health care delivery to underserved Sub-Saharan populations where existing infrastructure falls short. That's the problem VillageReach is designed to address. The nonprofit focuses on impacting the last mile of the health care supply chain to ensure that resources reach the people who need them most. And it relies primarily on its network of generous donors and volunteers to expand its reach.
The Republic of Malawi in Sub-Saharan southeast Africa is among the world's least-developed countries. High maternal, infant, and child mortality rates are among the government's biggest challenges. Health centers in the area are few and far between, and unreliable transportation makes routine health consultations accessible to only a small percentage of expectant women. In fact, Malawi healthcare workers recommend that women who want to give birth in a medical facility should arrive a few weeks before their due date and stay through delivery.
Most women in Malawi give birth at home with the help of traditional birth attendants. If a pregnant woman faces an emergency before she arrives at a medical facility, the result can be tragic.
That's why VillageReach works with African governments and global technology providers to solve health care delivery challenges. The nonprofit has a long-term partnership with the Malawi Ministry of Health and Population to roll out Chipatala cha pa Foni (Health Center by Phone, or CCPF), which started in Malawi's Balaka District to give people easier access to healthcare. CCPF is now a national service of the Malawi Ministry of Health and Population.

When one woman began to experience pain before her due date, indicating that something might be wrong with her pregnancy, her husband called CCPF. Hotline workers contacted the ambulance dispatcher at the hospital to secure a vehicle.
The woman reached a facility just in time to deliver a healthy baby.
"Even though there isn't an established emergency transport network that works for everybody in Malawi, CCPF workers were highly motivated to figure out how they could help this woman," VillageReach President Emily Bancroft said. "When we can bridge those gaps, it's exceptionally meaningful."
That work is vital in the Sub-Saharan regions of Africa. And VillageReach depends on the support of a global community of institutional and individual donors and volunteers to achieve its goals.
And VillageReach offers a variety of ways for those supporters to give or get involved in its mission.
Improving Supply Chains for More Efficient Vaccine and Medicine Delivery
The problem the pregnant woman and her husband faced was mostly logistical. That's why VillageReach focuses on improving health care supply chains and logistics in the most resource-challenged Sub-Saharan nations.
"There's so much we know how to do — and so much that's possible in these environments," Bancroft said. "When medicines are just sitting somewhere and not getting out to facilities where people need them, that's a very solvable problem. It's just a case of putting systems in place that make it possible."
VillageReach started after a natural disaster in Mozambique exposed a similar sort of problem.
In 1999, Blaise Judja-Sato, a Cameroon-born telecommunications business development professional working in the Seattle area, met Nelson Mandela, who had just ended his term as the first post-apartheid president of South Africa, and his wife, Graça Machel.
The next year, after a series of cyclones devastated Mozambique, killing hundreds, Machel remembered Judja-Sato and invited him to contribute equipment and expertise to the recovery effort.
What Judja-Sato found when he arrived in Mozambique was a country in need of solutions well beyond immediate disaster relief.
"When a natural disaster occurs, all of this support comes into a country, but usually only to a central location like the capital city," Bancroft said. "How does it get out? There were no good systems for that in Mozambique."
So Judja-Sato launched VillageReach and put his telecom expertise to work to address that problem.
"We started with vaccines — that was something we knew could have a huge impact on children's lives," Bancroft said. "Our feeling was that if we could get children vaccinated, it would be a great start in helping us think about how these systems can work better in general. And we've simply evolved from there."
Optimized Data Collection and Communications Can Improve Health Outcomes
The VillageReach supply chain and logistics resources address issues of equity, design, and implementation. VillageReach works with public and private counterparts to combat resource distribution disparities, make supply chains more equitable, and help ministries develop the capacity to manage those improved supply chains over time.
"A big part of what we do is centered around ensuring that medicines get to people in a convenient and accessible way so that nobody goes without the treatment they need," Bancroft said.
In keeping with VillageReach's telecom-based origins, however, that original vision has broadened to encompass information and communications. The CCPF system in Malawi's Balaka district is a prime example. CCPF provides people access to care, information, and advice through a phone call rather than traveling a long distance.
"That's been really powerful," Bancroft said. "We did a study that showed that a clinician only spends about 90 seconds actually interacting with a patient in a facility — just because of the number of people waiting and the pace of how the clinic works."
Other communication-based initiatives include OpenLMIS, an open-source electronic logistics management information system (LMIS) designed for low-resource settings. It also developed ODK Scan, an Android app for digitizing data from paper forms and pushing that data to professionals who need it.
"We always say that the last mile of the health system is the first mile of data," Bancroft said. "If you're not capturing what's happening at a health facility or in a community where healthcare services are delivered, there's no way you can plan and manage effectively on a larger scale."
Helping Africans Overcome Barriers to Health Care
Bancroft said that economic growth, better governance, and, now, improved health care access give Africa a positive global outlook. With more than one-third of African countries posting 6% or higher growth rates, and another 40% growing between 4% to 6% per year, some international business observers have named Africa as the future economic growth engine of the world.
"There are so many positive things going on in Sub-Saharan Africa that don't get highlighted regularly," Bancroft said. "There's so much entrepreneurial growth — it's exciting to see. Africa is going to be a huge part of the future for our global community."
And VillageReach plans to continue its mission with the help of supportive donors and partners. Individual donors can make one-time contributions online, by mail, or over the phone. They can also arrange a variety of tax-advantaged gifts, or even set up matching-gift programs with their employers. An affiliate program with AmazonSmile sends a percentage of qualifying sales to VillageReach. And top donors can join VillageReach's Leadership Circle to receive insider updates, recognition, and invitations to events.
Such support encourages partnerships with local entities that are more open than ever to working with VillageReach. Beyond its work in supply chain and data optimization, VillageReach engages in advocacy and financing to help governments manage their own healthcare delivery systems more effectively.
"There are many good ideas about how to optimize systems and care, but figuring out how to do those things within the constraints of budgets and resources is a significant challenge," Bancroft said.
Millions of Africans remain disconnected from health care, and rural communities remain a focus.
"What we need to do now is dig in and figure out who's being left out — who's not receiving services, and why," Bancroft said. "We've done so much, but we want to target more of those people we haven't reached."
Advertiser Disclosure
CardRates.com is a free online resource that offers valuable content and comparison services to users. To keep this resource 100% free, we receive compensation for referrals for many of the offers listed on the site. Along with key review factors, this compensation may impact how and where products appear across CardRates.com (including, for example, the order in which they appear). CardRates.com does not include the entire universe of available offers. Editorial opinions expressed on the site are strictly our own and are not provided, endorsed, or approved by advertisers.