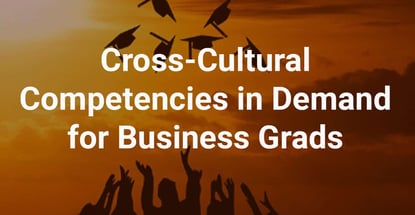 Our experts and industry insiders blog the latest news, studies and current events from inside the credit card industry. Our articles follow strict editorial guidelines.
In a Nutshell: Many corporate recruiters see the workplace moving toward a hybrid state. But MBAs and other business master's graduates must understand that hybrid isn't just a term for work from home. It denotes an increasingly diverse environment dependent on effective communication across multiple employee cultures and channels. According to the 2023 Corporate Recruiters Survey by the Graduate Management Admission Council™ (GMAC™), that puts boundary-busting interpersonal skills at the top of the wish list for employers. This year's GMAC Corporate Recruiters Survey calls on graduate business degree recipients to communicate creatively to get things done.
There's no question that technology is causing the modern enterprise workplace to lose a certain kind of cohesion, according to more than 1,000 corporate recruiters and staffing firms worldwide in the most recent Corporate Recruiters Survey by the Graduate Management Admission Council (GMAC).
Survey respondents say that, while new forms of interconnectivity, hybrid offices, and more diverse teams create efficiencies that benefit companies, they require emerging executives to be more agile than ever in communication, interpersonal skills, and command of technology.
In the next five years and beyond, corporate recruiters say students emerging from MBA and business master's programs who can modulate how they communicate to fit the situation will be highly in demand.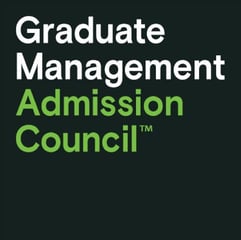 As a global, mission-driven association of leading graduate business schools, GMAC helps millions of prospective MBA and other business graduate students plan, prepare, and succeed academically and in their careers.
It also provides conferences, recruiting tools, and assessments to the graduate management education industry, including the Graduate Management Admission Test™ (GMAT™), the most widely used graduate business school exam.
GMAC's research team produces extensive market intelligence, drawing on GMAT assessment data and generating research briefs, white papers, webinars, and psychometric assessments of student potential. Part of the GMAC Survey Series, the Corporate Recruiters Survey has helped graduate business schools and employers understand hiring and compensation trends for more than two decades.
Andrew Walker, GMAC's Director of Research Analysis and Communications, said GMAC's 2023 Corporate Recruiters Survey calls for heightened use of competencies graduate business schools already cultivate.
"It's not the core skills of communication, strategy, innovation, and data analysis that are changing but the workplace itself," Walker said. "To thrive in the evolving workplace, business school graduates need to support those core skills with more cross-cultural competence, multilingualism, and growing technological skills."
The Hybrid Workplace Demands People Skills
Every year, more than 12 million prospective students trust GMAC websites, including mba.com, to learn about MBA and other graduate business programs. GMAC websites connect prospective students with schools worldwide, help prepare and register them for exams, and provide advice on how to achieve their business education and career goals.
Walker said GMAC's research team uses surveys to provide admins and faculty with various touchpoints around the business school experience and to get a deep dive into the demand for graduate business school education. In addition to surveying recruiters and staffing firms, the team talks with prospective and current students and recent alums about their experiences and results and interviews schools about the application trends they're seeing.
GMAC research provides an authoritative assessment of the value of business graduate school, informing students, faculty, and staff about what's working and what isn't.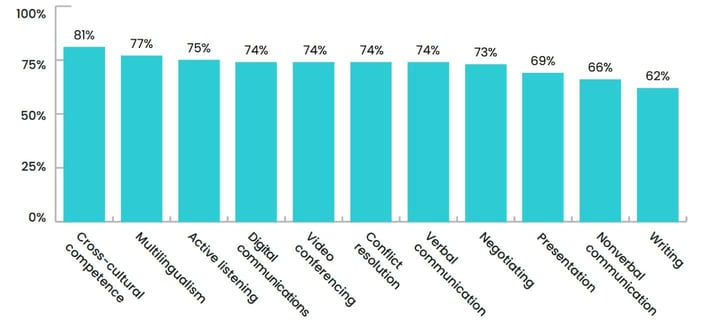 "We're proud the GMAT is the most widely used graduate business school assessment, but we're a lot more than the GMAT," Walker said.
Regarding the Corporate Recruiters Survey, employers who said communication was important indicated basic cross-cultural competence and multilingualism were the most important specific communication skills of the next five years. Across regions, cross-cultural competence was valuable for business school graduates.
Respondents who considered technology critical prioritized artificial intelligence, virtual reality, cloud-based technology, and data visualization. They indicated all would grow in importance in the next five years.
On the global level, most tech-concerned employers were happy with how prepared current business school graduates are to take on these new technological advances. But in the US, there was some concern about preparedness around these skills that didn't manifest in other regions.
"In the US, there's an opportunity for business schools to cultivate more skills around AI and these other skills in their curricula," Walker said.
Highlighting the Continued Value of Business School
Nothing in the survey indicates graduate business schools aren't preparing students for the future, Walker said.
Although employers from Fortune 500 companies, especially in Asia, were more likely to report recruiting from leading business schools, most recruiters have a broadly favorable view of how business school graduates perform and lead in their organizations.
But finance and tech employers who said communication is a crucial skill for current graduates did express one concern. They said they have less confidence that graduates can deliver on the specific cross-cultural needs that they believe may characterize the future workplace — what the report calls "bread-and-butter capabilities."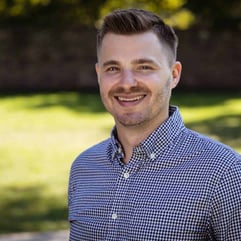 That said, graduate business school training continues to provide value for students and more than satisfactory preparation for global enterprise roles.
And it's not just that the workplace is changing — Walker said macroeconomic factors like inflation, the possibility of a recession, and persistent geopolitical challenges put additional pressure on firms to make the right hiring moves at the right time.
Although the survey reported a statistically insignificant shift in average starting salaries and compensation packages, it cites other research centered on lifetime earnings that has consistently connected higher education with greater earnings, particularly in the business space.
2023 MBA grads in the US said they expected to receive slightly higher starting salaries compared to 2022, even after accounting for inflation. In short, obtaining an MBA or other graduate business degree is a great way to establish a lasting and lucrative career.
Business schools continue to develop skills their students need, and employers aren't giving up on hiring plans despite unfavorable macroeconomic conditions.
"What's encouraging for us as a business school association is that schools seem to be on the right track, even as so much is changing around them," Walker said.
GMAC: On the Forefront of Graduate Business Education
GMAC's Survey Series reflects that certainty to students, faculty, staff, and employers. In addition to working with corporate recruiters, the team has looked at business student motivations through a candidate segmentation analysis, surveyed prospective MBA students through mba.com, and assessed admissions offices to understand the candidate pipeline and its implications for schools and employers.
GMAC also fields an Alumni Perspectives Survey to understand how graduates view their experience and whether it adequately prepares them for the rigors of work.
Meanwhile, GMAC does much to help business schools reach and recruit prospective students and prepare them for the classroom, providing copious resources and tools to assist with marketing and candidate evaluation.
Regarding assessments, GMAC goes beyond the GMAT to provide the NMAT by GMAC™, the most candidate-friendly MBA admissions exam, and the Executive Assessment, which helps admissions professionals measure skills critical for success in an executive MBA program.
Professional development opportunities help admission professionals stay abreast of industry developments, share best practices, and acquire career-building skills.
Walker said he continues to be impressed with how business schools have quickly adapted to the rise of the hybrid, interconnected workplace, putting students in a position to succeed as work changes. It's up to students to understand, appreciate, and respond to instruction designed to improve their people and tech skills to make the workplace work better. Walker said he has no doubt schools will continue to rise to the occasion.
"Students need to home in on those core skills we already know are important for the workplace," Walker said. "They're just going to have to wield them in a new environment — presumably one that will continue changing, which is what business schools have always been good at equipping their graduates to do."