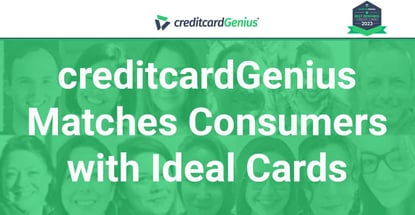 Our experts and industry insiders blog the latest news, studies and current events from inside the credit card industry. Our articles follow strict editorial guidelines.
In a Nutshell: Choosing the right credit card is an important decision, but it's not an easy one. The credit card market offers card seekers so many different options that it can lead to analysis paralysis. The creditcardGenius card comparison engine is a fun and intuitive tool that matches prospective cardholders with the right card for them. creditcardGenius and its partner site moneyGenius also provide numerous financial education tools and resources aimed at boosting overall financial health. Both sites also offer rewards to further improve the financial footing of its users. 
The decision to open a credit card is a milestone in an individual's financial maturation. Credit cards open doors to a wide range of benefits.
Building credit, earning rewards, and being protected against unauthorized charges are all advantages of credit card usage. But they also have more practical advantages, including allowing cardholders to declutter their pockets and wallets of cash and coins. When used responsibly, credit cards are an invaluable tool in anyone's financial arsenal.
But deciding which credit card to apply for can be daunting. Different cards offer different enrollment benefits, rewards programs, and fee structures. Having options is certainly a good thing, but too many options can make the credit card selection process feel overwhelming. 
Canadians in the market for a new credit card have a solution to this problem in creditcardGenius, a website that simplifies and expedites the search for a new credit card.

"The site exists to help Canadians find the credit card that best fits their spending habits and lifestyle," says Jonathan Lee, Senior Content Editor at creditcardGenius. "We've developed an algorithm that analyzes over 126 data points on each card and assigns a point value to each card. This creates an objective assessment that matches the card seeker with the right card for them."
creditcardGenius' robust methodology allows it to offer the most comprehensive credit card rating system in Canada. The site is constantly updated to capture the latest changes to card features and benefits.
Comparison Tools Clarify Card Differences 
Credit card shopping can be confusing thanks to the sheer number of attributes available in each card. For example, creditcardGenius has identified 98 types of major perks and benefits alone that individual cards may offer.
Its algorithm takes those perks and benefits and adds data on fees, interest rates, insurance options, user approval and eligibility statistics, card acceptance, and user reviews. Once all that information is compiled, it's analyzed in the comparison engine and made ready to help consumers discern the best credit card for their financial situation.
Visitors to the site kickstart the comparison engine by inputting their credit score range. From there, users can select the card features and benefits that are most important to them by adjusting a slider rating scale. For instance, users can select whether they prefer cash back vs. travel rewards, or lower fees vs. more insurance options. Users who prefer both options equally can leave the scale balanced.
The interactive nature of the tool is not only informative, but brings levity to the card selection process. As users indicate their preferences and enter personal information, the site's real-time updates list the card options that best align with the user's selections.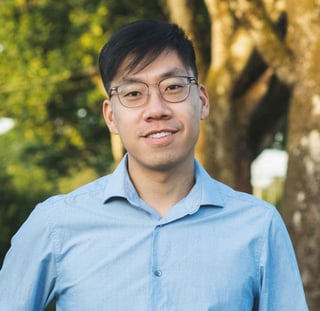 Users have the option to add additional filters to further customize the search. The more information a user enters, the more tailored their preferences.
"Everyone's different," says Lee. "The comparison tool's targeted recommendation is easy to use and intuitive. Though it's suitable for anyone looking to explore card options, it's especially useful for individuals who are looking for their first credit card and may not understand or even know all of the options that are available to them."
In addition to the comparison tool, creditcardGenius also uses its algorithm to detail which credit cards are the best across 31 unique categories. The site delineates which cards are best for specific rewards and spending categories, such as gas or restaurants, and selects a best overall credit card. 
Users also have the option to learn which cards are best for their specific stage of life, from college students to business professionals to those who travel frequently. 
Educational Resources Keep Consumers Informed
Knowing which credit card options are available and which card best fits a cardholder's lifestyle and spending habits is important, but creditcardGenius' benefits don't end there.
A portion of the site helps boost a consumer's general understanding of credit cards and keeps consumers abreast of developments in the card industry. Readers can also learn more about their credit score, including the factors that influence it and steps they can take to improve their score.
"Our blog educates customers on credit card news and world events that may impact credit cards or the financial sphere outside of cards," Lee details. "Canada has a lot of regulations regarding credit cards, and we cover those too."
Sister site moneyGenius goes even further in providing educational resources. It features financial product reviews and an awards section that informs readers of the best personal finance products across more than 36 categories available in Canada. 

moneyGenius also provides educational resources on a broader range of high-interest personal finance topics, including mortgages and money management tips. The research the site provides is driven by suggestions and feedback received from site visitors.
In addition to free resources and articles, moneyGenius has interactive calculators for a variety of financial products. Users can key their information into the calculators and learn how changes to their money management habits impact their savings, investments, and loan balances.
The tools available on moneyGenius are designed to position the site as a one-stop comprehensive financial education site that helps improve consumer financial health. They also fill an important gap in personal finance education that Lee believes is missing from the standard Canadian K-12 educational curriculum.
"School education doesn't really cover financial literacy topics," Lee says. "How to prepare your taxes. How to use a credit card. What interest and interest payments are. It's not covered, at least in much depth. Students graduate, enter the real world, and find themselves in debt. Our sites supplement what's missing in the education system."
GeniusCash Offers Extra Rewards to Cardholders
One of the most enticing aspects of credit card ownership is racking up rewards. Whether a cardholder prefers cashback, airline miles, or earning points to redeem for exclusive items, having incentives for everyday purchases is gratifying.
creditcardGenius offers additional monetary rewards to users who apply for a credit card through its GeniusCash program. Reward amounts differ by card type, but users can earn up to $125 in bonus rewards per card.
A refer-a-friend program lets users earn an additional $10 per successful referral. As referral bonuses are unlimited, those who take advantage of these programs have the ability to accrue substantial rewards before even using their new cards.
The moneyGenius site has a separate rewards platform that allows users to earn rewards on financial products ranging from personal loans to money apps to cryptocurrency exchanges. Participants are also entered to win prizes such as gift cards, gaming consoles and espresso machines.
The numerous cash rewards and exclusive giveaways are all designed to attract repeat visitors to creditcardGenius and moneyGenius. The more people use the sites' resources, the more they can increase their knowledge of personal finances and improve their overall financial health. 
"Ultimately, we're here to help," explains Lee. "Unfortunately, many people learn the hard way. They find themselves in a tough situation and have no choice but to learn how to fix things for themselves. We'd like to help people avoid winding up in that situation in the first place."