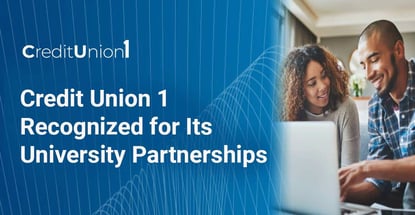 Our experts and industry insiders blog the latest news, studies and current events from inside the credit card industry. Our articles follow strict editorial guidelines.
In a Nutshell: Credit Union 1 is one of the top-ranked financial cooperatives in the nation. Through its partnerships with universities, CU1 is poised to energize its growing membership and attract younger generations. The credit union boasts an advanced financial wellness platform that is powered by Enrich and offers a wide range of resources. While other financial institutions are stepping away from HELOC banking, Credit Union 1 is working aggressively to provide homeowners with more options.
Many credit unions struggle to grow a younger membership, but Credit Union 1 (CU1) has taken the approach of connecting with universities and tapping into college communities at large.
The financial cooperative is looking to expand its reach and make credit unions more accessible by developing sponsorships and student outreach. It's a process Credit Union 1 knows well and one that has yielded dividends over years past.

When it was first established in 1958, Credit Union 1 operated as Chanute Military Credit Union and was designated for personnel and dependents of Chanute Air Force base located near Rantoul, Illinois.
It later merged with Fort Sheridan Federal Credit Union and expanded its membership to the military reserve and National Guard units of Illinois.
Over the decades, Credit Union 1 has grown and broadened its membership availability through mergers and acquisitions, and by developing Select Employee Groups (SEGs).
Consolidating its merger partnerships has enabled CU1 to be a more adaptive and progressive credit union, presenting itself with opportunities to reach newer markets.
Credit Union 1 currently has branches throughout Illinois, Indiana, Nevada, and Georgia, and became the official banking partner of the University of Notre Dame Athletics in 2021.
CU1's membership is even more expansive because anyone in the country can become a member through the Credit Union 1 Educational Development Association (CU1EDA). The only requirement is a $5 donation that will benefit continuing education for selected groups.
A Focus on Universities and Long-Term Growth
To expand its younger membership base, Credit Union 1 has done research into credit union-affiliated schools and which ones were available for partnership. Believing that school affiliation is the way forward, CU1 has developed strong ties with the University of Illinois at Chicago, Western Illinois University and Notre Dame.
CU1 also finalized a merger with Emory Alliance Credit Union, which is affiliated with Emory University and Emory Health Care Network, at the end of December 2022.
Building on this momentum, Credit Union 1 has sealed a multiyear agreement to be the official banking partner of Notre Dame Athletics, and will provide exclusive services and banking through the new Fighting Irish Program.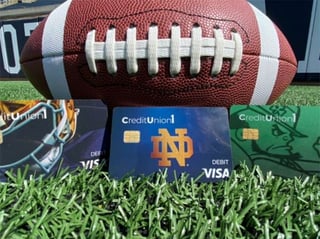 Credit Union 1 will also launch engaging on-site activations during Notre Dame football, men's and women's basketball and hockey games.
Through its affiliation with Notre Dame, Credit Union 1 has partnered with the Golic Family Foundation, which was started by former NFL player and veteran sportscaster Mike Golic and his family. Each year, the partnership distributes $100,000 in grants to local nonprofits in the South Bend community.
Todd Gunderson, CEO and President of Credit Union 1, said that in addition to the grants, CU1 will give $200 to the Golic Family Foundation for each Notre Dame debit card that is opened.
CU1 is also offering an attractive promotion for credit cards. Gunderson said the cards are set at a fixed rate⁠ — so if a cardholder's rate is fixed at 9%, even if the Fed raises rates, the credit card will stay at 9%.
Cardholders can also enjoy the benefits of the uChoose Rewards® Point Program. Card benefits include cash back rewards, point redemption for travel or event tickets, and converting points into retail or subscription gift cards.
Education Through Personal Finance Goals
Credit Union 1 has become a powerhouse for financial wellness by teaming up with Enrich to provide members an extensive portfolio of learning resources.
Through CU1's financial well-being portal, members can explore and take advantage of a number of useful finance tools.
Members can start with a financial assessment that takes less than five minutes to complete and then provides recommended tools, content and courses to reach each member's goals.
Some of the most popular features include credit reports, budgeting tools to keep track of expenses, and a personality assessment for a better understanding of spending behavior. Members can also enter the $1,000 Challenge, which tests a user's financial knowledge for a chance to win cash every month.
CU1's content page provides a wide range of financial information as well. It includes helpful articles, webinars, videos and infographics.
Users can search by topic or look at what is currently trending. And the Beginner Guides section offers a great way to get started on the right financial path.
With regular practice through the online portal, members can hone their financial skills and apply their knowledge to life's challenges.
This emphasis on financial well-being also ties into CU1's university partnerships because there are many students who are unaware of balancing a budget or how interest rates work. For Gunderson, the goal is to tap into students through schools and then set them on the path of financial wellness through education.
Putting Home Equity to Work with HELOC
As Fed rates continue to be in a state of variance, financial institutions are becoming weary of offering home equity lines of credit, known commonly as HELOCs.
HELOCs are a revolving credit, which means borrowers can withdraw money, make repayments, and then withdraw more money as needed. The process can be repeated over the term of the credit line.
Unlike typical loans that have a fixed rate, HELOCs charge variable interest rates that are tied to a benchmark interest rate and vary depending on the state of the market. For some, that can be a major gamble but for homeowners who have significant equity in their real estate, HELOCs are classically more affordable and have better rates compared to personal loans.
While large contenders like Chase are completely backing out from offering HELOCs, Credit Union 1 is seizing the opportunity to do more business with homeowners.
"The market has kind of taken off with the valuation of homes, so most people who own a home have seen it appreciate," said Gunderson. "There's equity that homeowners want to tap into, but they're not going to refinance their 3.5% or 4% rate, up to now a 7% rate and then cash that out."
According to Gunderson, the reason CU1 is campaigning strong for HELOCs is because there is currently a housing shortage, and unlike the events in 2008 that led to the Great Recession, people are living in their homes now, and if they have equity in their home, they're not likely to walk away from it.
For that reason, Credit Union 1 is trying to make people aware that HELOCs are a viable way to consolidate debt and even pay for college tuition if the borrower is a student.
Given its relationship with universities, it makes all the more sense to help students understand financing and how to use financial assets to put them on a more enriching and successful path.