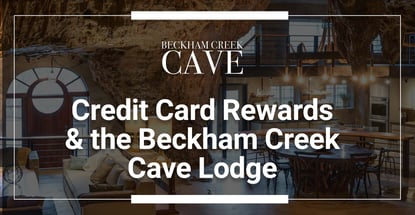 In a Nutshell: We're crossing our fingers here at CardRates that travel can return to normal in the coming months and we can turn some of our credit card rewards into unique experiences. And Beckham Creek Cave Lodge in Arkansas sounds like a great, unique getaway. The luxury lodge is literally located inside a cave in the Ozark Mountains of Northwest Arkansas. The four-bedroom, four-bath, 5,000-plus-square-foot space makes for an unforgettable destination for vacations, honeymoons, business retreats, and much more. The cave sits on 256 acres of land that include a catch-and-release pond and abundant hiking trails. And the pristine Buffalo National River is only 12 miles away for those who like to kayak and canoe.
Last year, U.S. residents canceled vacations, postponed family reunions, and hunkered down for the holidays. But we're hoping to pull out our suitcases this year and jump back into traveling, which is one of our favorite pastimes here at CardRates.
While we didn't get to see much of the world in 2020, we did get to hoard our credit card points for when the time comes to safely travel once more. Whether we're turning our credit card rewards into cash back to grab a great room rate or using credit card miles to get a discounted flight, we love turning our card perks into memorable experiences.
And just because we weren't traveling last year doesn't mean we weren't making plans. One destination that stood out to us was the Beckham Creek Cave Lodge in Arkansas.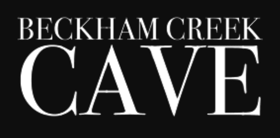 The unique destination is — just as it sounds — a literal cave tucked away in the Ozark Mountains of Northwest Arkansas. But a trip to Beckham Creek Cave Lodge isn't some kind of paleo vacation befitting early Homo sapiens. The lodge is a four-bedroom, four-bath, 5,800-square-foot luxury getaway decked out in a modern urban revival theme.
"There's nothing quite like it in the world," said Lodge Manager Rayne Davidson. "I mean, we've got a waterfall in our living room that is naturally made — it's called the Spanish Piano Waterfall. Nobody else has a waterfall like this in their living room."
We spoke with Davidson about the ancient cave and how it came to be the modern luxury lodge that it is today. We also discussed the extensive outdoor activities the surrounding 256 acres has to offer its visitors.
If you're like us and have been looking for your next adventure on which to cash in your credit card rewards, read on to learn more about the Beckham Creek Cave Lodge.
Stay in a 5,800-Square-Foot, Four Bedroom Luxury Cave
The Beckham Creek Cave Lodge has plenty of photos of the one-of-a-kind accommodations on its website, but many folks say you simply have to see it to believe it.
"The thing that I hear a lot is that they always walk in and they say, 'Oh my gosh. Words, pictures do not do it justice. You have to feel it,'" Davidson said.
The lodge is nestled away in a natural cavern, high within a bluff overlooking the valley below, according to the lodge website. And, with its spacious layout and four bedrooms, it comfortably sleeps 12 people.
"Perfect for romantic weekend getaways, company retreats, family reunions, weddings/honeymoon venue, or families traveling together seeking a once-in-a-lifetime vacation, this cave home ensures a memorable vacation!" according to the website.
Davidson said the lodge's honeymoon suite is one of the features that gets the most attention from visitors.
"We really went all out. The honeymoon suite is the whole upper floor. And the cave ceiling is the ceiling and walls," she explained.
The three bedrooms downstairs are outfitted with rubberized membranes over the wood ceilings to help prevent water from dripping onto the beds. Davidson said that, instead, the water drips down into a French drain.
"Up in the honeymoon suite, we did not do that. We left it all natural," she said. "So you walk in and you are really, truly sleeping in the cave itself, which people flip over. And then there's a walk-in shower that's all cave walls. It's big enough for several people to stand in there if you wanted to."
Davidson said the honeymoon suite also boasts a custom-made round bed that is situated in a naturally open area surrounded closely by stalactites and stalagmite formations as well.
If you're visiting with a group of friends or family and don't get the luxury of staying in the honeymoon suite, the lodge still has plenty to offer in its other areas, including the viewing platform over the kitchen that overlooks the entire cave.
Davidson said she does recommend that guests bring their own food and drinks because of the lodge's relatively remote location and the fact that it is in a dry county. She said there are third-party catering services available for those who want to take the luxury experience a step further.
Outdoor Activities Abound in Scenic NW Arkansas
When you're staying at the Beckham Creek Cave Lodge, it's understandable that visitors may get so wrapped up in the natural splendor of the lodge itself that they can forget about all the outdoor activities just outside their cave door.
"When you're not gazing at exposed cavern walls and natural hanging stalactites, walk down to the catch-and-release pond on the property (bring your own fishing gear), or grill up a steak or enjoy the fire pit while taking in the amazing view from the front deck," according to the lodge website.
Outdoor amenities within just a few miles include hiking, canoeing, fishing, helicopter rides, and horseback riding.
"Buffalo National River is 12 miles away and offers cool waters for kayaking and incredible nature hikes. For world-class trout fishing, White River is just 45 minutes away!" according to the website.
Davidson said the Buffalo National River is known for its breathtaking beauty and beautiful blue-green water.
"You can float down the river, and there are waterfalls everywhere," she said. "It's like you've stepped out of the world and into a magical kingdom — it's so beautiful. There are no words to describe it."
The river flows freely for about 135 miles and is one of the last remaining rivers in the lower 48 states that is not dammed.
"We've also got amazing hiking trails through some of the coolest rock formations you've ever seen," Davidson said. "And we have elk watching. We have a large herd of elk in the Boxley Valley Historic District."
She said simply driving around on the winding, scenic roads in the area is a huge draw for many people, including a number of car clubs and motorcycle clubs that visit the area each year.
Recently, the lodge staff began offering its guests a six-seater UTV tour of the property, and they are in the process of opening up even more trails for exploration that go past waterfalls, beautiful views, Native American encampments, and much more, Davidson said.
A Cave with a Rich History
Of course, nearly any cave that is as accessible and beautiful as Beckham Creek Cave is bound to have a fascinating history, and Davidson said the cave does indeed hold many interesting stories.
"The Native Americans were the first people that used it," she said. "When the cave was excavated, they did find Native American artifacts. Then, fast forward to the 1800s and the local legend has it that it was a hideout for Jesse James and his gang when they came through the mountains."
Davidson said there's no hard proof for this story but James was known to have visited the Ozark region a lot and is seen in a wedding party photo in Eureka Springs which is about 70 miles north of the cave.
Watch on
During the prohibition era the cave was used to make moonshine, she said. There was even an old moonshine still excavated from the cave in more recent years.
The cave began taking on its modern form around 1983 when Celestial Seasonings Tea Co-Owner John Hay purchased the cave and 256-acre area as a nuclear fallout shelter. Hay built out the cave into separate rooms and stocked it with food and water. Hay eventually sold it to another owner who turned the Cold War relic into a nightclub in 1989.
"The owner invited movie stars from Hollywood to attend, and he had the Nitty Gritty Dirt Band play music," Davidson said. "I've heard of a lot of different celebrities that visited but the stories I've heard consistently from the locals is that they saw Elizabeth Taylor with Michael Jackson. And Sylvester Stallone came in with all of his extended family."
The property continued to change hands several times over the years, becoming a brothel and eventually the lodge as it is known today.
"When I first took over, we decided to do a remodel which lasted from about 2013 to 2016," Davidson said. "We spent three years and $1 million, and we pretty much gutted it. And then we made it what it is today, which is a luxury, top-of-the-line hotel."
Advertiser Disclosure
CardRates.com is a free online resource that offers valuable content and comparison services to users. To keep this resource 100% free, we receive compensation for referrals for many of the offers listed on the site. Along with key review factors, this compensation may impact how and where products appear across CardRates.com (including, for example, the order in which they appear). CardRates.com does not include the entire universe of available offers. Editorial opinions expressed on the site are strictly our own and are not provided, endorsed, or approved by advertisers.