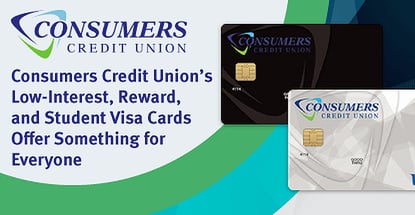 In a Nutshell: For a simple $5 fee, anyone in the nation can join Consumers Credit Union, which alone sets it apart from other regional credit unions. Its members enjoy market-leading interest rates in addition to wealth-building financial products and services. Consumers Credit Union is dedicated to offering members more choices, and its four Visa-issued credit cards, with interest rates starting at 11.45% and rewards that pay as much as 3 points per dollar spent, illustrate the care put into having something for everyone. //
Not many credit unions can trace their history back to a quart of milk, but Consumers Credit Union can.
In 1910, milk dealers in Waukegan, Illinois, raised the price of a quart of milk from 6 cents to 8 cents. As protests went unheeded, a group of Chicago housewives formed a small buying club to purchase milk directly from the farmers for 6 cents per quart.
The women eventually recruited their husbands and formed a cooperative dairy. The co-op purchased equipment to process and distribute milk on its own terms. By 1916, local demand for fairly priced goods led the co-op to sell meats, gasoline, oil, and other groceries.
The co-op's rapid growth created a need to securely store its members' profits. So, in keeping with the group's entrepreneurial spirit, the Waukegan Cooperative Credit Union opened its doors on May 1, 1930.
Very few financial institutions established during the early stages of the Great Depression lasted long enough to tell their tale. But the Cooperative Credit Union thrived with its community-focused approach to helping its members save money.
The credit union, today known as Consumers Credit Union, still focuses on providing small-town, personalized service to a national membership base and does so, in part, by providing interest yields on savings and checking products that consistently surpass the national average. Consumers Credit Union also offers its members four unique credit cards — more than most regional credit unions.
"We like to provide options that are available for members who are not only established credit card holders, but members who are just starting to establish their credit, or maybe have had challenged credit in the past," said Caroline Hemmer, Visa Manager at Consumers Credit Union.
To that end, Consumers Credit Union makes it easy to join as membership is open to anyone, regardless of location. All members must pay the institution's sponsor, the Consumers Cooperative Association, a one-time, non-refundable $5 fee upon opening an account. All accounts will remain in good standing as long as members deposit and maintain a $5 minimum balance in their Membership Share or Savings Account. And, just like that, members across the country can access competitive checking, savings, and credit products from Consumers Credit Union.
Four Credit Card Options Offer Flexibility and Fair Terms
Consumers Credit Union remains true to its roots by offering fair terms across its credit card products. None of its four Visa-issued credit cards charge fees for membership, cash advances, or balance transfers.
Qualified members can choose from among cards with low rates and rewards options that best suits their lifestyle.
Visa Platinum
The Platinum offering is one of the institution's most popular cards because of its low rate, which makes it easier for cardholders to carry a balance from month to month.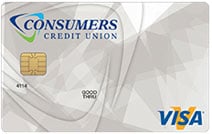 "For our Platinum program, the Platinum card tends to be more popular than the Platinum Rewards card due to the lower APR tiers offered," Hemmer said.
The card's interest rate on new purchases, balance transfers, and cash advances falls between 11.45% and 22.20%, based on the member's creditworthiness.
Cardholders are never charged penalty APR or over-the-credit limit fees. And, thanks to the card's affiliation with Visa, it offers users a host of added perks.
Platinum cardholders receive automated fraud alerts through Visa and are never on the line for lost or stolen cards. Auto rental insurance, another Visa benefit, will automatically cover up to the full, actual cash value of most rental vehicles in the case of theft or damage. The card also provides travel accident insurance, travel and emergency assistance, and a warranty manager that doubles a manufacturer's warranty on certain items purchased with the card.
Visa Platinum Rewards
Members who pay their balances in full each month and aren't as concerned about interest rates often gravitate toward the Visa Platinum Rewards. The card offers CU Rewards points for every dollar spent, and, with enough points, they can be redeemed for brand-name merchandise, travel, and experience rewards.
"Our Signature Rewards card offers our most robust Rewards program, allowing members to earn up to three times the amount of points on eligible purchases," Hemmer said.
The interest rate on the Platinum Rewards card ranges from 13.45% to 24.20%, based on creditworthiness. Plus, cardholders receive all of the same travel and purchasing perks offered through the card's Platinum sibling.
Visa Signature Rewards
Consumers Credit Union's Visa Signature Rewards card operates on a 3-2-1 rewards points structure.
Cardholders earn three times the CURewards points on grocery and convenience store purchases (up to $6,000 annually), two points on gas purchases, and one point for every dollar spent on all other purchases.
Under the hood, the card comes with an APR between 13.74% and 24.49% that extends to new purchases, balance transfers, and cash advances, as well as Visa's zero liability, travel accident insurance, lost luggage reimbursement, and exclusive Visa Signature Concierge Service.
Student Visa
Establishing credit can be a challenge, especially when you're a student who also has to worry about balancing good grades, job opportunities, and, in many cases, debt.
The Student Visa card from Consumers Credit Union helps members between the ages of 13 and 21 establish a positive credit history and learn good financial habits.
The card charges no annual fee and has credit limits starting at $250. A parent or legal guardian must apply for and open the card while the student's name will appear on the account as an authorized user.
Small-Town, Personalized Service from a National Institution
While Consumers Credit Union no longer tracks the price of milk as part of its business practices, the institution understands the needs of the families who together make the institution one of the largest credit unions in the US.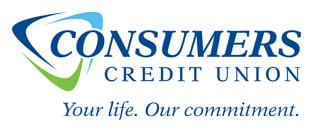 Consumers Credit Union's attention to detail and desire to give every member a head start toward building wealth makes the credit union a top choice for all consumers, regardless of whether they reside in the Chicagoland area.
As one of the few national credit unions in the country, anyone can apply for membership and gain access to market-leading interest rates and top-notch customer service.
Advertiser Disclosure
CardRates.com is a free online resource that offers valuable content and comparison services to users. To keep this resource 100% free, we receive compensation for referrals for many of the offers listed on the site. Along with key review factors, this compensation may impact how and where products appear across CardRates.com (including, for example, the order in which they appear). CardRates.com does not include the entire universe of available offers. Editorial opinions expressed on the site are strictly our own and are not provided, endorsed, or approved by advertisers.