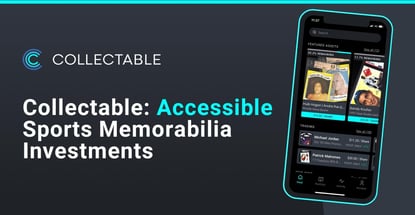 In a Nutshell: It doesn't take a lot of money to become a sports fan, but until a few years ago there was no way for retail investors to access the lucrative and growing market for sports collectibles. By offering fractional shares of iconic sports memorabilia including cards, uniforms, and artifacts, Collectable enables fans at all income levels to show their devotion, diversify their assets, and generate additional cash they can use instead of credit.
Sports fans put a lot of time and energy into rooting for their favorite players and teams. Year after year, devoted fans support their teams through the ups and downs of the seasons, and follow the careers of players, some of whose records go down in history and stand as benchmarks for the future.
Truly dedicated fans become experts in their sports, capable of recalling the most arcane details and debating the most intricate nuances of strategy.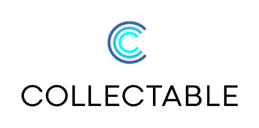 It's no wonder, then, that sports collectibles hold such high appeal. Baseball cards, for example, on one level are sheets of cardboard with a photo on one side and some stats on the other. But on another level, they're a portal to greatness, with the most prized cards carrying extremely high sustainable value sometimes amounting to millions.
Cards, vintage uniforms, and other sports memorabilia may, in fact, be considered one of the original alternative asset classes. Ultra high net worth individuals and accredited investors have long been willing to park money in sports collectibles, and those investments have often stood the test of time.
Everyday fans and retail investors were locked out, however, until 2016, when the JOBS Act eased regulations and made this formerly exclusive market more accessible. Now casual and high-end investors alike go online to Collectable to purchase fractional ownership in iconic sports collectibles. The result is extra cash that can reduce reliance on credit.
"We recognized fractionalization as a way to democratize sports collectibles and provide more liquidity and flexibility into the category," CEO Ezra Levine said.
"Sports fans know who's good and who's got a chance to be legendary," Levine said. "Collectable is a great way to tap into those insights and leverage them into something that can really grow."
Weekly IPOs at Affordable Share Prices
Before Collectable came on the scene, owning something like a game-worn and autographed Michael Jordan Chicago Bulls jersey would have been far out of reach for most people — it amounts to about a $250,000 investment in today's market.
Collectable makes owning a piece of that jersey and many similar museum-quality offerings something everyone can do. From baseball to basketball, football, hockey, soccer, golf and beyond, Collectable's team of acquisition specialists and advisors finds the best of the best and makes them available to a nationwide investment audience.
"We're like a high-end auction house that consigns items for resale," Levine said. "We have a lot of data to suggest which athletes and collectibles have historically performed the best over long periods of time, and we use our expertise to curate which pieces get on the platform."
Collectable then turns those carefully selected items into securities. The lowest valuations come in at around $10,000, with the highest-ever valuation on the platform ticking up to $4 million.
The minimum price of entry into partial ownership of any piece, however, is always the price of one share. And on average that's $10.
"You literally buy shares the same way you would buy shares in a company," Levine said. "It's the same principle applied to high-value sports collectibles."
Every week, Collectable issues new securitized assets as initial public offerings (IPOs), essentially creating a distinct corporate entity behind each item. On the web or via the fully featured Collectable app, users link their bank accounts or credit cards to the platform to begin investing. All offerings are third-party authenticated and graded, insured, and securely stored.
"Once fans participate in this industry, generally they fall in love with it," Levine said.
Gain Liquidity Through Continuous Trading and Buyouts
Continuous trading in Collectable's secondary marketplace enables investors to gain almost instantaneous diversified liquid exposure at affordable price points. In a market that significantly outpumps traditional investments, that puts funds in traders' pockets they can use instead of credit.
Once IPOs are fully funded, a lockup period of generally about 65 to 70 days ensues. Investors may then submit bids and asks on a 24/7 basis. Eligible offerings are then available for trade matching that occurs every weekday within a one-hour window.
What's more, during this "power hour," which takes place Monday through Friday from 3 to 4 p.m. EST, live bids and offers that fall within market parameters are instantaneously matched.
"You can buy and sell anytime, any day you want to," Levine said. "I feel confident in saying that we're the most liquid fractional platform there is."
Trading on the secondary market requires prefunding a wallet stored on the platform, with Collectable also performing standard KYC/AML identity verification procedures before traders become eligible to participate.
"People historically look to collectibles as a really good store of value," Levine said. "It's a relatively uncorrelated asset class that historically has shown really positive returns. And now it's affordable."
Other liquidity gain opportunities come through occasional buyout offers. These are subject to a majority vote from each stockholder community, with each vote weighted on a pro rata basis in accordance with the participant's ownership position. Items that have exited the platform have brought significant cash payouts to stockholders.
"Our view is that fractionalization has become a leading indicator and the primary way people want to participate in collectibles," Levine said. "When you can bring increased participation in something that ultrahigh net worth individuals were already interested in, it bodes well for the asset class."
Collectable: Broadening Access to Alternative Assets
A lot has happened since the JOBS Act put alternative asset securitization and fractionalization in the mix for retail investors in 2016. When Collectable got started, the idea was so new that observers wondered whether investors would be willing to buy into something they couldn't tangibly see and feel.
But with the rise of purely digital non-fungible tokens stored on blockchains, that critique seems almost quaint.
"Now we're the conservative ones, in a sense, where you actually own partial equity in a physical item," Levine said. "That's very different from owning an item that will never have a physical component to it."
Meanwhile, interest in the asset class has never been higher. More and more accredited investors are seeking out alternative assets including sports collectibles as hedges, with Collectable's own data demonstrating the strength of the class.
Watch on
"Our index shows that, if you invested $100 evenly across every item we've had on the platform between September 2020 and April 2021, you'd be up 47.7%," Levine said.
But as a class, the biggest advantage that sports collectibles have is fans' enthusiasm. From the highest end to casual investors looking for a way to keep their credit cards stowed, Collectable offers opportunity.
"There are real financial underpinnings to this marketplace," Levine said. "We've seen in the last few years that alternative assets in general are gaining prominence, both in terms of mindshare but also wallet share."
"And we've seen a ton of new and different types of players emerging in the sports collectibles category," Levine said. "In addition to millions and millions of retail participants, you have institutional capital, you have celebrities and athletes and entertainers, you have mainstream media outlets. The level of focus and attention has never been so high."
Advertiser Disclosure
CardRates.com is a free online resource that offers valuable content and comparison services to users. To keep this resource 100% free, we receive compensation for referrals for many of the offers listed on the site. Along with key review factors, this compensation may impact how and where products appear across CardRates.com (including, for example, the order in which they appear). CardRates.com does not include the entire universe of available offers. Editorial opinions expressed on the site are strictly our own and are not provided, endorsed, or approved by advertisers.