In a Nutshell: Business owners can use Clair On-Demand Pay to advance wages for hourly employees, including those who live paycheck to paycheck. Clair distinguishes itself from competitors by offering fee-free wage advances and by partnering and integrating directly with HR tech platforms to avoid bringing changes to employers' existing processes. In addition to enjoying on-demand access to their earnings, Clair users also gain access to a Spending and Savings Account, Clair Debit Mastercard, fee-free cash withdrawal at 40,000 in-network ATMs, free domestic ACH transfers, and more.
Finances are the leading cause of stress for Americans, according to a survey supported by CreditWise. Acute and ongoing financial stress can affect workers' ability to focus on tasks and can negatively impact their overall productivity.
In contrast, 85% of financially healthy employees feel they are more productive at work.
Many Americans are now paycheck-to-paycheck workers. That includes salaried employees, gig economy workers, hourly wage earners, retail workers, and restaurant staff. Many employees in the healthcare and manufacturing industries also work hard to make ends meet, and even high earners are not immune.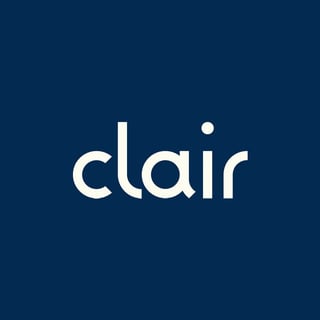 Many of those employees experience financial stress due to delayed access to their earnings brought on by the traditional two-week payment cycle.
Clair aims to eliminate that problem by partnering with HR tech platforms to give employees on-demand access to their earnings. That access can shorten the time between paychecks for workers and help eliminate the need for high-interest payday loans. In addition, Clair is committed to never charging workers for early access to their own earnings.
"Usually, people get into a cycle of debt, not because they don't have the money, but because they're still waiting for their paycheck to clear," said Nico Simko, Co-Founder and CEO of Clair. "And what we're solving for, ultimately, is that you shouldn't be penalized. Because you give a loan to your employer, that's what it is. You worked, and they owe you money."
Clair relieves that financial stress through the cash advance function on its card. And the process can ultimately help businesses increase retention rates and attract new workers.
Fast Access to Earnings Can Reduce Costs and Turnover
When employees sign up for Clair, they automatically get access to a savings and spending account. Employees can immediately advance earnings from that day to their spending account, as soon as they clock out of work. This on-demand pay access helps gig workers and hourly workers avoid resorting to high interest payday loans to pay for necessities.
Other payment systems on the market charge user fees, but Clair is able to offer fee-free advances to users by generating revenue through interchange fees. Simko brought banking industry experience to help create Clair.
"I did mergers and acquisitions at JPMorgan for payments companies in New York. And I learned the technology, public policy, and economics of payments work," Simko said. "I didn't realize there was a way to build a business on the premise that employees should never pay fees for wage advances, but I was passionate about it. I got enough initial backers who were interested in the project, and I ended up moving to the project full time."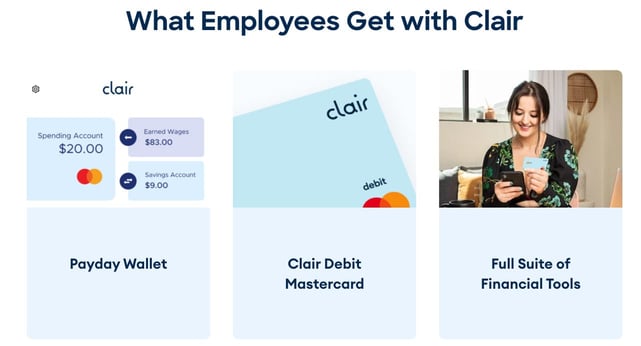 Clair is also designed to benefit employers. The platform helps them attract more workers because they can provide workers with their pay, when they need it. Clair leverages its own credit line, so employers don't need to advance the funds for their employees. Employees automatically pay back any advances from their next paycheck.
Improving benefits is also a proven strategy in reducing employee turnover. Retention is a significant issue for many businesses, and it matters because turnover is costly.
"For employees, the simple fact that if they need a wage advance, it's in their wallet, is huge. That decreases financial stress enormously, increases retention, and increases the ability to attract workers," Simko said."So that is a significant benefit that employers can realize by having access to the product."
Because Clair partners directly with HR tech platforms, the platform relieves employers from having to deal with integration and managing support. Employers will be able to offer on-demand pay with no changes to their existing processes or cash flow.
No-Fee Service Keeps Workers Away From Payday Loans
More than 12 million Americans use payday loans, which average a whopping 390% APR. Those short-term advances are typically used for routine living expenses, including utilities, rent, and transportation, while workers wait for their next paycheck to access their earned wages.
"If you do the math, even charging a $5 transaction fee to an employee to get a wage advance for $100, five days before a paycheck, is 365% APR. With added fees — a transaction fee, a tip fee, a monthly fee — it could be even more than a payday loan."
Clair charges no fees for wage advances, which is a key differentiator from other fee-based earned wage access providers. It helps workers avoid the cycle of pushing back bills, dodging credit card payments, and incurring late fees. That means they have a better chance to improve their financial circumstances by avoiding high-interest credit cards and loans.
"Usually people get into a cycle of debt, not because they don't have the money, but because they're still waiting for their paycheck to clear," Simko said. "And you shouldn't be penalized because you are actually giving a loan to your employer."
Simko said he thinks of Clair as a neobank and a competitor to many other popular payment platforms. Clair comes with a collection of robust banking features, including savings and spending accounts, free domestic ACH transfers, virtual check mailing, fee-free cash withdrawal at 40,000 in-network ATMs, and more.
The suite of complementary financial services delivers an entire banking infrastructure.
Clair: Helping Employers Promote Financial Wellness
Financial health is the most significant concern for employees during the COVID-19 pandemic, according to MetLife's 2021 Employee Benefits Trends Study. More than half of employees are concerned about their financial health over any other aspect of well-being. Global uncertainty will continue to fuel these concerns.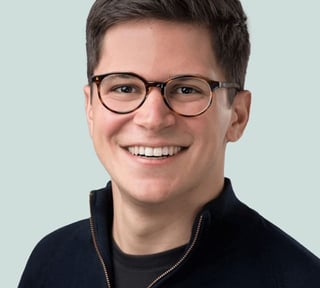 Clair can significantly help businesses boost the financial prospects of employees because of its comprehensive service line. It's also a benefit employers can provide to new and senior talent, temporary or permanent status alike.
Implementing benefits into existing employer systems can be complex and time-consuming. Clair smooths this process by integrating directly with employers' payroll and workforce management systems — virtually eliminating the operational burden on the employer.
Adopting a benefits system that addresses evolving needs is a boon for both businesses and workers. Clair continues to improve based on customer feedback. Users requested a digital version of the card to use with Apple Pay or Samsung Pay. And the company quickly responded.

"They shouldn't have to wait three days to receive the card to start spending money because every day counts," said Simko.
Advertiser Disclosure
CardRates.com is a free online resource that offers valuable content and comparison services to users. To keep this resource 100% free, we receive compensation for referrals for many of the offers listed on the site. Along with key review factors, this compensation may impact how and where products appear across CardRates.com (including, for example, the order in which they appear). CardRates.com does not include the entire universe of available offers. Editorial opinions expressed on the site are strictly our own and are not provided, endorsed, or approved by advertisers.