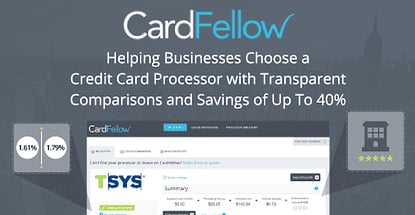 In a Nutshell: What began as a simple blog to answer credit card processing questions has become an interactive marketplace for small business to compare, apples to apples, processing rates and fees. CardFellow was founded to be an advocate for businesses by tying processing companies to legally binding contracts to ensure lower rates and better customer service. With plans to expand its detailed reviews and offer additional tools, CardFellow wants to help businesses make informed decisions about all their credit card processing needs. //
On the sales floor of a Connecticut credit card processor, Ben Dwyer was frustrated. Customers wanted answers to their questions, but credit card processing was proving to be a game where sales representatives were told only enough to make the initial sale. Ben did what he could for the customers, but he didn't feel like it was enough.
Many of the questions Ben received were similar, but because no one in the processor market would elaborate on them, he decided to start an industry insights blog where he posted in-depth explanations of convoluted topics.
About five years after he started that blog, he launched CardFellow as the answer to what was asked the most: "How do I know exactly what my credit card processor is charging me?"
Now, CardFellow serves as a free, interactive marketplace of credit card processor quotes that eliminates misleading details. Businesses get a clear picture of what each processor will charge them for what they need, compared in the same format across the board.
The basis of CardFellow is to educate the consumer, so Ben's blog is still alive and well as one of the site's features used to help businesses see through the haze of credit card processing.
Using the Processor Comparison Tool
CardFellow makes shopping for the best credit card processing rates effortless. Once a business fills out the necessary details regarding its processing needs, it will receive three to four quotes instantly from the processors already under contract with CardFellow.

There are about a dozen true processors out there, the rest being resellers, explained Ben, and CardFellow has negotiated low rates and better business practices for the certified quotes it offers from both processors and resellers. As a result, CardFellow has representation in its marketplace from almost every major processing platform.
The negotiated rates can save businesses up to 40 percent of what they were previously paying in processing and markup.
In addition to the instant certified quotes, CardFellow has a directory of about 145 other companies that offer credit card processing, though they aren't under contract to be as fair.
As an extension of the directory, businesses that want to use a company not under contract with CardFellow can "Request a Quote," which sends pertinent details to the company and invites it to make the business a processing offer.
To keep businesses safe from pushy salespeople, none of the companies listed on CardFellow or requested through CardFellow receive contact information until the business signs up with the company it wishes to use.
At CardFellow, Your Business Comes First
The most unique aspect of CardFellow—apart from the fact that it removes the uncertainties of credit card processing—is the certified quotes it offers businesses. A certified quote comes from credit card processors CardFellow has a legally binding contract with to ensure the best rates and business practices.
For example, one of the business practices CardFellow has banned is the processor charging cancellation fees, effectively creating a month-to-month agreement that a business can end at any time. Additionally, all certified quotes offered through CardFellow are guaranteed for life, and CardFellow will even review the fees you're charged twice a year to ensure there are no hidden price hikes.
When you use CardFellow to compare certified quotes and quotes from other processors not under contract with CardFellow, they will still appear in the same matrix and compared equally beside one another for a better understanding of the fees, perks, and potential problems with each processor.
"The biggest issue people face doing it on their own is that there's no standardization among quotes in the open market, so it's difficult to make an accurate comparison," said Ellen Cunningham, the marketing manager at CardFellow.
Ellen said part of what makes CardFellow special is the software it uses to compare every quote apples to apples. "It goes to our commitment to transparency as an educational tool."
The Birth of Ben's CardFellow
Ben went to work for a credit card processor in Connecticut in 2003, but quickly realized he had jumped headfirst into an industry with its share of problems. While he knew that there are good processing companies out there, it didn't sit right with him that many others could get away with sketchy customer service methodology and business ethics that were basically non-existent.
He couldn't believe this was normal standard practice, but luckily, his position allowed him to do some reconnaissance for the very businesses he wasn't able to help on the sales floor.
Three years later he launched a blog to help shed light on the mysterious operations behind credit card processing. Ben's posts were penetrating, and businesses were so appreciative of his in-depth answers, they began to ask even more of him.
"Businesses started reaching out for help picking out a processor," said Ben of the demand he received through his blog, so he dug in and began to supply businesses with truly comparable quotes on an individual basis.
In 2011, CardFellow officially disrupted the credit card processing market with its cut-the-crap quote comparisons with top picks backed by a legal contract to bind processors to better pricing, terms, and service. Now, at no cost to them, businesses could confidentially sift through affordable rates based on details that mattered most to them, such as equipment compatibility.
More Features Help Businesses Make Informed Decisions
The "Request a Quote" option was added in September of 2015 for businesses to see quotes from any processing company not listed on CardFellow compared equally beside those that are on the site.
Continuing as an advocate for consumer education, Ben wants CardFellow to be the ultimate credit card processing guide with its comparison tools, informative blog posts, and full reviews of processing equipment like card readers and payment gateways.
"Very soon merchants will be able to see quotes based on their equipment needs," explained Ben of the next steps CardFellow is taking in helping small businesses succeed.
Basically, the plan is to allow small businesses to shop for equipment, like a point-of-sale system, first based on their needs. Then CardFellow removes the lengthy process of getting compatible merchant account and processing quotes one-at-a-time by showing all the processors available for that system with real-time quotes.
Indeed, CardFellow's future looks bright as a one-stop-shop for businesses seeking solutions for its credit card commerce concerns.
Advertiser Disclosure
CardRates.com is a free online resource that offers valuable content and comparison services to users. To keep this resource 100% free, we receive compensation for referrals for many of the offers listed on the site. Along with key review factors, this compensation may impact how and where products appear across CardRates.com (including, for example, the order in which they appear). CardRates.com does not include the entire universe of available offers. Editorial opinions expressed on the site are strictly our own and are not provided, endorsed, or approved by advertisers.