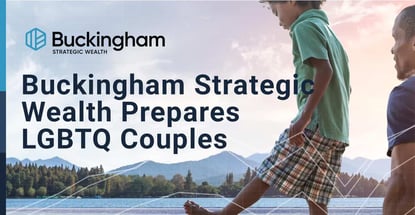 Our experts and industry insiders blog the latest news, studies and current events from inside the credit card industry. Our articles follow strict editorial guidelines.
In a Nutshell: Securing your financial assets and those of your partner is never more important than during a turbulent economic climate. Buckingham Strategic Wealth is an inclusive and success-driven wealth management firm that uses evidence metrics and full transparency to help achieve client goals. Buckingham offers LGBTQ couples advice and financial management tailored to the specific needs of the clients it is working with.
June 26, 2015, goes down as a monumental day in our country's history. In a landmark 5-4 decision, the U.S. Supreme Court made same-sex marriage legal across the country.
Now more than seven years later, about 58% of couples in same-sex households are married. That still leaves 42% of same-sex households as unmarried partners.
Buckingham Strategic Wealth (BSW) helps same-sex households navigate their financial futures every day as it maintains a focus on inclusivity and compassion toward its clients. Whether or not the couple is married, Buckingham walks partners through their options and helps them make the best decisions for their family.
Buckingham focuses on wealth planning. Advisors manage client finances and create a plan for their retirement. The job doesn't end at retirement, though. Buckingham continues to manage finances to ensure its clients' wealth is stretched out as much as possible.
In many instances, it makes sense financially for long-term same-sex partners to get married. Buckingham says the benefits are greater when couples are married than when they are not.
Unmarried couples miss out on many potential benefits, such as obtaining health insurance through your spouse's employer and various Social Security benefits.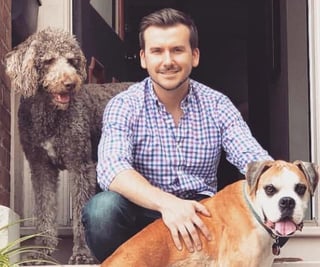 Buckingham advises same-sex couples to create either a will or a trust with power of attorney. Without those critical documents, partners can be left out when it comes time to make important decisions regarding their loved one's life.
"You don't want to go into the hospital and find a doctor that is not supportive of your marriage," explains Buckingham Wealth Advisor Ryne Vickery. "With a healthcare power attorney form in hand, the doctor is legally required to listen to you and abide by what the document says."
Setting Realistic Goals Based on Finances
Every 10 years, the U.S. Census provides a snapshot of the giant melting pot that is America. It takes into account several factors and paints a picture of the people living in the country so we can learn more about our neighbors.
Recent surveys have shown that same-sex couples tend to earn more than opposite-sex couples. But the findings also show that the increased income does not lead to additional savings.
Buckingham shares that some same-sex couples it advises say they feel that they have not saved enough for retirement. One reason for that could be that same-sex couples tend to live in areas with a higher cost of living.
One approach Buckingham recommends to younger populations is to save appropriately so they don't have to worry in the future. Piling up debt when young can lead to making concessions or getting a second job to afford retirement savings, debt payments, and a mortgage.
Financial advisors with Buckingham help create a plan so younger people can get started on their goals. Their wealth advisors specialize in finding the best areas to put money in where it will make the most impact first.
"It's a hard conversation to have, because you have all this debt and you have all these goals," Vickery said. "Then you have to increase your income either by getting a side hustle or renegotiating your job or your salary. Our plans put people on the right path towards a better future."
Buckingham Strategic Wealth creates an extremely beneficial Wealth Analysis for each of its clients. This analysis helps clients clarify their financial goals, assets, and current savings levels. The analysis is a plan that is tailored to each client, and the results help them understand where they are and where they need to be, depending on their current life stage.
A client in retirement mostly cares about making sure their money lasts. The analysis puts that client in a safe position to make a return on their investment.
"Our goal is not to take risks just for sake of risks," Vickery said. "We want to be purposeful with that. It's more about reassuring them that their plan is viable, and that they're going to be okay."
The analysis helps younger people understand what savings level they need to be at in order to best fit their retirement goal.  Buckingham Strategic Wealth generally recommends younger people to take more risk, given their presumed longer time horizons.  People closer to or in retirement may have more flexibility on their risk tolerance depending on the specific goals they want their money to achieve.
Ensuring All Documentation is in Order
Buckingham stressed the importance of keeping documents in order. This is especially true for same-sex couples who are unmarried. If one partner passes away without a will or trust, typically the deceased's assets go to the family and not the partner.
"You don't want to put yourself at the risk of an unfriendly judge or court realizing that you're unmarried," Vickery said. "Oftentimes, that leads to the court saying that the asset actually does belong to somebody else."
Buckingham also strongly recommends filling out the two forms for power of attorney.
A healthcare power of attorney allows a designated person to make healthcare decisions on your behalf. Without this form, partners can be left out of the conversation completely when a difficult decision needs to be made.
The other form is the durable financial power of attorney. This form allows someone else to handle your affairs in the event of your incapacitation.
But not all relationships become better through marriage. Buckingham said marriage makes a big impact on taxes, and that can be a good or a bad thing.
If only one person in the relationship is working or the other earns a lot less, there would probably be a tax benefit to getting married.
Marriage can also be seen as a penalty if both partners are high-income earners. Couples who file jointly can easily find themselves high up on the tax bracket.
Buckingham looks at all debt individually because not all debt is created the same. The company determines which debt is most important to pay off first.

Buckingham said it generally recommends people pay off credit card debt first, then evaluate the priority to pay off any remaining debt. It also tells clients with 401ks to always contribute up to at least the amount that the employer matches.
"It's about prioritizing the highest rate and paying that down and going from there," Vickery said. "When it comes to student loans, we look at their income as well, as some student loan interest may be tax deductible. And if your student loan interest rate is low, we may suggest to save for retirement alongside paying down that student loan debt."
Planning Ahead Puts Minds at Ease
Starting a family and adding another life to your household is a big process for anybody. For same-sex couples, however, the burden is also incredibly expensive and out of reach for most. Adoption fees tend to be about $75,000, with surrogacy costing up to $125,000. 
Buckingham helps couples understand the processes and costs to make sure they save accordingly. It also advises couples on commonly overlooked areas, such as employer benefits, that can help pay for IVF, adoption, or surrogacy.
Buckingham said planning ahead is very important to stay on top of finances. One of the company's tools provides tax projections to show how much a client may have to pay the following year. Additionally, they can help project how much a client may be able to convert from an IRA to a Roth IRA without going into a higher tax bracket.
Vickery is sounding the alarm on the need to have a financial plan in place now more than ever in the wake of recent protests following the Supreme Court's decision to put abortion rights in the hands of individual states.
If the Supreme Court continues to look at  old decisions to overturn, it could spell trouble for the Marriage Equality Act. 
A potential loss of spousal social equity benefits could be detrimental later in life if the Marriage Equality Act is overturned. Buckingham also said that parents need to make sure both spouses have a legal right to their child.
"It's good to have the conversation, even with it just being speculation right now," Vickery said. "But if a case is considered by the Supreme Court to overturn the act, then it's time to get very serious about finances to ensure you have everything set up properly."