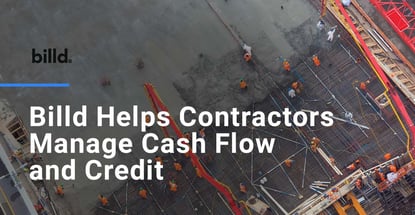 In a Nutshell: Construction subcontractors are generally not in the driver's seat when it comes to cash flow and credit access. They're responsible for procuring materials and labor upfront and often have to wait 90 days or longer for payment. Financing from Billd bridges that gap by providing lines of financing with 120-day terms. The additional flexibility helps everyone on a project, including suppliers, receive payment on time. And that, in turn, helps contractors strengthen their business relationships and better position themselves for growth.
The way payments operate on construction projects sets up a series of mutual dependencies. From the owner and builder on one side of the job to the contractors and subcontractors on the other, on-time payments are required for successful completion of the job.
But money can only change hands when it's available. If there's no money to spend on one side, the other side must agree to wait to get paid.
It's a problem Chris Doyle and Jesse Weissburg experienced all too often at Dividend Finance, a residential solar financing company. They saw how the contractors installing the systems were buying materials and labor to do the next job while waiting for payment from the previous job.
And that meant real problems with cash flow for those contractors, which stressed their relationships with their suppliers and pressured them to be more reliant on their personal credit than they would have preferred.
Seeing the same situation play out repeatedly motivated Doyle and Weissburg in 2018 to create Billd as a spinoff from Dividend. Billd extends flexible financing to contractors and subcontractors with 120-day terms, helping them balance multiple projects and maintain healthy relationships with suppliers.
That's what puts subcontractors on a path to taking on larger or additional projects and, eventually, building credit and earning access to better opportunities.
"In the construction payment cycle, the subcontractor has to buy materials upfront or on terms and perform the work before they can submit their pay application," said Weissburg, Billd's Co-Founder and CCO. "Billd is a better way to help these contractors grow their business."
Credit Lines With 120-Day Terms For Contractors 
Billd wouldn't be necessary if every business got an equal chance to qualify for the best credit line, but the reality is much different from that. In the same way that not all individuals have the same chance of being approved for a credit card, small subcontracting businesses often don't get enough attention from banks — if any at all.
"Either they go to a traditional bank and it's not willing to offer financing or [it's] willing to offer just a small amount, maybe only a credit card," Weissburg said. "Or they go to an alternative lender for a product that's prohibitive to their growth — super expensive and not tailored for construction."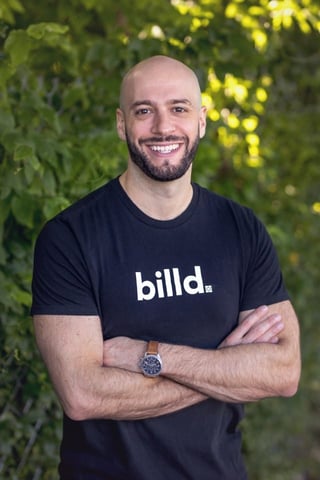 Subcontractors who are constantly asking their suppliers for more time to pay will find there isn't any more time left when they really need it. It's a recipe for disaster when a subcontractor must turn down a job because they don't have the cash necessary to start the work.
What Billd does is inject liquidity into payment relationships between contractors and suppliers, which is crucial for ensuring the supplier gets paid on time without compromising the subcontractor's ability to take on new work.
"The sub doesn't have to worry about moving cash from one project to pay off another," Weissburg said. 
All along the chain, Billd helps ensure that work can proceed without interruption.
"Because we understand the dynamics of their relationships with their suppliers and their GCs, they realize that, although there may be a cost to this financing, it's going to give them the additional support they need," Weissburg said. "The feedback has been positive across the entire ecosystem."
Underwriting Expertise Improves Approval Outcomes
Billd can do what the banks often can't because it takes a completely project-based approach to underwriting. It uses dedicated construction industry expertise to consider all the relationships in the pay cycle.
A typical contractor with $5 million annual revenue may spend 60% to 80% of that revenue on materials and labor, which results in a need for as much as $1 million in liquidity or cash flow every quarter.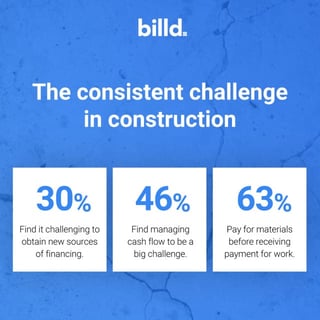 "You'll be lucky if you can get approved for a $250,000 line of credit," Weissburg said. Terms received directly from suppliers might help, as would a credit card with a typical $50,000 to $100,000 limit. But there's still a juggling act to be performed.
"What ends up happening is you get tapped out and you're constantly moving money around — you're in this continuous cycle," Weissburg said. "That's where we really separate ourselves."
The contractor instead comes to Billd with a request to finance a single project purchase.
"If they need to break it up over multiple different purchases, each purchase will have its own term, so it's not like a fixed line of credit," Weissburg said. "It really is completely project-based and provides the contractor flexibility to line up when they need the materials and the financing associated with that."
The history and financial strength of the company are factors in the underwriting, but what really sets Billd apart is how it's able to amplify its understanding of lending risk.
"We're doing diligence on the project, the general contractor, the property owner, and the scope of the work," Weissburg said. "Because we're not just looking at the strength of the contractor but at the project, that allows us to look at risk completely differently than a lot of our competitors."
Billd: Financial Flexibility and Control For Contractors
Financing can make or break the evolution of a small subcontractor. But with Billd, there's a path to credit autonomy for all subcontractors because Billd reports on-time payments back to the credit bureaus and offers more affordable financing terms than those extended by suppliers.
All it takes is the initial contact with a Billd team member to begin a process of exploration, with the customer's unique needs always top of mind.
"We're the first movers in the market, so we spend a lot of time educating contractors and suppliers who are used to doing business a certain way," Weissburg said. "To really help these business owners, who maybe have been burned by finance companies in the past, they need to understand that how they've done business up to this point isn't necessarily the most efficient way."
Top ratings on Trustpilot attest to the meticulousness of the Billd approach.
"It doesn't happen by accident," Weissburg said. "It's because we spend a lot of time listening to the customer, picking up the phone when they call, and just doing what we say we're going to do."
If all goes well, there will come a time when job and financing opportunities that may not have been available in the past will open up. And when that next-level deal out in the broader credit market appears, Billd will be there to congratulate the company.
"To be able to help a contractor reach that next level is ultimately our goal," Weissburg said. "We want to help companies grow responsibly, and we want to be the partner there at their side."
Advertiser Disclosure
CardRates.com is a free online resource that offers valuable content and comparison services to users. To keep this resource 100% free, we receive compensation for referrals for many of the offers listed on the site. Along with key review factors, this compensation may impact how and where products appear across CardRates.com (including, for example, the order in which they appear). CardRates.com does not include the entire universe of available offers. Editorial opinions expressed on the site are strictly our own and are not provided, endorsed, or approved by advertisers.