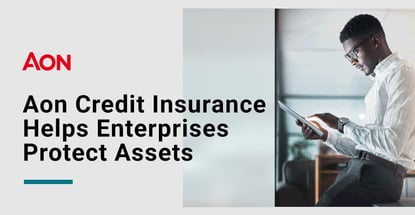 In a Nutshell: COVID-19 brought the threat of supply chain disruptions caused by failure to pay into sharper focus. So Aon expanded its role as a leading credit insurance provider for global and national enterprises. The Aon Credit Solutions team tailors solutions based on the needs of its clients, which engage in nearly $800 billion in global trade. Aon helps reduce market and supply chain uncertainty for enterprises and helps them compete and grow more effectively to protect against balance sheet debt.
Every business growth plan must include strategies for dealing with an uncertain future. But in a global economy rattled by COVID-19 pandemic shutdowns, enterprises need seamless and robust risk management advisory services more than ever.
The COVID-19 pandemic highlighted the risks enterprises face as they compete in an increasingly dynamic environment. When even distant business disruptions can have far-reaching consequences, firms need to cover all their bases.

Aon provides analytics, advice, and solutions to help enterprises devise comprehensive strategies. It gives clients the tools to navigate change, increase resiliency, and become more effective community partners by gaining clarity and making the best decisions.
The Aon Credit Solutions team has more than 650 specialists to help clients maximize the trade receivables and other assets they already own. As concerns grew about the COVID-19 pandemic's potential impact on global supply chains and growth, more enterprises turned to Aon to learn about the competition and explore ways to put their credit assets to work.
Aon's credit insurance solutions mitigate the consequences of any bad debt that might lie within trade receivables. It also leverages the financial potential behind credit assets to give businesses more flexibility to build positive, lasting relationships with partners and stakeholders.
"CFOs and treasurers come to us not necessarily with a problem to solve, but with a need to quantify the inherent credit risk within their balance sheets," said Stuart Lawson, CEO of Aon Credit Solutions. "And they want options for unlocking the value that sits within those assets."
Credit Insurance Tools Leverage Market Volatility
When the COVID-19 pandemic began, businesses were concerned that insolvencies arising from quarantines and shutdowns would explode and cause supply chains to seize. That didn't happen, Lawson said, due to large-scale government intervention. Official insolvency numbers for 2020 and 2021 have declined.
Lawson anticipates a correction in 2022 as companies kept afloat by subsidies deplete their capital. Still, even without an insolvency uptick, the COVID-19 exposed vulnerabilities and exerted pressures that made companies realize the need for market intelligence and expertise from Aon.
"Clients love the fact that our solutions give them the ability to protect against bad debt, but it's the ability to see around corners that they love even more," Lawson said.
In some regulatory jurisdictions, Aon can help deploy credit insurance as collateral, enabling banks to improve the quality of their financed assets and offer more competitive terms.
The key is understanding exposure and taking the proper steps to address it. The Aon Credit Solutions team has the broad institutional knowledge to address the needs of a global client base with staff in more than 100 locations and 50 countries. Aon maintains a consistent approach, even with large nationals and global enterprises operating in multiple markets and regions.
The result creates a material advantage over a company facing the same challenges without the benefit of Aon. Knowledge and proximity to customers, along with strategies and insights, build confidence for making better decisions and gaining a competitive edge.
"Everything we do is focused on enabling trade and supporting sustainable growth," Lawson said.
A 360-Degree Approach to Asset Management
Aon's global footprint also gives clients access to a vast pool of insurers, including specialist multi-debtor providers as well as single-risk carriers. The firm and its partners aim to mitigate threats and create opportunities where market dynamics create concentration risks that could have a material impact along the supply chain.
Aon is also much more of a consultant than a broker. Given the supply chain vulnerabilities exposed by the COVID-19 pandemic, partnerships became part of a strategy at Aon for creatively producing the most effective solutions.
An approach known as Working Capital 360 enables Aon to take a much more holistic approach to how it can support companies.
"We start with trade receivables, but we also look at payables — we're asking, in general, whether we can improve the credit capacity you have when you're buying from suppliers as well as the cash conversion cycle," Lawson said.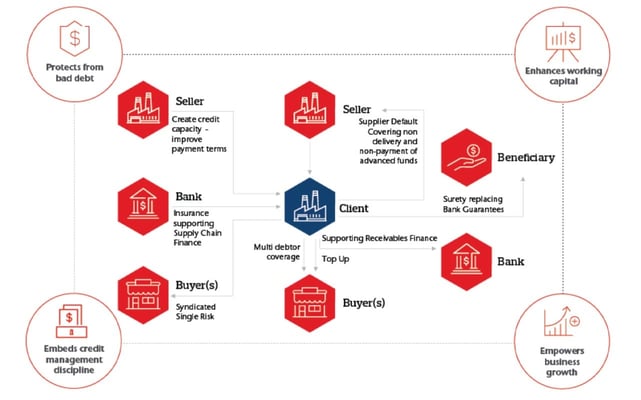 Next comes exploring opportunities around collateral replacement. Many companies seek to benefit from an arbitrage between their banking and insurance providers. Aon is primed to replace bank guarantees and securities for insurance solutions that perform the same primary function for less cost while not impinging on existing banking lines.
Finally, the team investigates a company's unique attributes and assets that may can be secured or used to unlock capital such as intangible assets like IP.
"As the name suggests, it is very much a liquidity and working capital objective," Lawson said. "Are there other assets we can monetize and protect?"
Aon Credit Solutions: Tailored to Meet Client Objectives
Aon can also structure bespoke solutions in construction trade credit — typically for large projects in developing regions. Another team of specialists within the credit solutions team serves those clients.
The firm's next challenge is value creation, and Aon aims to establish clear performance objectives as early as possible. Clients can continually measure impact against internal benchmarks as well as against the market and the competition with key indicators in place.
"They're not generic objectives — they very much depend on how the client wishes to use its insurance program," Lawson said.
The numbers also help Aon apply strategies across a business. When companies know, for example, that their operations in developing nations receive consistent, high-quality service, the benefits of Aon's holistic approach become more apparent.
To help achieve that harmony, Aon deploys a dedicated global servicing network to support program execution and continued value across borders and jurisdictions.
Aon extends its leadership role in an industry that continues to evolve as the benefits of credit insurance come into clearer focus amid consolidations, tech innovations, and other dynamics of the post-pandemic economy.
The firm's move into financial services, mergers and acquisitions, and green energy position Aon as a trendsetter in a market where innovation happens with every new customer relationship.
"Credit solutions within Aon are a global product specialty," Lawson said. "The reason that's the case is that it requires a specialist's skill to deliver."
Advertiser Disclosure
CardRates.com is a free online resource that offers valuable content and comparison services to users. To keep this resource 100% free, we receive compensation for referrals for many of the offers listed on the site. Along with key review factors, this compensation may impact how and where products appear across CardRates.com (including, for example, the order in which they appear). CardRates.com does not include the entire universe of available offers. Editorial opinions expressed on the site are strictly our own and are not provided, endorsed, or approved by advertisers.