Store Credit Card
Opinions expressed here are ours alone, and are not provided, endorsed, or approved by any issuer. Site may be compensated through the issuer affiliate programs.
When Sam Walton founded the first Wal-Mart store in 1962, it's doubtful he could have imagined his company becoming the world's largest retailer, netting more than $480 billion a year in revenue. Indeed, who could have imagined that from his single store would spawn nearly 12,000 more, with locations in 28 countries around the world, operated by a workforce of more than 2.3 million employees.
As you'd expect from the world's largest retailer, Walmart (as it's been known since 2008) provides a wide range of general merchandise, selling everything from clothing to housewares in its discount department stores, as well as groceries and prepared food in its Super Walmart stores. Helping customers save on those everyday items, Walmart Credit Card users earn cash back on Walmart purchases, including bonus rewards for shopping online at Walmart.com.
Better Cards to Use at Walmart
Despite its immense inventory, you can't really find everything at Walmart — so why limit yourself to a card that limits you? With a paltry 1% cash back for in-store purchases and gas rewards that just can't compete with some of the other options, the Walmart Credit Card will rarely be your most lucrative way to pay unless you make most of your purchases through Walmart.com, and the high APR makes carrying a balance akin to financial masochism.
A better option for saving on all of your purchases, from everyday needs to out-of-the-ordinary expenses, is an all-around, open-loop credit card that can be used wherever you need to shop — including Walmart. With myriad options for earning rewards and even skipping interest fees, you can likely find the perfect card for your individual financial lifestyle.
Cash Back
When it comes to cash back rewards, even the most basic card will likely give you the same 1% (or more) on in-store purchases as a Walmart Credit Card, plus you'll be able to use it at thousands of additional merchants. Many cash back cards will also offer bonus categories, some yearlong and others that rotate quarterly, offering 2%, 3%, or even 5% cash back on qualifying big-box purchases.
at Chase'ssecure website
New Offer! Double Cash Back: Earn 3% cash back on all purchases in your first year up to $20,000 spent. After that earn unlimited 1.5% cash back on all purchases.
0% Intro APR for 15 months from account opening on purchases and balance transfers, then a variable APR of 17.24-25.99%. Balance transfer fee is 3% of the amount transferred, $5 minimum
No minimum to redeem for cash back
Cash Back rewards do not expire as long as your account is open
Free credit score, updated weekly with Credit Journey℠
No annual fee
| | | | | |
| --- | --- | --- | --- | --- |
| 0% Intro APR on Purchases 15 months | 0% Intro APR on Balance Transfers 15 months | | | |
0% APR
With an APR well over 20%, the Walmart Credit Card is a bad idea for anyone who tends to carry a balance, as the interest fees can quickly overcome any rewards you earn. A good way to avoid paying more for your purchases than you need to is by taking advantage of a credit card with an introductory 0% APR offer. These offers can provide 12 months or more of interest-free financing, letting you pay down your balance over time without worrying about interest fees piling on.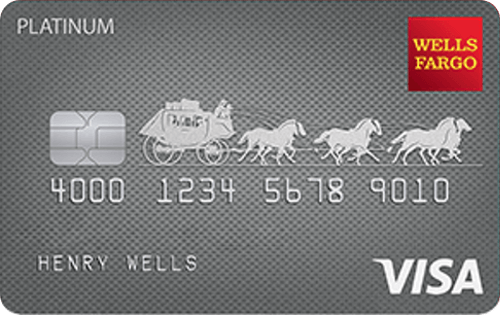 at Wells Fargo'ssecure website
0% Intro APR for 18 months on purchases and balance transfers (fees apply), then a 13.74%-27.24% variable APR; balance transfers made within 120 days qualify for the intro rate and fee
Get up to $600 protection on your cell phone (subject to $25 deductible) against covered damage or theft when you pay your monthly cellular telephone bill with your Wells Fargo Platinum Visa card
Easy access to your FICO® Credit Score with Wells Fargo Online®
Zero Liability protection for promptly reported unauthorized transactions
Convenient tools to help create a budget and manage your spending with My Money Map
$0 Annual Fee
| | | | | |
| --- | --- | --- | --- | --- |
| | 0% for 18 months on qualifying balance transfers | | | |
Travel Rewards
Trudging down aisle after aisle in the search for Bobby's socks and Betty's notepaper, many of us likely find our minds wandering to daydreams of hot stone massages, fruity drinks — and magical dishes that wash themselves. With a great travel rewards credit card, each menial purchase can mean more points or miles you can use to pay for airfare, hotel stays, and the other travel expenses that can get you out of the aisle and onto the beach.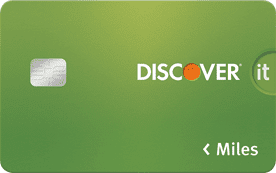 at Discover Card'ssecure website
INTRO OFFER: Discover will match ALL the Miles you've earned at the end of your first year, automatically. For example, if you earn 35,000 Miles, you get 70,000 Miles. That's $700 towards travel!
Earn unlimited 1.5x Miles for every dollar spent on all purchases all with no annual fee.
No Blackout Dates - fly any airline, stay at any hotel.
Redeem your Miles as a statement credit towards travel purchases.
Freeze your account in seconds with an on/off switch either on the mobile app or website to prevent new purchases, cash advances, and balance transfers.
Get your free Credit Scorecard with your FICO® Credit Score, number of recent inquiries and more.
Unless the bulk of your buys occur online, the Walmart Credit Card is a mediocre option for most consumers, its rewards barely holding a reasonably-priced candle to the cushy cash back and travel rewards of a better card. And when it comes to APR — well, unless you're going to pay off your entire balance every month, stay away from the Walmart Credit Card and choose a card with a 0% APR offer, instead.
What Others Say About the Walmart Credit Card
While it's difficult to find anyone who hasn't been in a Wally World, you may actually not know someone with a Walmart Credit Card to ask for advice. We've put together a collection of reviews to give you a second, third, and fourth opinion about the ups — and downs — of the card.

A review from SuperMoney.com says:
"
Walmart's credit cards offer half-decent benefits and are available to people with credit scores as low as 550. Walmart reports to all three credit bureaus and usually approves requests for a credit limit increase after six months of regular payments. This makes it an attractive option for people looking to rebuild their credit while they earn some rewards on the side. The rates are higher than most cards, so avoid this card if you plan to keep a balance. Instead, use this card to build your credit by requesting a credit limit increase every six months and keeping your credit usage as low as possible. Walmart bases approval for credit limit increases on soft pulls of your credit, so don't worry about credit inquiries bringing your score down. — SuperMoney.com
"

A review from MyBankTracker.com says:
"
After rounding out the Walmart store credit card review and providing details on benefits, feature, and fees, it's time to decide whether or not this card is for you. If you frequently shop at Walmart stores and fill up at Walmart gas stations, the Walmart® Credit Card provides those with lower credit ratings an opportunity to save money with the special in-store financing offer and the sign-up bonus. However, one of the only ongoing benefits of the Walmart® Credit Card is the gas discount, which isn't competitive when compared to other gas credit cards. Further, many other credit cards on the market like the BankAmericard Cash Rewards™, Citi Simplicity®, and Discover it®, offer similar benefits that actually allow you to get more for your money, even if you use them for the occasional Walmart purchase. — MyBankTracker.com
"

A review from WalletHub.com says:
"
I have had a Walmart store card for several years and I am very happy with it. I can do everything online with this card. I can shop at Walmart.com with it. I can get my statements and pay them online. It has been very convenient. I also get a discount on gas when I pay at the pump with my Walmart card and when gas prices were higher, that was a big benefit. On the few occasions when I've had to do returns, it has been super easy even without a receipt because it's very easy for them to verify the purchase. I just try to keep this card paid off the same month or next month at the latest because the interest can get you, but if you use it responsibly and not charge more than you can afford to pay at the next statement date, it's not an issue. — WalletHub.com
"
Is the Walmart Card Right for You?
With more than $480 billion a year in revenue, you'd think Walmart could swing a better credit card — but, sadly, that's not the case. Perhaps valuable for shoppers who spend a lot through Walmart.com thanks to the 3% bonus cash back rate, the 1% rewards rate for in-store purchases makes the Walmart Credit Card less-than-ideal even for regular shoppers.
Yes, in a bit of colloquial irony, the best credit card deals for shopping in Walmart aren't actually from the store that prides itself on offering the best deals. Overall, the vast majority of customers will benefit far more from an all-purpose credit card with better rewards and/or a more reasonable APR than that of the Walmart Credit Card.