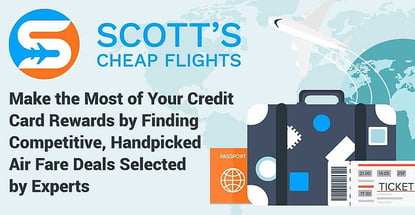 In a Nutshell: As a journalist, Scott Keyes had a passion for travel, but his bank account didn't allow for a jet-set lifestyle. So, Scott became an expert on finding the best flight deals available online. Scott's Cheap Flights began as a small email list for friends and quickly expanding to a full-time business. The company has flight experts who search for the very best flight deals online — including the coveted mistake fares — and share their findings with Scott's Cheap Flights users. Scott also discussed how people can take advantage of cheap flights by looking at prices first, then considering destination and time frame.
Taking a vacation is rewarding on many levels. Not only is traveling a great way to get out of your daily routine, but it can also expose you to different cultures and experiences you may not otherwise encounter.
And let's not forget the dopamine rush that comes when we get to cash in credit card rewards for an amazing deal on a flight.
In a way, that dopamine rush is what took Scott Keyes from being a journalist covering politics in Washington, D.C. to becoming the Co-Founder and CEO of Scott's Cheap Flights — the online service that connects its users to some of the best airline prices available.
Scott said he had the travel bug but not the bank account to match in 2013. During that time he was constantly on the hunt for bargain flights, and he came across what could be considered the deal of a lifetime — a $130 round-trip ticket from New York City to Milan.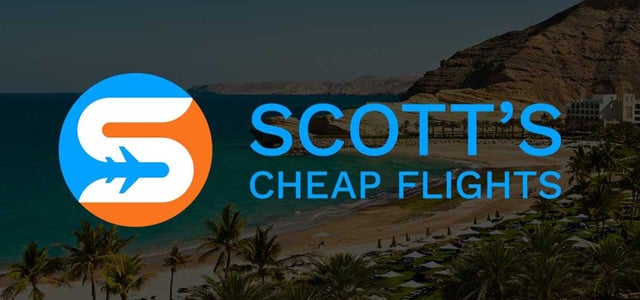 "It's still the best deal I've ever gotten to this day," he said. "When I got back from my trip, I guess word had spread to some of my friends about the great deal I got, and they started asking me to let them know the next time I find some good flight prices."
Scott said he started a small email list with a handful of friends on it, but by 2015, the list had grown to more than 5,000 people.
"It was great, but at that point, I was having to start paying hosting costs to email that many people," he said. "So, in August of that year, I took it from a personal hobby to a full-time business, and that's where it's been ever since."
Flight Experts Scour the Internet and Alert Users to the Best Deals Available
Today, Scott's Cheap Flights involves a bit more than Scott clicking away online for good deals and sending out personal emails. Scott runs the company with Co-Founder Brian Kidwell, and they have a whole team of employees supporting the neverending search for cheap flights.
"I was our original flight expert — I just loved poking around for 10 or 12 hours a day to find those really good deals," he said. "Today we have 10 people on the team whose job it is to search flights. I'm still surprised that it can be a job."
Scott said the flight experts don't simply aggregate prices from travel sites, they subject each deal to a rigorous quality evaluation to make sure Scott's Cheap Flight users are getting an incredible deal.
"They're finding deals and looking at prices, but they're also getting a sense of how it compares to other deals, how often a deal of that nature might pop up or when we could expect to see it again," he said.
Flight experts can also estimate how long a particular deal will last.
According to the Scott's Cheap Flights website, the company only passes along the best deals after factoring in the real total cost, including taxes, bag fees, and other add-ons. The company also avoids recommending flights with difficult itineraries and flights from airlines with less-than-stellar reputations.
"We're not a travel agency, and we're not a website like Expedia or Orbitz where they book your flights," Scott said. "And, we don't put any kind of pressure on people to book the deals we send them. It doesn't make a difference to our bottom line."
He said he wants Scott's Cheap Flights users to feel confident that they are getting really good deals. The company isn't getting a commission on the deals they offer.
Scott's Cheap Flights offers a limited free version of the service, and its premium tier offers full access to all deals, personalization and filtering options, and ad-free emails for $39 per year. Scott said for frequent travelers, just finding one deal per year through the service more than pays for itself because the average savings over a standard-priced flight is around $500.
Rare Mistake Fares are the Holy Grail of Cheap Flights
A mistake fare is when an airline or online travel agency sells a ticket at a price they did not intend to, Scott said.
"The $130 flight to Milan I took — that was absolutely a mistake fare," he said. "They definitely did not mean to sell that ticket for that price."
Scott said any number of occurrences can cause a mistake fare, with human error being one of the top reasons. He said it's possible the airline intended to sell his ticket to Milan for $1,300 but an employee accidentally entered it into the system as $130.
"Airline IT systems are notorious for being a house of cards, especially for stuff as complex as pricing algorithms," he said. "So, sometimes an unexpected change to one route can cause a domino effect that causes mistake fares on other routes."
A large fluctuation in foreign currency can also result in mistake fares, Scott said.
"Six or seven years ago, Myanmar had a massive overnight devaluation in their currency, so if you paid for tickets to Myanmar in Burmese kyat, you could get first-class tickets from the U.S. to Myanmar as low $250, round trip," he said.
The same tickets the day before probably would have cost $10,000, he said.
"The thing about mistake fares is they don't tend to last very long," Scott said. "Basically, as soon as the airline finds the error, they're going to fix it. Sometimes it's just a few minutes. If we're lucky it might last a few hours."
Scott said mistake fares are not as common as they once were, as airlines have worked to implement technology to mitigate the issue. But, he said he still sees several good mistake fares pop up each year.
And, despite the Department of Transportation no longer requiring airlines to honor mistake fare prices, Scott said they tend to make good on the prices anyway to avoid bad publicity.
"They don't want the bad press of seeing tens of thousands of people going on social media and seeing stories about them canceling tickets," he said. "On the flip side, maybe they take a hit in revenue, but it's great PR for people to be saying, 'Wow, did you see those $200 fares round trip to Paris?'"
For the Best Deals, Prioritize Price Over Dates or Destinations
Scott's Cheap Flights members have seen the most success by reprioritizing how most people approach travel, Scott said.
"People typically book their flights as a three-step process," he said. "First, they decide where they want to go. Second, they decide when they want to go. And, only on the third step do they look at price. It's not surprising that if you set price as the third order of concern, you don't see very good deals."
Scott said the company tries to impress upon its members that if they flip that typical order on its head and change the way they approach travel and booking flights, they'll find the best deals.
"Again, when I found that ticket to Milan, I wasn't planning to travel to Milan. It wasn't really on my radar," he said. "But, I let the fact that it was such a great deal become the driving force in that decision."
Scott said travelers find the greatest success in finding deals when they look at their options more broadly and consider a number of places they would like to visit, perhaps schedule some flexible PTO and then look for a flight to any number of places.
"Then, you can look back and say, 'Ok, Scott's Cheap Flights have sent me some good deals recently to Munich, Rome, Beijing, and Mumbai,'" he said. "Maybe Rome was on your short list of places to visit, then you can search for dates that work for you from there."
He said that, when users set price as the first order of concern rather than pigeonholing themselves into one destination within a small time frame, that's when they see the really good deals they can brag to their friends about.
Expanding to Cover Flight Deals Across the Globe
Scott's Cheap Flights currently serves more than 1.6 million members around the world with its team of over 30 travel aficionados located in different areas, Scott said. And, as of recently, Scott's Cheap Flights members literally circle the globe.
"We just recently expanded to cover Africa," Scott said. "We're really excited about the fact that we now cover the entire world, so we're not just sending deals to folks in the U.S., we're sending deals all around the world."
Advertiser Disclosure
CardRates.com is a free online resource that offers valuable content and comparison services to users. To keep this resource 100% free, we receive compensation for referrals for many of the offers listed on the site. Along with key review factors, this compensation may impact how and where products appear across CardRates.com (including, for example, the order in which they appear). CardRates.com does not include the entire universe of available offers. Editorial opinions expressed on the site are strictly our own and are not provided, endorsed, or approved by advertisers.