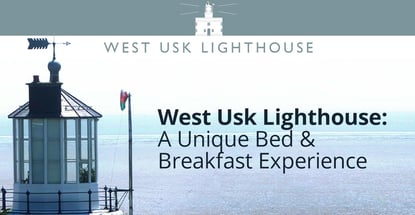 In a Nutshell: Frank and Danielle Sheahan first visited West Usk Lighthouse on the coast of Wales with the idea of turning it into a bed-and-breakfast. Initially, they thought the long-abandoned structure was weathered beyond hope, but when they realized the area was so quiet that they could hear cows munching grass in the fields nearby, they changed their minds. Today, West Usk Lighthouse ranks among the most distinctive B&B experiences available in the UK. It is also perfect for card rewards travelers seeking the peace that only rural Wales can offer.
Those who visit the British Isles are never far from history. And card rewards travelers who book a stay at the West Usk Lighthouse bed-and-breakfast, located near Newport on the coast of Wales, quickly learn that the site played an interesting role in World War I.
When the war started in July 1914, the lighthouse was in its final years as a marker of the entrance to Newport's docks, but three keepers still operated the structure. One day soon after hostilities had commenced, the keepers looked up from their dinner and saw a German ship no more than 100 yards from shore.
"They feared the vessel was aiming to ram the docks," said Frank Sheahan, Co-Owner of the West Usk Lighthouse.
One of the keepers left the lighthouse and managed to get about 10 men together, including the local police. Bravely, they floated out on a dinghy, boarded the ship with guns, and confronted the German captain.
"The poor old guy didn't even know they were at war," Frank said. "The Germans had been at sea for so long they hadn't heard that conflict had been declared."
As it turned out, the Germans were delivering a shipment of exotic animals to Newport.
"About 40 seamen became prisoners — they were very fortunate," Frank said. The lions and monkeys they brought became new residents of the Newport Zoo.
Frank and his wife Danielle Sheahan purchased the West Usk Lighthouse in 1987 after it had fallen into disrepair. Scottish architect James Walker built the lighthouse in 1821, and it was used as a private residence after being decommissioned in 1922.
Frank and Danielle put several years of renovation work into the property and transformed the near-derelict West Usk Lighthouse into a charming and pastoral B&B destination.
Since the Sheahans opened the lighthouse for business in 1990, it has found new life as a site for weddings, celebrations, local getaways, and as a home base for travelers exploring the history and culture of rural Wales.
Perfect for Celebrations and Weekend Getaways
Adventurers looking to dedicate card rewards toward a unique European experience will find what they're looking for at the West Usk Lighthouse.
Guests can stay at the lighthouse safely only because the original lighthouse builders solved the problem of unstable coastal ground. The architect used a stabilizing foundation to create a structure with a wide 50-foot diameter.
"If they had built a traditional stack, it was believed it would have ended up like the Leaning Tower of Pisa," Frank said. The outer wall rises vertically about 28 feet, and the narrow inner tower housing the lighthouse lamp adds about 30 vertical feet.
Watch on
Accommodations are quirky but luxurious. Three rooms in the upstairs portion of the outer structure include a Principal Keeper's Room with views of the coast, an Assistant Keeper's Room with a lovely four-poster bed, and an intimate Cabin Room with perhaps the best sea views available on the property. All rooms include wifi access and an energizing breakfast served daily by the Sheahans.
For card rewards holders who prefer a pampered experience, the West Usk Lighthouse offers various packages, including massage, reflexology, and aromatherapy. The building also has a hot tub on the roof of its outer structure.
"Over the years, we've found it's a great place for people to just unwind," Frank said.
Pastoral Sea Views Prompt Quiet Reflection
Unwinding was precisely what Frank and Danielle had in mind when they first traveled to West Usk. At the time, both were juggling executive job responsibilities, and the hustle and bustle of London had lost its luster. The couple said they found themselves longing for a simpler life.
They didn't know how to accomplish that goal until Danielle stumbled on a sales ad for the property. Unfortunately, their initial impression was decidedly unfavorable.
"We visited it and said, 'Nope, this is too much. Too much work for too much money,'" Frank said.
Then they walked out on the roof where the hot tub now sits.
Frank and Danielle marveled at the raw coastal landscape and contemplated the lighthouse's proximity to the cities of Newport, Cardiff, and local attractions. In the quiet, they listened to neighboring cows munching grass. And then they took those impressions back with them to London.
"After two or three days back home, with commuting, square offices, and office politics, we decided you can always find a reason not to do something," Frank said. "Everybody thought we were bonkers."
Living and working "in the round" turned out to be just what the doctor ordered, Frank and Danielle found. Hundreds of local and international guests and celebrants, including repeat customers, agree.
"Lighthouses have a sort of mystique about them," Frank said. "They were built for the very noble purpose of saving human lives, and for many people, staying in a real lighthouse at least once in their lifetime is on their bucket list."
Connect with the History and Culture of Rural Wales
Frank and Danielle have improved West Usk considerably since they became its caretakers. They secured a wedding license a few years ago, for example, and continue maintaining and refining the property in many other ways.
Downtime brought on by the COVID-19 pandemic allowed the couple to move their beloved replica TARDIS time machine — from "Doctor Who" — to their garden, where it serves as a restroom for celebrations and events.
Adding to the "Doctor Who" connection is the fact that the show's producers filmed a recent episode on the property.
"It was series 12, episode 5, and for 'Doctor Who' fans like myself and my two boys, it was quite a big thing for us," Frank said.
While not a time machine, the West Usk Lighthouse does offer a portal of sorts to the rustic beauty and omnipresent past that makes the coast of Wales unique.
It is situated a mere 90-minute drive on the M4 motorway from Heathrow Airport and only 30 minutes from Cardiff. West Usk is ideally situated for active seclusion — something card rewards travelers often crave.
Visitors can take a brisk stroll on the nearby seawall for dinner and drinks at the iconic Lighthouse Inn pub, browse through the aristocratic Tredegar House once owned by the Morgan banking family. They can also hike, bike, and ride through the seemingly endless beauty and solitude of rural Wales.
It's then back to the lighthouse, where visitors can rest assured they will get a good night's sleep.
"There's just something very protective about sleeping in a round structure," Frank said.
Advertiser Disclosure
CardRates.com is a free online resource that offers valuable content and comparison services to users. To keep this resource 100% free, we receive compensation for referrals for many of the offers listed on the site. Along with key review factors, this compensation may impact how and where products appear across CardRates.com (including, for example, the order in which they appear). CardRates.com does not include the entire universe of available offers. Editorial opinions expressed on the site are strictly our own and are not provided, endorsed, or approved by advertisers.